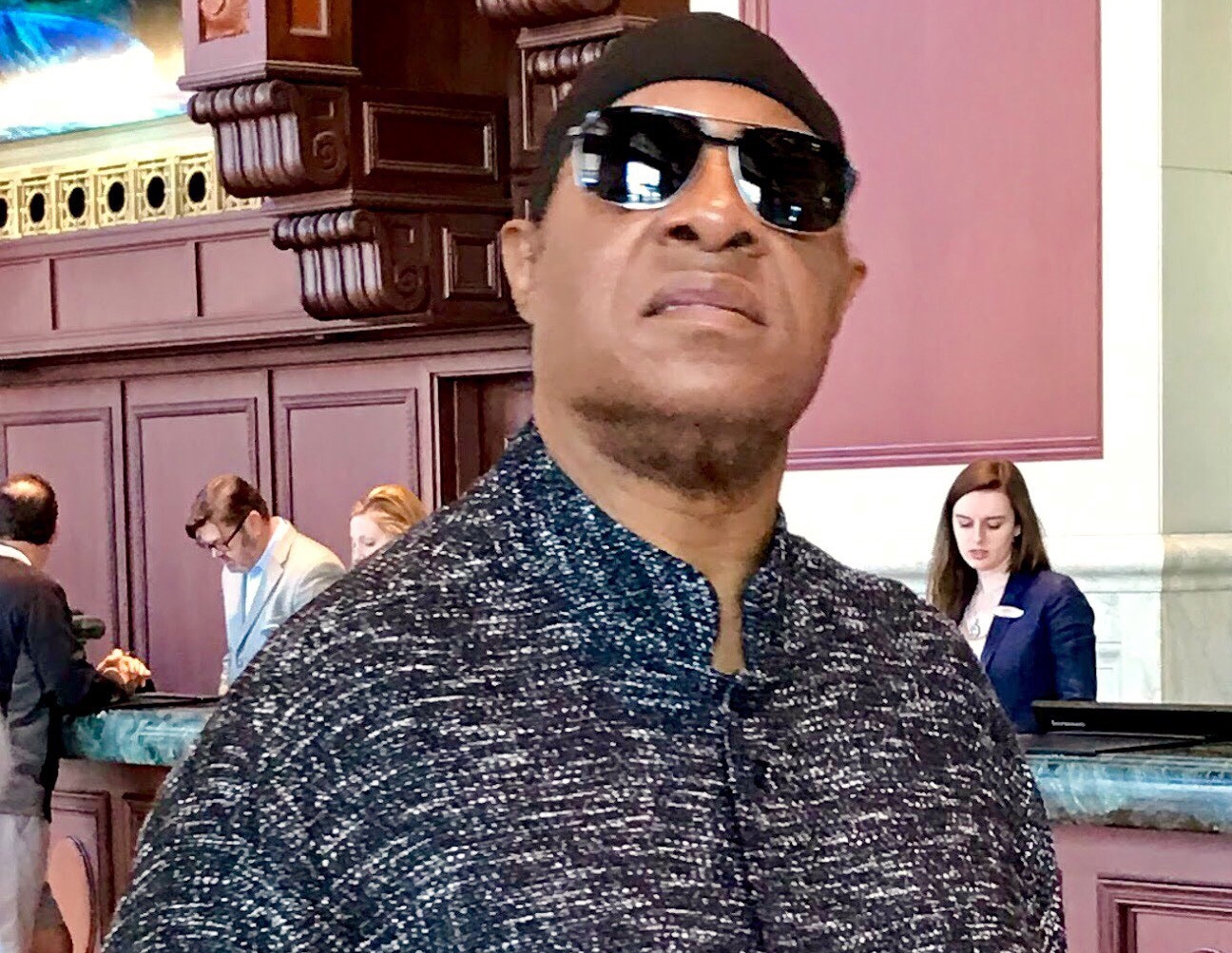 Image: Music legend and accessibility champion Stevie Wonder stands in the hotel lobby at the 2017 CSUN Assistive Technology Conference.
Accessible Media Inc. (AMI) was proud to host sessions about three different subjects at this year's CSUN Assistive Technology Conference in San Diego, CA.
On March 1, AMI Accessibility Officer Chris O'Brien presented, Thinking Beyond Described Video with Integrated Described Video (IDV). Attendees learned about how AMI continues to work with its partners to develop Described Video Best Practices, and how the innovation of IDV at AMI has enhanced the inclusive media experiences for people of all abilities. "Video description is accessible, but not inclusive. Use integrated described video to achieve universal design," O'Brien said.
Later that day, O'Brien presented, Live Described Video: Challenges, Strategies and Best Practices. This session explored the unique challenges faced by producers of live described video using case studies such as live described Toronto Blue Jays baseball games, shown on AMI-tv. Attendees heard tried, tested and true strategies to help overcome challenges when describing a live event.
To learn more about different types video description techniques, download our Integrated Described Video Best Practices guide.
Video description is accessible, but not inclusive. Use integrated described video to achieve universal design, says @a11ycob. #CSUNATC17 pic.twitter.com/FCIFo9lekZ

— Accessible Media Inc (@AccessibleMedia) March 1, 2017
The following day, attendees learned how AMI leveraged data on media consumption and technology adoption from the AMI Research Panel to guide the redesign of AMI.ca. The session was presented by Director of Digital Strategy Virginia Vuleta and titled, Building an Accessible, Inclusive Broadcast Media Website.
There were many other organizations speaking about a variety of media accessibility topics and issues at CSUN 2017, including Google, Facebook, BBC and 3Play Media.
Noah Wang and Caile Collins from the Google software engineering team announced that YouTube has reduced the error rate in automatic captions by half over the last year. The Google team is also launching automatic sound effect captioning. Learn more about Google accessibility.
Participants learned about how accessibility now fits into the product development lifecycle for Facebook mobile apps on Android and iOS. Facebook Accessibility team members Georgiy Kassabli and Marcelo Rivera discussed how many engineers don't have great knowledge about accessibility, but they want to build great products so keep requests simple and actionable. During the question and answer period, the team said open sourcing iOS is on the roadmap for Facebook. Testing usage, not implementation, as well as reusing existing forms of tools for accessibility testing were among their recommendations.
The BBC audio describes 20 percent of its content, according to BBC Executive Product Manager Nigel Megitt. Using a consistent voice throughout episodes of a series provides the best user experience. He also recommended leveraging transcripts and captions to improve search engine optimization (SEO).
3Play Media has expanded its service to include audio description, as well as the captioning services it is known for. 80 percent of people who use captions aren't deaf or hard of hearing, and there are 48 million Americans with hearing loss, said Lily Bond.
Follow @AccessibleMedia on Twitter and like our Facebook page to join the media accessibility conversation. Subscribe to AMI's YouTube channel to watch accessible video segments on demand.
Keywords: csun, csun 2017, csun assistive technology conference, video description, dv, integrated video description, idv, live video description, audio description, accessibility, stevie wonder, google, facebook, bbc, 3play media, san diego