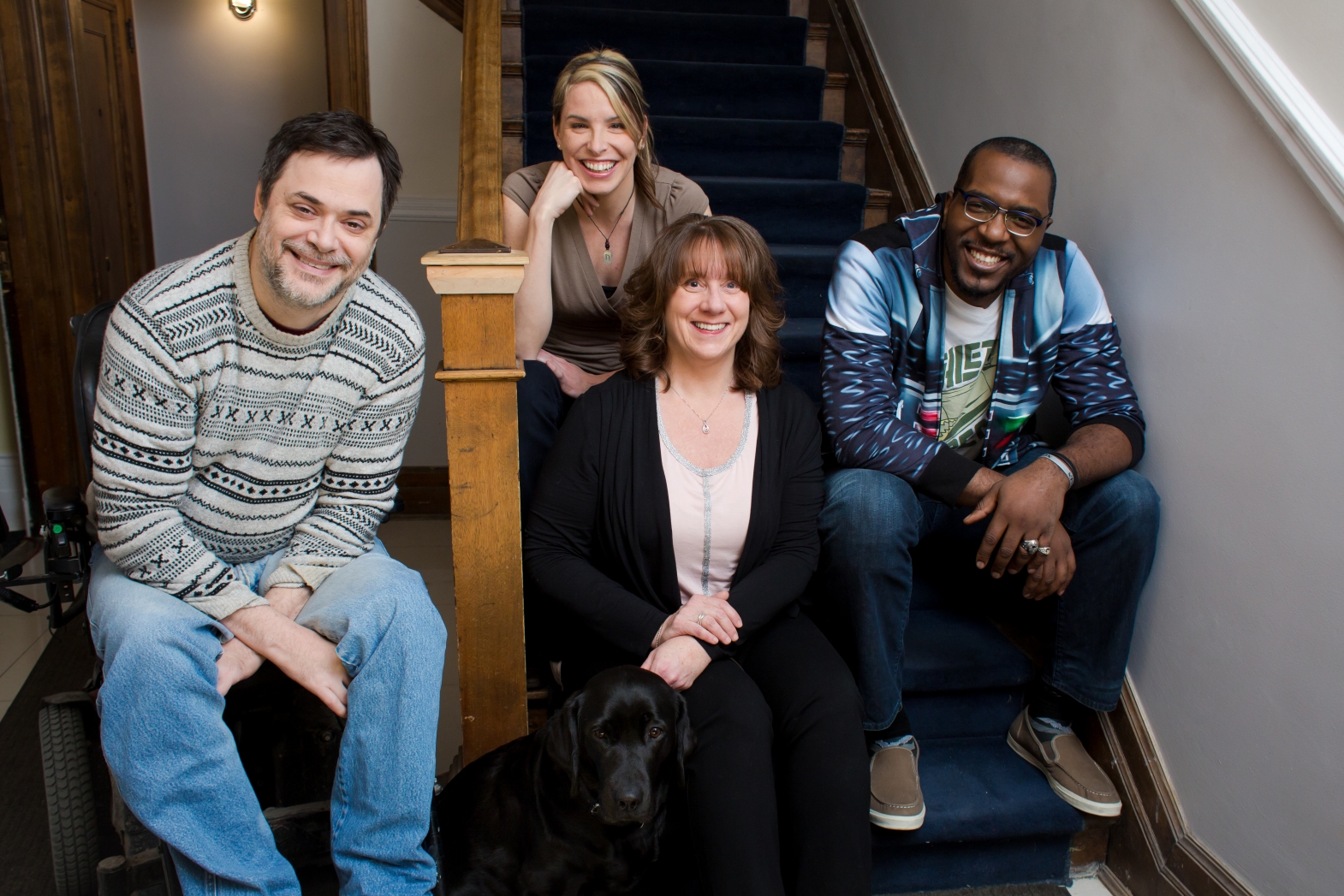 The Cast
Kim
Kim was 31 years old and a single mother when she lost her vision due to idiopathic optic neuritis. Now, with her guide dog Tassel by her side, Kim has realized her dream of becoming a certified massage therapist and Reiki master. Her successful massage therapy studio, HANDS that SEE, is unique as all therapists are living with vision loss. An inspirational speaker, dragon boat enthusiast, and president of Isee Paws Guide Dogs for the Blind Montreal Chapter, Kim has not allowed fate to limit her achievements.
Chris
Chris arrived in Montreal from Vancouver more than 20 years ago, a strapping six foot tall, rock musician and bike messenger only to have his life turned upside down by a chance encounter with a taxi running through a yellow light. A C7 tetraplegic, Chris has not waited for the world to catch up to his ambitions. Supported by his partner Amy, and dutiful father to his two sons, Chris serves on several charitable boards and is a participant in research on cutting edge, exoskeleton technology.
Sandro
At six foot, seven inches tall, Sandro was happy hanging with his friends on the basketball court until a few years ago when two cerebrovascular accidents, or strokes, changed his life forever. It's taken years of hard work, dedication and the assistance of a team of health professionals for Sandro to relearn everyday skills like walking and talking. Through it all he has maintained his sense of humour and enthusiasm and is well on his way toward an autonomous life and bright future.
Catherine
Is the term 'renaissance woman' too cliché to describe Catherine? In 2011 Catherine shattered both ankles in a kayaking accident and while confined to a wheelchair experienced firsthand how inaccessible this world can be. Turning lemons into lemonade, Catherine used her programming skills to create the multiple award-winning, OnRoule.org – a website listing all accessible businesses, services and adapted dwellings in her region.