Accessibility Review of Samsung Galaxy S7 and S8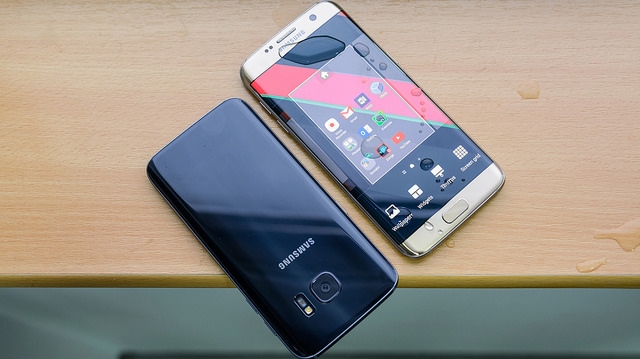 Bixby Vision, automatic emergency messaging and customizable shortcuts to accessibility tools are evidence of Samsung's increased commitment to inclusion in its latest Android smartphones.
I spent some time with the Samsung Galaxy S7, which we'll be reviewing on AMI This Week. It runs Android, Google's operating system that ships on many brands of phones and tablets. 
Samsung has added its own accessibility features to make the phone easier and more familiar to people with a range of abilities. I thought I'd delve a little deeper and share some more thoughts on my experiences using a Samsung Galaxy smartphone. 
While wrapping up this review, Samsung released the Galaxy S8, a newer model of phone which is just making its way into the hands of users and reviewers alike. I've felt the S8—but haven't had the opportunity to put it through its paces. Still, I'll draw what comparisons I can between the two phones throughout this review.
Look and feel
The Galaxy S7 and S8 fit comfortably in my hand, though even on the S7 I found that it was easy to touch the screen accidentally due to the thin bezel surrounding it. This is even more true on the Galaxy S8, where the screen extends almost from edge-to-edge. But I understand both displays are stunning, particularly on the S8 where despite being less than a half an inch taller than the S7, you have a 5.8Inch screen as opposed to the 5.1-Inch screen on the S7. Both displays can show info like calendar and email alerts, even while the devices are locked and not in use.
The length is just about right for me—the phone easily fits in my pocket. I'm a fan of having the speaker, headphone jack, and USB port all on the bottom edge of the phone. If you put the phone upside-down into your pocket, you shouldn't need to worry too much about pocket lint getting into any of the connectors. I understand some reviewers were hoping to see two speakers on the S7, because the speaker is easily muffled if you cover it with your finger; but for a mobile phone, I think it's perfectly acceptable and it's not something the S8 expands upon. There are physical volume buttons on the left edge of the S7, while the power button is on the right edge.
The home button on the Galaxy S7 doubles as a fingerprint sensor, a feature that has been working really well for me to unlock the phone without having to enter a PIN. Holding down the home button for a couple seconds brings up Google's intelligent assistant, which can give you smart info based on the screen you're on, but also allows you to do things like perform a voice search to open apps or ask for transit directions. Double-tapping the home button opens the camera app, and there's a 5-megapixel selfie camera on the front. The S7 is supposed to be both dust and water-resistant and can survive being fully immersed in water. The phone is supposed to monitor if the USB port is wet, and won't charge the device until it dries out. And Samsung has been able to retain the phone's headphone jack while keeping it waterproof, which is very impressive.
The S8 feels very similar to the S7, and is only a hair taller and thinner. You'd be forgiven for thinking the S8 had two volume buttons on the left side like on the S7, but they're actually a volume rocker and a dedicated button for Samsung's new digital assistant: Bixby. Bixby will eventually be able to understand voice commands, though this feature currently isn't available in the US or Canada. There is no definite timeline on a Canadian launch, but when it does launch, you'll be able to press and hold the Bixby button to do things like adjust device settings, send messages, rotate photos, and more. 
Meanwhile, a few key features of Bixby are available. Bixby Home can show you cards from Samsung and third-party apps, consolidating info like the weather, your calendar, news stories, and more in a single place. With Bixby Reminders, you'll be able to set up alerts for tasks you need to complete. And with Bixby Vision, you'll be able to use the camera on the Galaxy S8 to scan barcodes, product packaging, landmarks, and even text. I'm most excited by the potential of Bixby Vision, as there are clear accessibility benefits to having a built-in feature for identifying text and labels that I can't read.
If Bixby turns out to be useful in your workflow, you'll be able to trigger it whenever you want using that dedicated Bixby button. If not, you won't be able to remap the button to perform any other function. Samsung is definitely prioritizing the use of Bixby on the Galaxy S8.
There is no physical home button on the front of the Galaxy S8. Instead, a pressure-sensitive area on the touch screen acts like the home button and can be pressed or held down to bring up the Google assistant. While I can see the benefits this change offers, it does mean that the fingerprint sensor has been moved to the back of the S8. I imagine it will take some time for habits to adjust until unlocking the S8 feels natural, and there's definitely more risk of touching the camera lens accidentally. On the plus side, you can train the Galaxy S8 to unlock when the front-facing camera recognizes your face as though you're taking a selfie. The S8 also includes an iris scanner which can recognize you based on your irises as long as you're able to align your eyes with twin circles on-screen, a task I wouldn't be well-suited to. The S8 is still waterproof and still retains the headphone jack.
The Galaxy S7 only includes 32 GB of storage (doubled in the S8). For some people, this seems a little borderline. Samsung does, however, provide 15 GB of cloud storage that you can use for backing up things like messages, device settings, and photos. Couple that with similar functionality offered by Google, and you certainly have many options for storing data in the cloud. On both phones, you also have a micro-SD card slot, allowing you to more than double that storage by adding a small card into your phone. On the back of the phone there is a 12-megapixel camera, and even a sensor for manually measuring your heart rate for storage inside the Samsung Health app, which can log steps counted, workouts, water and caffeine intake, and other health and fitness data.
Voice Assistant
For blind users, Samsung has included its own screen reader with enhancements that aren't available on other brands of Android phones. This makes learning to use the phone a lot more familiar for blind users switching from other platforms. For example, I'm used to being able to turn the screen reader on and off by triple-pressing the home button, so Samsung has included this feature in their accessibility settings. Since there is no physical home button on the Galaxy S8, the accessibility shortcut is the POWER and VOLUME UP BUTTONS pressed together.
To use Voice Assistant, you can use a set of gestures that are pretty easy to master. In many cases, there are multiple options for getting something done—so if you don't like how the screen reader is behaving, you can often customize it. For example, when you open an Email or website, you might want to have the screen automatically read to you from your current location. By default, you do this by shaking your phone which I just couldn't get used to. Luckily, I was able to turn this off within Voice Assistant's settings and use an alternate method instead: a two-finger triple-tap anywhere on screen.
Here are some basic Voice Assistant gestures:
To hear what's on the screen, move your finger around on the screen, or swipe left and right to move from left-to-right, top-to-bottom. Then double-tap to activate the selected item.
To scroll, swipe up, down, left, or right with two fingers.
To move by characters, words, lines, or paragraphs, swipe up or down with three fingers to select the unit you want to move by. Then swipe up or down with one finger to move by that unit.
To cycle through a quick menu of options like adjusting speech rate, punctuation, whether the screen is on or off, and more, swipe left and right with three fingers to select the option you want to adjust. Then swipe up or down with one finger to adjust it. From this menu, you can also open or close the notification shade, where you can review alerts from apps on the device.
To hear the time, date, battery level, and other status bar icons, triple-tap with two fingers anywhere on the screen. You can customize which icons you want to hear when you use this gesture, in case there are some you aren't interested in.
Voice Assistant lets me use most of the features included on the device, and many third-party apps to boot. You can download a range of free and paid apps from the Google Play Store, which can be browsed both from your device and through a web browser on your computer. Many apps specifically designed for people with disabilities are available on Android, such as Voice Dream Reader, for reading accessible E-books; Nearby Explorer Online, for hearing streets and other info as you navigate; KNFB Reader, for scanning and reading print material; and Aipoly, for recognizing objects using the camera. And best of all, if you buy a paid app and find that it isn't accessible, or don't like it for whatever other reason, you have a two-hour window during which you can request a refund. That's a fantastic way to try out a paid app that's well-reviewed, but that you're not sure if it will turn out to be accessible.
Other accessibility features
Braille support on Android is a separate download (not built-in like on an iPhone) and is more simplistic than Apple's Braille support. My own Braille display is not supported, and I think Android's Braille features are still developing and evolving. For example, my understanding is that there's no way to mute speech to use your phone quietly with a Braille display attached, though of course you can turn down the volume as low as it will go. You also can't type in standard contracted Braille as most people are used to. My own Braille display isn't supported on Android, unfortunately.
With that said, the accessibility settings screen is packed with features for users with a range of abilities. Here are just a few examples.
By triple pressing the power button, you can automatically send an SOS message to the emergency contacts of your choice, complete with a pre-written text message, your location, and five seconds of audio along with pictures from the front and back camera. I think that's pretty nifty, not to mention a command that should be easy to execute in a crowded or noisy environment or somewhere where you need to be subtle about it. 
You can have the Galaxy S7 remind you of unacknowledged notifications with a sound every minute or so, or when you pick up the phone from a flat surface. You can set the phone to alert you when it hears the sound of a baby crying, or a doorbell. You can choose to answer phone calls with a voice command, or with the home button; and hang up by pressing the power button. And there are features to make the screen easier to read for people with low vision. All in all, this phone has some fantastic accessibility features for a diverse set of users.
Openness
One benefit of using a phone like the Samsung Galaxy S7 or S8 is that the platform is quite customizable. If you want to choose which default apps are used for Email, web browsing, and more, you're free to do so. If you prefer to use different voices with the screen reader than the ones that ship with the phone, you can download others from the Play Store. Best of all, you don't have to install an app on your PC to get music onto or off of your device. Instead, just connect the phone to your computer and copy/paste or drag music onto it from File Explorer. When you next open the music app, your new tracks simply appear there. That won't work for subscription services like Apple Music or Spotify, but there are apps for both in the Google Play Store. 
Conclusion
If you want to jump on the Android platform, which is evolving and becoming more accessible, the premium Samsung Galaxy line is a great bet. The phones are well-designed and Samsung has shown a commitment to accessibility, adding great features that aren't available with other brands of Android phones. I am glad I was able to test out the Samsung Galaxy S7 and am very impressed with it.
AMI This Week airs every Monday at 7:30 p.m. ET on AMI-tv. Follow @AMIThisWeek on Twitter for the latest updates and follow Grant @AMIGrantHardy.
Keywords: blogs, grant hardy, smartphones, samsung, galaxy, s7, s8, accessibility, bixby, voice assistant