Chris Vallée previews Fostering Forever Friendships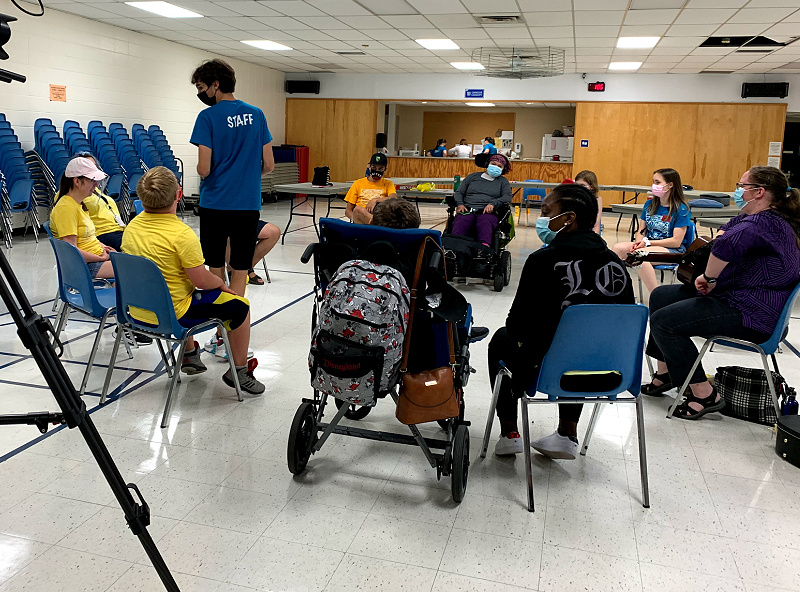 By Chris Vallée
Fostering Forever Friendships is a new not-for-profit organization in Ottawa that runs a day program and a summer camp for adults with exceptionalities. The team and I at the Ottawa bureau were fortunate enough to spend an afternoon with the day program. I got a first-hand perspective of what it's like to be a participant and let me tell you, it was a FUN time.
The program focuses on fostering the independence and continued growth of adults in the disability community between the ages of 18 and 45 in a safe and inclusive environment. The camp's overall goal is to enhance daily living skills and promote independence. Campers frequently participate in activities like taking the bus, going on nature walks, cooking and baking some delicious food, getting artsy, attending local events, and so much more!
Samantha Bellefeuille is the camp's director, and has been working in the field for over 16 years. The idea of building a day camp for adults in the disability community started in high school.
"In business class I built a whole day program with a daycare setting. I put it aside and picked the idea back up in September of 2019," Samantha says. "I wanted something that was like summer camp, but year-round, something that participants can come and look forward to."
A Camp Rock-themed day filled with music, dancing and singing took place while we visited. There's nothing better than singing your heart out to a few Disney classics.
Learn more about how Fostering Forever Friendships emphasizes the importance of independence and how you can join the day camp by watching AMI This Week on Monday, September 20, at 8 p.m. Eastern on AMI-tv.
Want to read more from Chris? Search for his name.