Alex Smyth introduces ATW Contributor Travis Murao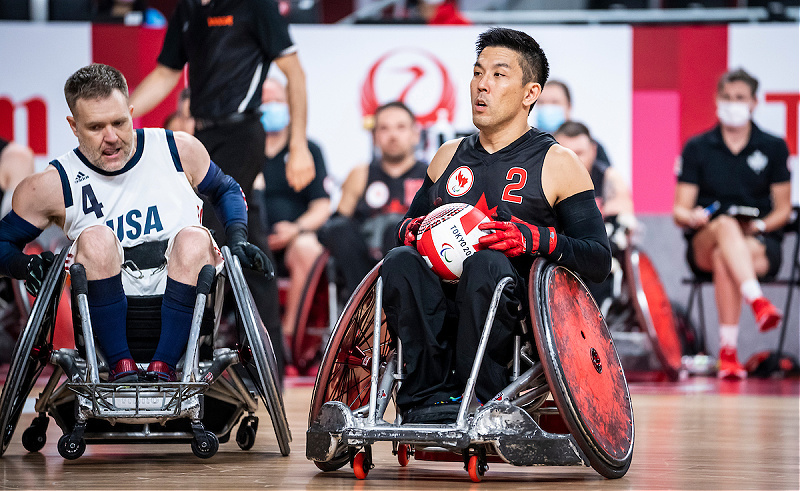 By Alex Smyth
On AMI This Week, we love to meet members from the community and share their stories. Whether they are new faces or veterans of the channel, the teams and audiences seem to enjoy it when we can dive deeper and learn more about some of the recurring members of our team.
That is certainly the case with Travis Murao. He's been a part of Canada's Wheelchair Rugby team since 2008 and has racked up a collection of medals from the Paralympics, World Championships and Para-Pan Am Games. While his resumé is already impressive, he continued to add to it during the pandemic.
Co-hosting the AMI-tv sports-talk show, Beyond the Field, with Greg Westlake, Travis became a new member of the AMI family, bringing his energy and tenacity from the court to the screen. Having worked on the show myself, it was great to meet and work with Travis, watching as he got more comfortable with each interview.
He must have enjoyed his time as well, as he has signed on to be a contributor for ATW. Bringing his sports background and experience as a wheelchair user, his insight into some of the stories we cover is greatly welcomed.
We felt that it was only right for the AMI audience to get to know Travis a bit more, so when you catch him on an episode, you know more about his story than his sports highlights! In sharing his story with us, we learn a lot about Travis growing up and the triumphs and struggles he has dealt with along the way.
Travis speaks about his introduction into sport at a young age, and how after his accident it was almost serendipity that led to him discovering wheelchair rugby. Though he has racked up medals playing the game he loves, he talks about how it was not a quick transition for him, and how he had to get better each day to be able to compete on the level that he wanted to get to. There were struggles during that time, and Travis didn't shy away from talking about it.
Travis speaks openly about his struggles with addiction and drug abuse, and how that low point helped him focus his efforts on a strong path to recovery. I commend him for being so willing to share that struggle because though many people have dealt with addiction; few are brave enough to publicly share their story. He says that his message for others who are struggling is to take it one step at a time, and you'll find yourself in a better place.
Today, Travis is a guy who lights up a room with his smile and infectious laugh. He brings the enthusiasm that makes him great on the court to the stories he covers with us. It's easy to be a fan of Travis Murao; and we all are but after hearing his story and enjoying his appearances on ATW, I know you will be too.
Learn more about Travis on AMI This Week, Monday, November 29, at 8 p.m. Eastern on AMI-tv.
Want to read more from Alex? Search his name!