Jillian Gillis previews The North End Baking Co. and Café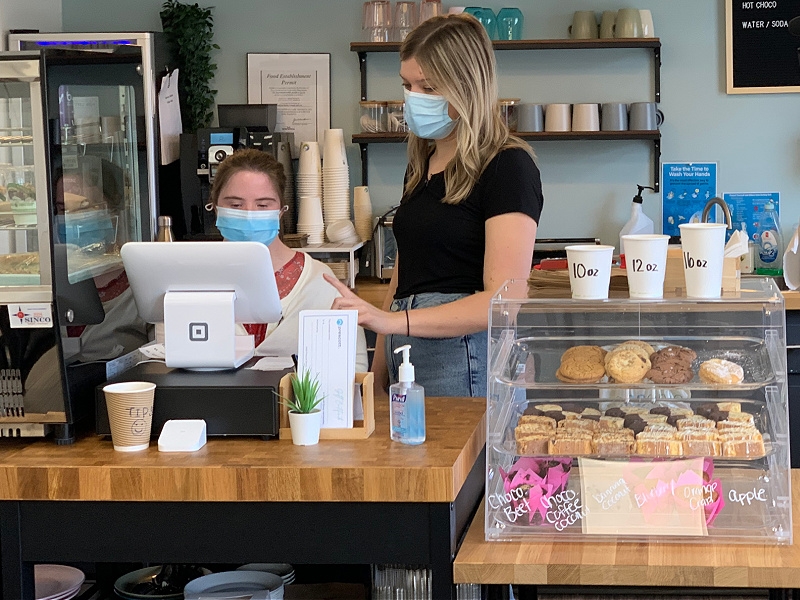 By Jillian Gillis
Recently, the AMI Halifax bureau team got to visit a new, welcoming, and inclusive café. The North End Baking Co. and Café is a social enterprise run by Prescott Group, which opened in fall 2021. The café employs and provides training for adults with intellectual and developmental disabilities.
The Prescott Group is an organization that has been around for a long time, supporting participants to make connections and friendships within their community, whether that's employment, volunteer work or recreational. They have a variety of social enterprises and programming to help participants to learn various life skills and explore different interests.
I am a huge believer in inclusion and equal opportunities, so when I heard about the North End Café, I couldn't wait to check it out for myself. The café is focused on giving the group participants the opportunity to make a fair wage and gain valuable on-the-job experience in a safe and supportive work environment.
I was even more delighted to find out that the staff member I would be interviewing was an old schoolmate of mine! Katie Isenor and I met in grade primary, we haven't had a chance to catch up in person in a long time, so it was nice to reconnect. I was impressed with Katie's service and confidence in her job abilities.
I also got to chat with an employment coach from Prescott Group. Adrienne McCormick works with the staff as they perform their duties, serve customers and build on their skill sets.
All the products they sell are gluten and peanut-free, and there are also dairy-free, vegetarian and vegan options available. Everything is made fresh next door in another Prescott enterprise. They serve a range of baked goods and host a full-service lunch twice a week.
I had never tried anything gluten-free before, so while at the café I had to taste test one of their blueberry muffins. It was so yummy, and I would have never guessed that it was gluten-free! I look forward to returning to try their other selections of baked goods.
Tune in for this story on the North End Baking Co and Café on AMI This Week, Monday at 8 p.m. Eastern, on AMI-tv.
Want to read more from Jillian? Search her name!