Alex Smyth previews Postcards from The Rockies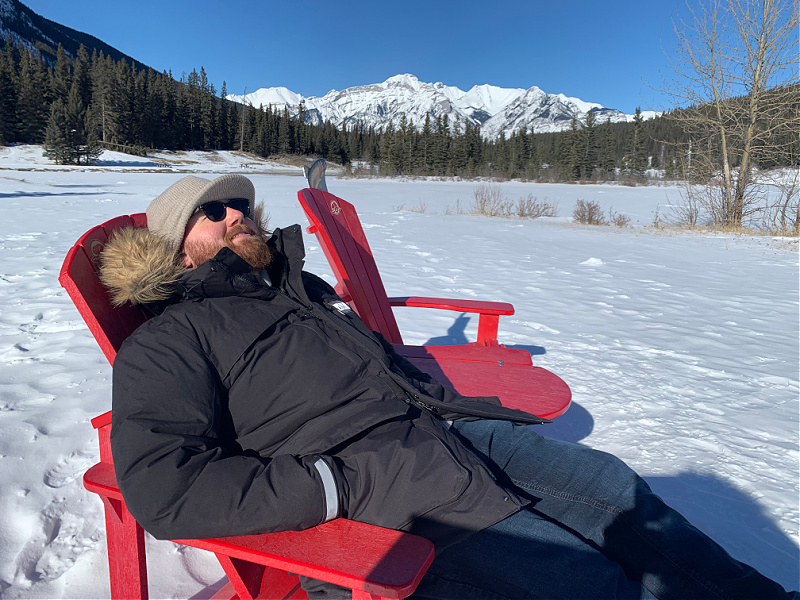 By Alex Smyth
Working as a host of a travel show during the pandemic was certainly challenging. We would formulate plans, make predictions of destinations and dates for us to travel, then quickly must readjust due to the ongoing case counts and availability of activities.
So, you can bet I was excited when we finally had the chance to make it out to the beautiful Alberta Rockies for our latest episode of Postcards From. I had visited the town of Canmore once previously and had never seen Banff or Lake Louise; both lived up to the hype of a spectacular winter wonderland. The snow-capped mountains provided a stunning vista at every turn, and while the weather bounced between snow and sunshine, I was enjoying every minute of it.
We dove into the active lifestyle of the area, and spent most of the trip either on, near, or inside of a mountain. It was a lot of firsts for me on this trip; my first time ice climbing, my first time rappelling in a cave, first time in over a decade snowboarding, all of which became instant life-long memories.
When we work on these episodes, we are a small three-person team, so each member must pull their weight and help out, whether that is by transporting gear, setting up or packing up lights, formulating the plan for how the activity will go, and working with the guests to ensure we get what we need from them. This trip was easily the most challenging episode logistically due to all the mountain time I mentioned earlier. From lugging gear up the mountain to trying to capture me attempting (and failing) to stay upright on my snowboard, to ensuring there is enough light to watch me descend into the abyss of Rat's Nest Cave.
The team behind the camera, Producer Amit and Videographer Sergio are amazing at what they do and it's because of them that I look good in front of the camera. When you spend eight days working 12-16 hours, it's important to enjoy the people that you work with. We definitely do and in my humble opinion, that strong teamwork shows up in the finished product.
To learn a bit more about what went into making this episode of Postcards From, be sure to tune into ATW on Monday night at 8 p.m. Eastern to see Amit and I discuss the trip and other behind-the-scenes tidbits, and then tune in on Friday, June 24, at 8 p.m. Eastern to catch the full episode Postcards from The Rockies on AMI-tv.