Jillian Gillis previews the ReVision Fitness App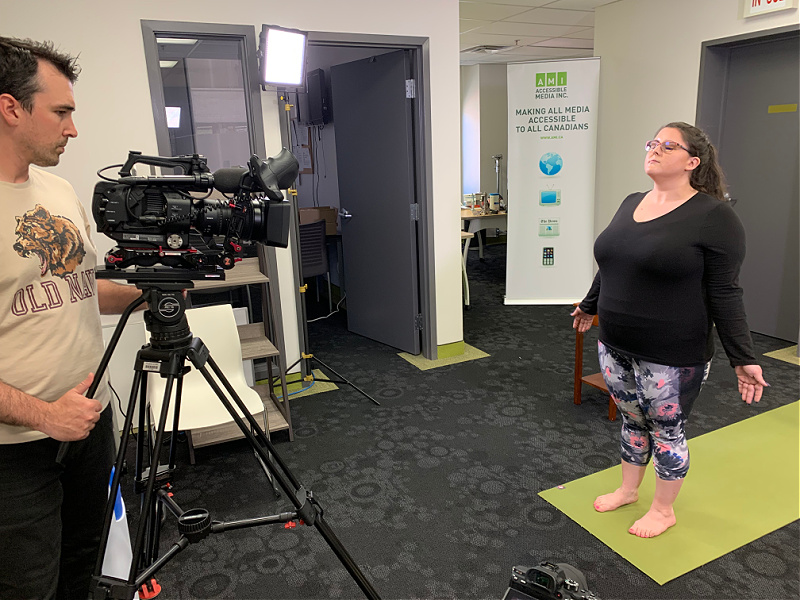 By Jillian Gillis
When I first learned about the new audio-based fitness app, ReVision Fitness, I was very curious to try it out. I normally stick with walking for exercise because, with my partial sight, it can be hard to follow along with a fitness instructor in a class setting or watching a video at home.
The app was designed by U.S. Paralympian and personal trainer Tyler Merren. As someone who is blind, he created the app with the blind and partially sighted community top of mind. All exercises are offered in both text and audio, each fully described to ensure safe and proper posture.
I really liked that you get a 14-day free trial so you can really get to test drive it before committing. I tried the app on both Android and iOS devices, and I was able to log in on my phone and iPad. I found the colour scheme pleasant – black, white and red; the white text on black is a good contrast for those with low vision. The font was small on the phone, but the iPad was better; my work around was to use the devices built in magnification accessibility feature.
Since I don't use a screen reader I felt, in order to give the best review possible, I would need to ask for some help. I asked my colleague in Vancouver, Grant Hardy, if he would join me. He agreed it would be a great opportunity for a fun collaboration.
Both of us tried it out for a few weeks. I was most thrilled with the chance to try out yoga. Yoga is said to help improve strength, balance, posture and flexibility. I have never had the best posture or balance, so knowing that yoga could help me enhance those things was exciting. I have always been curious about it and I'm happy I finally got the opportunity to finally try it. And it was kind of cool to be led through the poses by a Paralympian.
I felt that having the in-depth descriptions was helpful for me to feel more confident in my exercises. I really appreciated having both the written and audio instructions available, I think it is beneficial for neurodivergent minds. If I could make a suggestion, it would be to have the text and audio on the same page so I could read along with the audio.
If you have been wanting to get exercising and haven't found an accessible workout, you'll want to check out our full review by tuning into AMI This Week on Monday, July 18, at 8 p.m. Eastern on AMI-tv.
Want to read more from Jillian? Search her name!