Grant Hardy previews the Telepresence Robot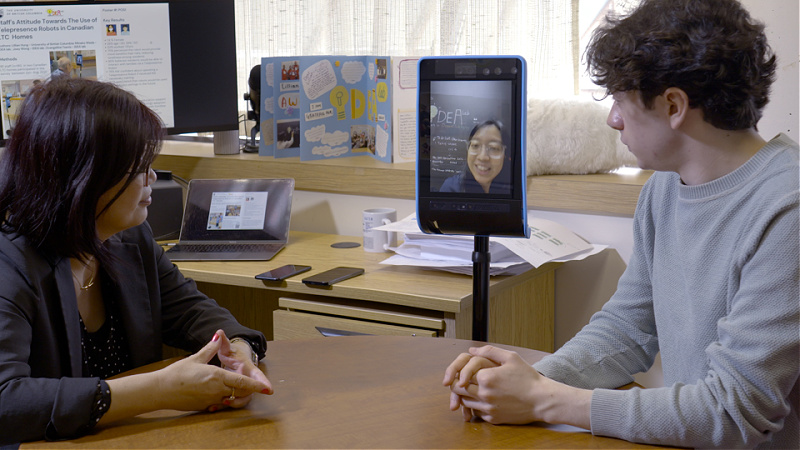 By Grant Hardy
On an upcoming AMI This Week, I had the opportunity to visit UBC to take a look at some brand-new research for technology aiming to improve the lives of seniors living in long-term care homes.
I've always been clear: my disability isn't what scares me in life. What I'm really afraid of is getting older, and possibly having to live in an assisted living facility at some stage in my life. This is because of the absolutely appalling way we tend to treat seniors despite almost all of us becoming seniors in our lives. While researching for our story, I read heartbreaking stories of seniors with dementia approaching staff in their long-term care homes to say that they forgot their room number, only to sarcastically be told to double their age and go try whatever room that is. And staff behaviour aside, the isolation seniors tend to face in these types of facilities, compounded by COVID-19, is tragic.
Many don't think about pulling out our tablets and signing onto a Zoom call. But Dr. Lillian Hung, a researcher at UBC, says this isn't so simple in long-term care settings. Shared iPads are generally limited in terms of usage time, and most of that time is spent by the residents—often with cognitive disabilities and other medical issues—trying to figure out how to sign onto the call or even hold the device. Staff can be present, but their time is scarce and there'd be no privacy.
And that's where the Telepresence Robot comes in. The top of the robot looks like a normal tablet, with a screen and camera and speakers, but it can entirely be controlled by the resident's family remotely. Moreover, it can be physically controlled. That is to say, not only can the height and angle be precisely adjusted, but the robot can physically wheel in and out of the resident's room when it's their time to chat. I spoke with a gentleman who has dementia who's been instrumental in testing this technology. I spoke to him through the Telepresence Robot itself, and the call was pretty crystal-clear and seamless. And we spoke to Dr. Hung and a biomedical engineering student, Charlie Lake, about their roles in the project, both technical and policy-related.
When I think back to both sets of my grandparents, I am confident there's no way we would have convinced them to try logging on to Zoom, Skype or FaceTime on a mainstream tablet. The Telepresence Robot, on the other hand, is so simple that I'm certain we could have sold it to them with little skepticism. It's really heartbreaking to remember how isolated my grandma, who we called Nana, was at the end of her life, far away from us in another province. And in some respects, I think the Telepresence Robot would have positively impacted her.
I still think that even if the Telepresence Robot is deployed into long-term care homes, there's room for improvement. For example, it's unfortunate that these devices need to be shared. Although understandable due to the cost and bandwidth, we've all heard of students who keep their Skype open for hours just to have a buddy in another place study with them. I see no reason why our seniors shouldn't be afforded this opportunity, not just a few hours per week. Nevertheless, this technology is really intriguing and I have no doubt it will positively impact seniors once the research progresses.
For more info on the research, I invite you to check out our feature on the Telepresence Robot on AMI This Week, Monday at 8 p.m. Eastern on AMI-tv.
Want to read more from Grant? Search his name!