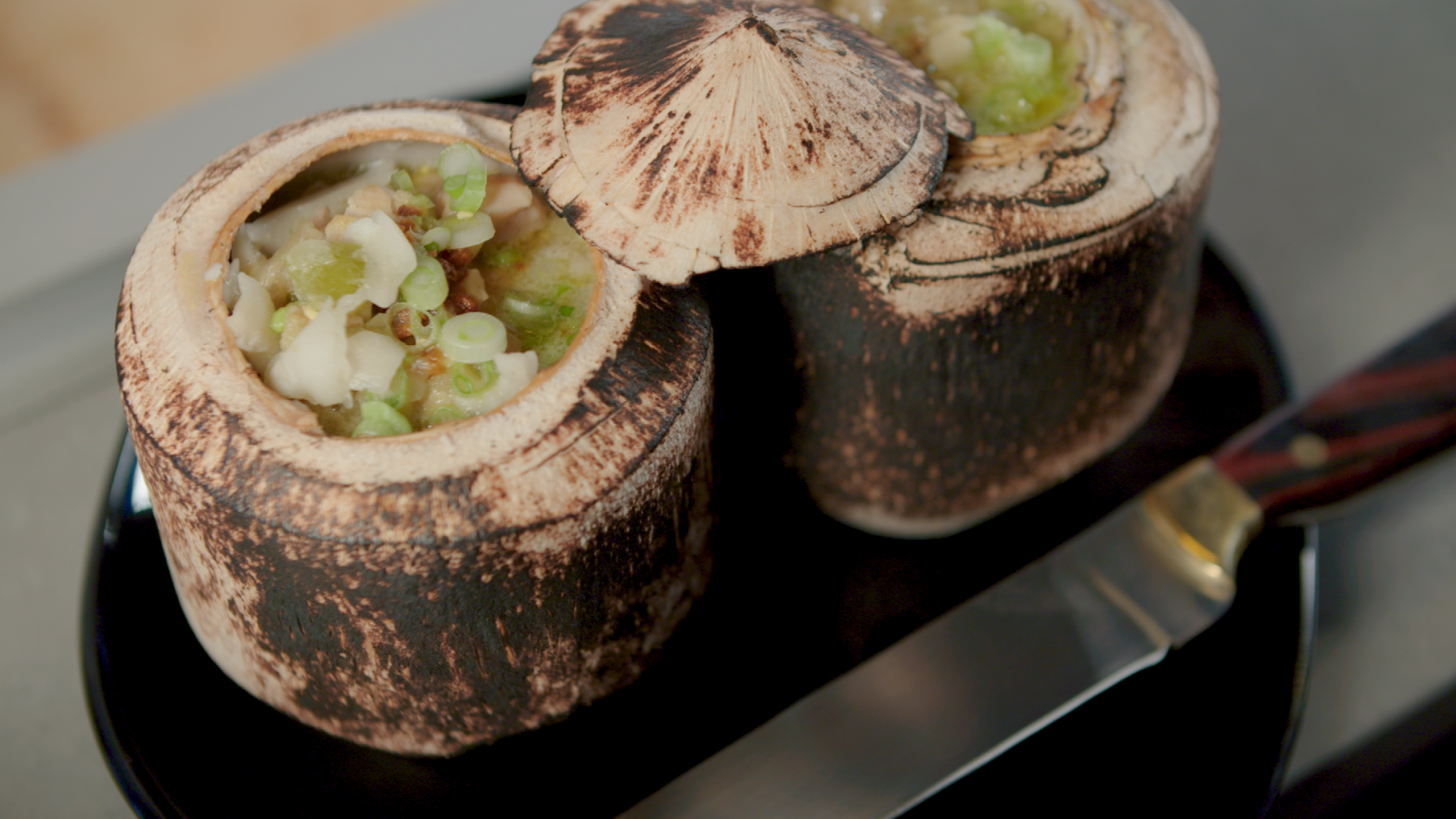 Chef Edgar Gutierrez: Binacol (Coconut chicken stew)
Ingredients:
• 500 grams boneless skinless chicken breast, cut into small cubes
• 3 hard-boiled eggs, yolks only
• 2 cloves fresh garlic, chopped
• 1 thumb (1 TBSP) fresh ginger, peeled and chopped
• 1 small onion, diced
• 1 bay leaf
• 2 Anaheim chiles, de-veined and seeded
• 1 sprig of lemongrass
• 4 TBSP fish sauce
• 6 cups chicken broth
• 4 young coconuts or 4 cups fresh coconut meat, cubed
• 1.5 litres coconut water
Instructions:
Preparation
1. Wash and cut the chicken breast into cubes.
2. Peel and chop the garlic finely.
3. Peel and chop the ginger finely.
4. Peel and chop the onion finely.
5. Cut and save the white parts of the lemongrass stalk leaves for garnish.
6. Pound or bruise the bulb of the lemongrass.
7. If using fresh, young coconut slice the top open horizontally. Reserve the top.
8. Pour and reserve the water. In a container.
9. Scrape the coconut meat reserve the meat in the shell.
10. Clean the spring onions and slice thinly.
11. Clean and remove the seeds and veins from the chilli. Mince finely.
Cooking
1. Preheat the oven to 375 degrees Fahrenheit.
2. Once the oven is hot, put the coconut shells in the oven and bake for 20 mins.
3. In a preheated pot sauté garlic ginger and onion and oil.
4. Add the chicken breast, lemongrass, and pepper. Season with fish sauce.
5. Take the coconut shells out of the oven and take the lid off.
6. Add the chicken broth and coconut water. As soon as the broth begins to boil, take the pot off the stove and slowly remove the chicken and place them in the coconut shell.
7. Mix 2 tablespoons of broth into the egg yolks. Mix them well.
8. Add the yolks mix to the pot of broth. Stir thoroughly.
9. Pour the broth into the coconuts using a ladle and a funnel.
10. Skim the fat and place the lid back on the coconut shell.
11. Bake in the oven for 15 mins. Take the lid off and let it bake for another 10-15 mins. Take the coconuts out of the oven. Adjust seasoning to taste with fish sauce and garnish the stew with spring onions. Place the lid back on.
Enjoy with steamed rice.