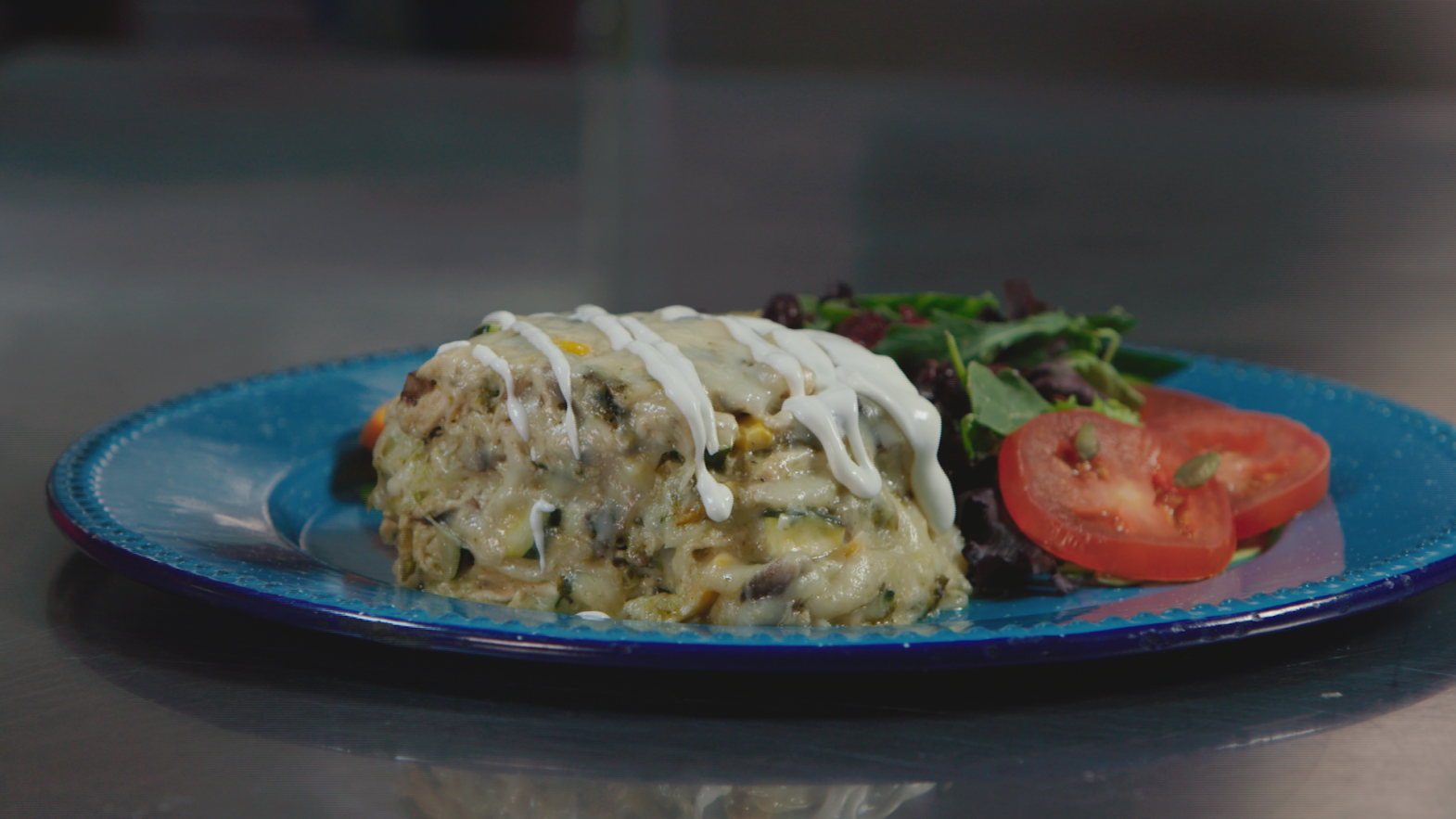 Chef Mariel Sena: Pastel Azteca (Mexican Lasagna)
Ingredients:
Filling:
• 1 TBSP canola oil
• 2 TBSP salted butter
• 1 ½ cups diced onions
• 1 garlic clove, minced
• 4-5 cups diced zucchini
• 1 ½ cups fresh or frozen corn kernels
• 5 poblano chiles charred, skin removed, seeded and chopped (or use canned after draining)
• 2 cups fresh mushrooms
• 2 cups chopped or shredded cooked chicken
• 1-2 cups heavy whipping cream
• Salt
• Pepper
• 1 ½ cups tomatillo salsa*
• 3 cups grated Monterey jack and mozzarella cheese
• ¾ cup Mexican crema
• 24 corn tortillas
Tomatillo salsa:
• 6 medium tomatillos
• ¼ yellow onion, cut into large chunks
• 1 serrano or jalapeno pepper, stemmed
• 2 garlic cloves
• 1 ½ TBSP olive oil
• 1 ½ TBSP lime juice
• ¼ cup chopped cilantro
• ½ TSP salt
Instructions:
For the tortillas:
1. Pre-heat a large pan on medium, add canola oil to cover the bottom
2. Add 2 tortillas to the pan, let cook for 1 minute each side
3. Remove cooked tortillas from pan and let cool on a plat
4. Repeat steps for all 24 tortillas
For the tomatillo salsa:
1. Preheat oven to 450 degrees Fahrenheit and line a baking sheet with parchment paper.
2. Remove the husks from the tomatillos and rinse under cool water to remove the stickiness. Place the tomatillos, onion and pepper on the baking sheet, drizzle with the olive oil and a generous pinch of salt and toss. Place the garlic on the pan. Roast for 15 minutes or until the tomatillos are soft.
3. Add the roasted vegetables, garlic, lime juice and cilantro to a food processor and pulse for 1 minute. If your salsa is too thick, add 1 to 2 tablespoons of water to thin too desired consistency. Season to taste.
For the lasagna filling:
1. Heat a large pan on medium.
2. Add 1 TBSP butter to the pan and let melt and cover the bottom.
3. Add chopped onions to the pan and sauté for one minute.
4. Add garlic and stir into the onion mixture, continue to cook and stir for one minute.
5. Add mushrooms and stir into the mixture. Continue to cook for two to three minutes.
6. Add corn, poblanos and zucchini to the mixture and cook and stir it all together. Continue to stir for three to four minutes.
7. Remove pan from heat and pour the vegetable mixture into a large mixing bowl.
8. Add shredded chicken and mix together well.
9. Add heavy cream and mix together well.
10. Add salt and pepper to taste.
Assembling your lasagna:
1. Pre-heat oven to 350 degrees Fahrenheit.
2. Use a large deep pan. 9" x 13" x 6"
3. Spray the entire pan with non-stick spray.
4. Spread three TBSP of the salsa on the pan bottom evenly.
5. Cut six tortillas in half and layer along the pan bottom along the sides.
6. Add 2 more full tortillas to the middle of the pan bottom to cover the entire bottom.
7. Add a thin layer of salsa over the tortillas.
8. Add a thick layer of the vegetable and chicken mixture, spreading it evenly over the pan.
9. Add a thick layer of cheese, spreading it evenly over the vegetable and chicken mixture layer.
10. Add a thin layer of Mexican crema over the cheese layer.
11. Repeat steps four to nine to create a second layer in your pan.
12. Repeat steps four to nine again to create a third layer in your pan.
13. Add a final thin layer of cheese over the top of the final layer.
14. Cover the pan with foil and put in a pre-heated oven.
15. Bake for 30 minutes, until cheese on top is bubbling.
16. Remove from oven, let cool before cutting and serving.