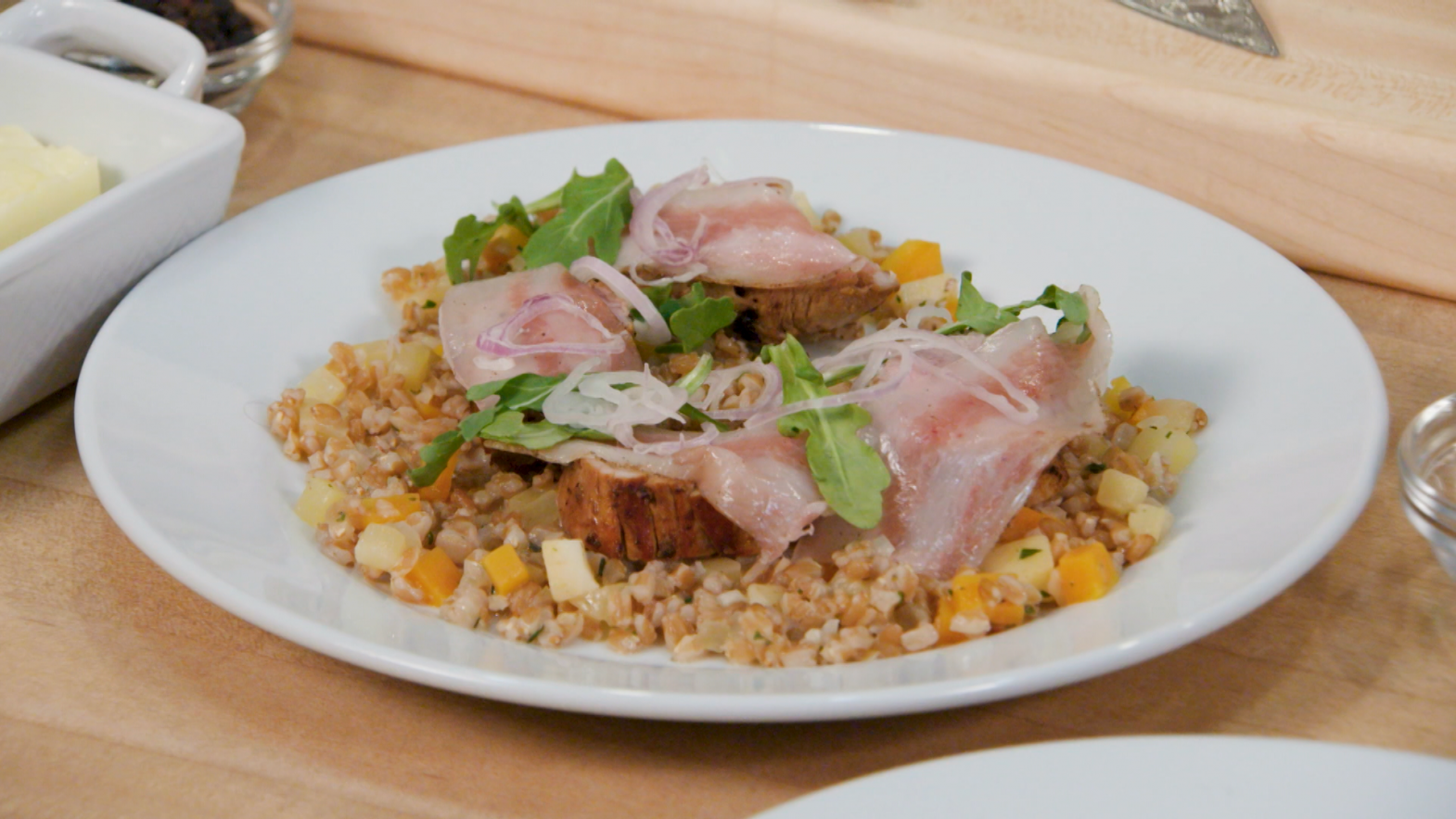 Chef Blair Lebsack: Pork Tenderloin Medallions
Ingredients:
• 16 oz. pork tenderloin (4 servings)
• ¼ cup pork fat or canola oil
• ½ stick (1/8 lb) unsalted butter
• ½ cup unsalted chicken stock
• 1 tbsp sumac
• 1 tbsp juniper berry
• 2 tbsp fresh garlic (minced)
• 2 carrots, peeled and cut into ¼ inch cubes
• 1 parsnip, peeled and cut into ¼ inch cubes
• 1 wild spring onion, diced
• 1 shallot, peeled. ½ cut into finely shaved rings, ½ cut into ¼ cubes
• 1 clove fresh garlic, finely chopped
• 1 tbsp parsley
• 1 tbsp thyme
• 1 cup farro
• 4 oz pork jowl, sliced thin
• ½ tsp chili flakes
• Salt to taste
Instructions:
Pork Tenderloin:
1. Pre-heat over to 375 degrees Fahrenheit.
2. Pre-heat a cast iron, or non-stick pan to medium on your stove top.
3. Brush pork tenderloin with the pork fat or canola oil.
4. Add salt to all sides of the pork tenderloin.
5. Sear lightly salted pork tenderloin in heated pan until all sides are browned. About 2 minutes per side.
6. Once all sides of the pork tenderloin have been seared, sprinkle the juniper berry and sumac on top and roll again in the pan to evenly cover.
7. Place pan with pork tenderloin directly into the heated oven. Cook for 5 minutes until an internal temperature of 145 degrees Fahrenheit
8. Let cooked pork tenderloin rest 8-10 minutes before slicing.
Farro Dish:
1. Rinse farro in warm water.
2. Add 1 cup farro to a pot of 3 cups boiling water.
3. Bring to a boil, then reduce heat and continue to stir for 20-25 minutes, until farro is soft. Drain off excess water.
4. Pre-heat another non-stick pan to medium on the stove top.
5. Add remaining canola oil or pork fat to the heated pan.
6. Add diced carrots and diced parsnips to the heated pan, stir and cook for 2-3 minutes until softened.
7. Add cooked farro to heated pan, stir into softened vegetables.
8. Stir in cubed shallots.
9. Stir in diced garlic.
10. Mix thoroughly.
11. Stir in chicken stock.
12. Add 1-2 tsp salt.
13. Add chili flakes.
14. Mix in butter.
15. Add diced spring onion.
16. Add parsley and thyme, continue to stir.
17. Stir over heat for 2-3 minutes, until all chicken stock is absorbed.
18. Let rest for 3-5 minutes before serving.