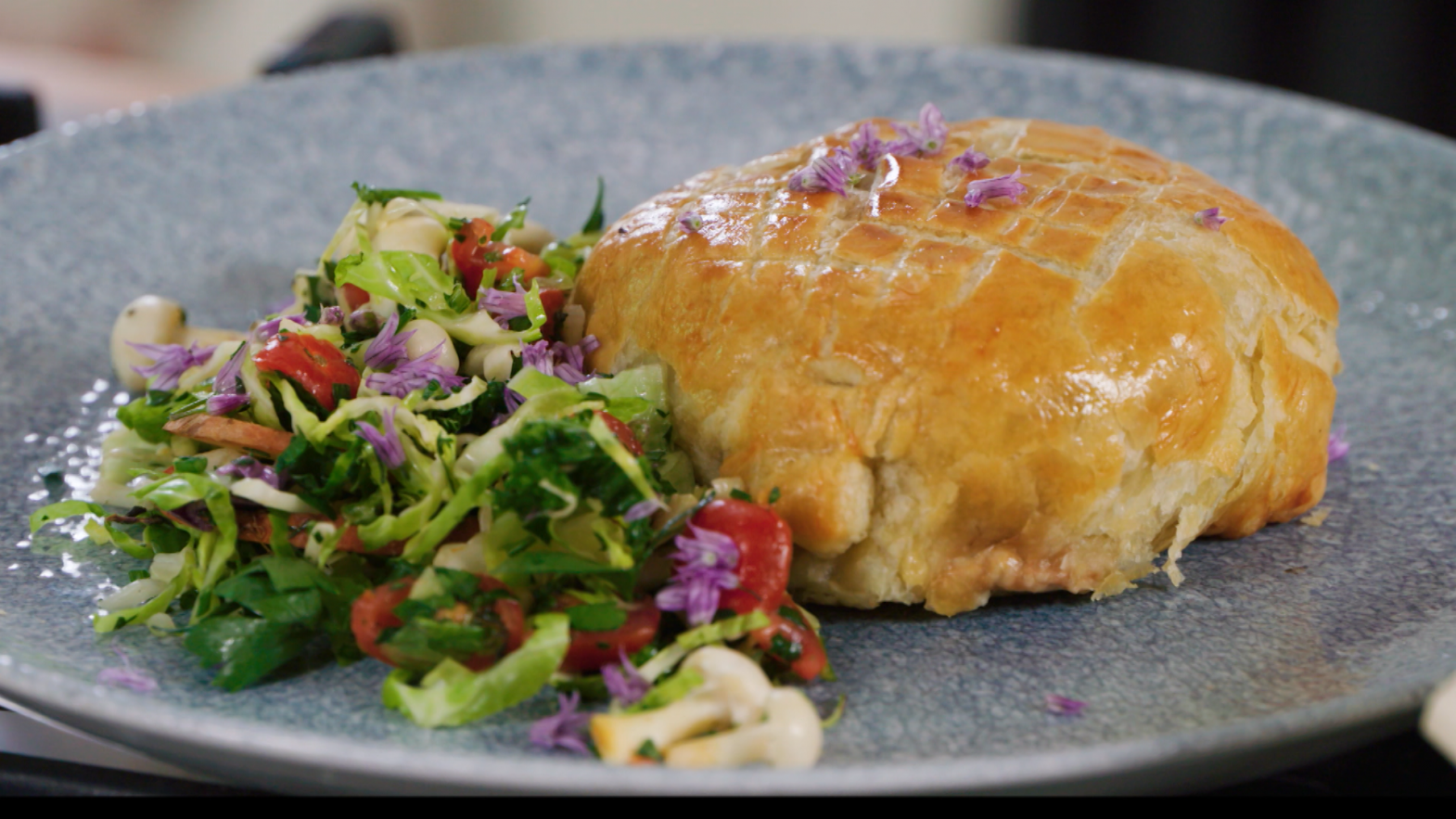 Chef Lindsay Porter: Beef Wellington
Ingredients:
Beef
• 4-6 ounces beef tenderloin
• Salt and pepper to taste
• 4 TBSP canola oil
• 2 TBSP butter
Duxelle
• 4 cups mushrooms, minced (button, oyster, portabello, morel, shitake, etc. any type preferred)
• 2 tbsp butter
• 1 tbsp canola oil
• 4 garlic cloves, minced
• ½ cup minced onion
• 2 tbsp minced parsley
• 5 thyme sprigs
• 3 tbsp truffle oil
• 2 tbsp bread crumbs
• 1 sheet of puff pastry
• 1 cup flour
• 3 egg yolks
• 3 egg whites
Instructions:
1. In a hot cast iron pan sear the steak until golden brown.
2. Cool off steaks and partially freeze.
3. Cut the puff pastry into 4 rectangles, approx. 6 inches by 4 inches and roll out into thinner portions if using a larger piece. If using smaller portions, just slightly roll out using a roller and flour as needed place in cooler to keep chilled.
4. In the same pan as the steak, add the butter and oil and cook down the mushrooms, onion and garlic until reduced by about half.
5. Add the freshly chopped herbs, truffle oil and bread crumbs to the mixture and let cool.
6. Once the mixture is cool and steaks have chilled down significantly to the point of being partially frozen on the outside, take the pastry and use the egg whites to brush the entire square of each. In the middle, place 1 tbsp spoonful of the mushroom duxelle and spread out slightly.
7. Place the chilled steak on the top and proceed to roll the pastry, covering the steak entirely and sealing up the seams almost to look like a little log roll.
8. Place on a baking sheet with parchment and bake at 325 degrees Fahrenheit for approx. 20 minutes to 25 minutes. Once the temperature of the steak inside has reached about 125 degrees Fahrenheit, it has reached medium-rare and from there can be cooked to your liking. (Do not put the tray on the bottom of the oven as the bottom can tend to burn if left too long and too close to the heat source.)
9. Remove from oven and let rest.
Serve with any sides you like, such as asparagus, potato, gravy, etc.