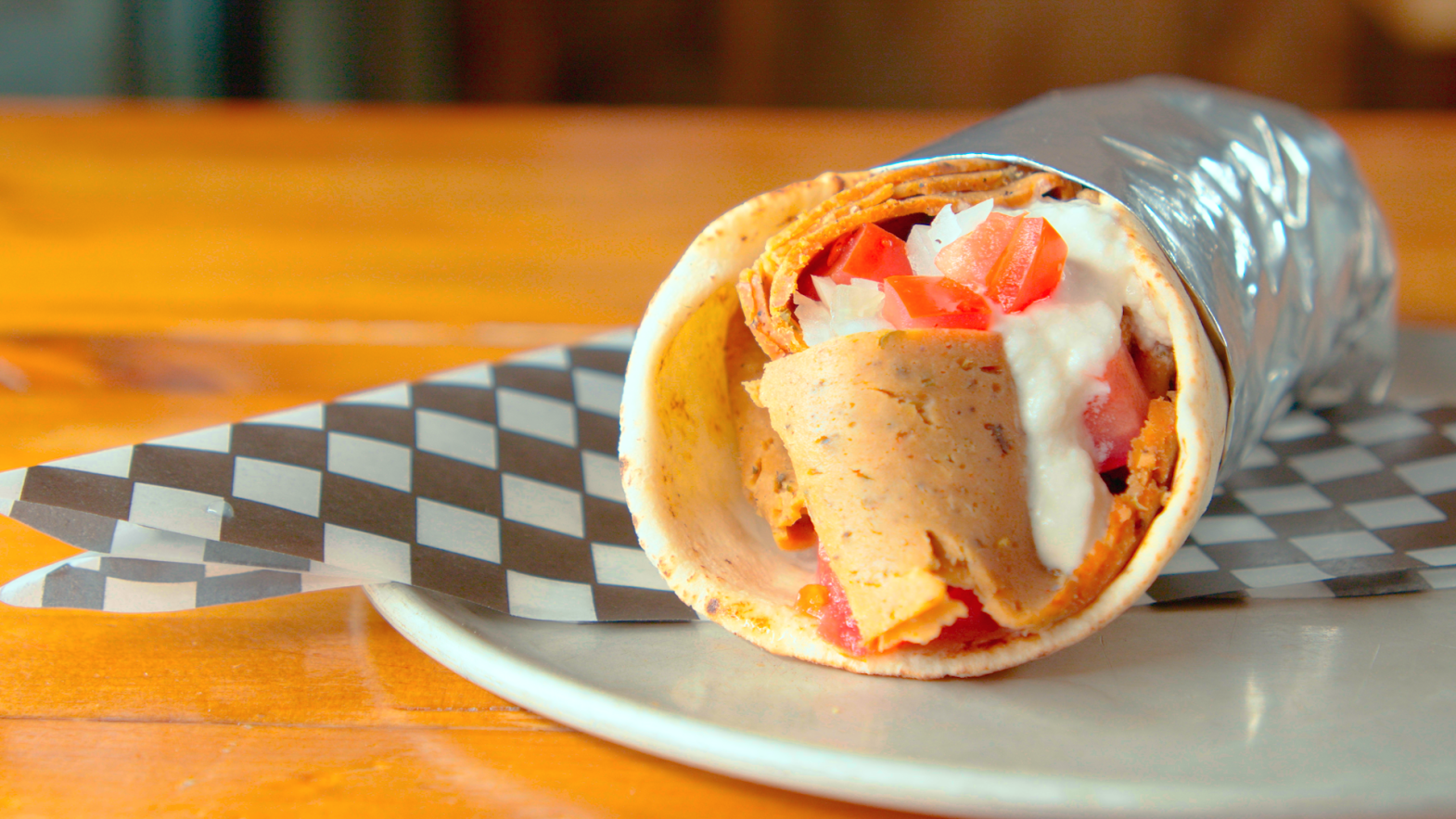 Vegan SEITAN Donair Meat
Dry Ingredients:
1 ¾ cup vital wheat gluten
¼ cup chickpea flour (can omit and use all-purpose flour if allergy)
2 ½ tablespoon nutritional yeast
2 teaspoon onion powder
2 teaspoon garlic powder
Pinch cayenne Pepper
1 tsp black pepper
1 ½ teaspoon dry oregano
1 teaspoon dry basil
1 teaspoon dried Italian Herbs
1 teaspoon smoked paprika
1 teaspoon salt
Wet Ingredients:
½ cup onion, finely chopped
¼ cup neutral flavoured oil (we usually use sunflower oil)
4 tablespoon tomato paste (ketchup works as a substitute)
3 tablespoon soy sauce
1 tablespoon apple cider vinegar
1 tablespoon Dijon mustard
¾ cup vegetable broth (if you can find a beefless dark veggie broth, BONUS!)
**1/4 cup lightly caramelized fresh chopped garlic (This is only an additional option, we do at the shop!)
Method:
Whisk all your dry ingredients in a large bowl altogether EXCEPT the vital wheat gluten. Keep that to the side for the very end of mixing.
In a separate bowl whisk all your wet ingredients together.
Pour wet ingredients into the dry and whisk very well.
Slowly add the vital wheat gluten until the mixture comes together. Should form a firm loaf. Sometimes you need a little less than the recipe calls for and sometimes a little more. Similar to making a basic loaf of bread!
Form into a square or rectangle loaf.
Lay out a large sheet of foil. Spray with cooking spray so meat doesn't stick. Fold the meat in foil so it is completely covered and inclosed in the foil.
Bake in oven 300F for 1 hour. Flip and cook for another 15 minutes.
You know it's done when the meat bounces back at you! (overcooking will do this but it becomes very spongy and bubbly texture)
Vegan Donair Sauce
12 oz sweetened condensed coconut milk
1 tsp garlic powder
1/4 cup white vinegar or apple cider vinegar
1 clove fresh grated garlic
Method:
In a bowl, pour the sweetened condensed coconut milk and mix with a hand mixer on low until an even and smooth consistency, or beat rapidly by hand.
Add garlic powder and mix on low for a minute. Then slowly add the vinegar. We add vinegar slowly to make sure the mixture doesn't break.
Fold in fresh grated garlic.
**When you use sweetened condensed coconut milk the top will most likely be hardened so mixing will smooth it out. If the mixture separates, fix it by blending in a blender for one minute.
To Serve
1 cup tomato, chopped
1 cup onion, chopped
8 medium pita bread
Sliced Vegan Donair Meat
Coconut Donair Sauce