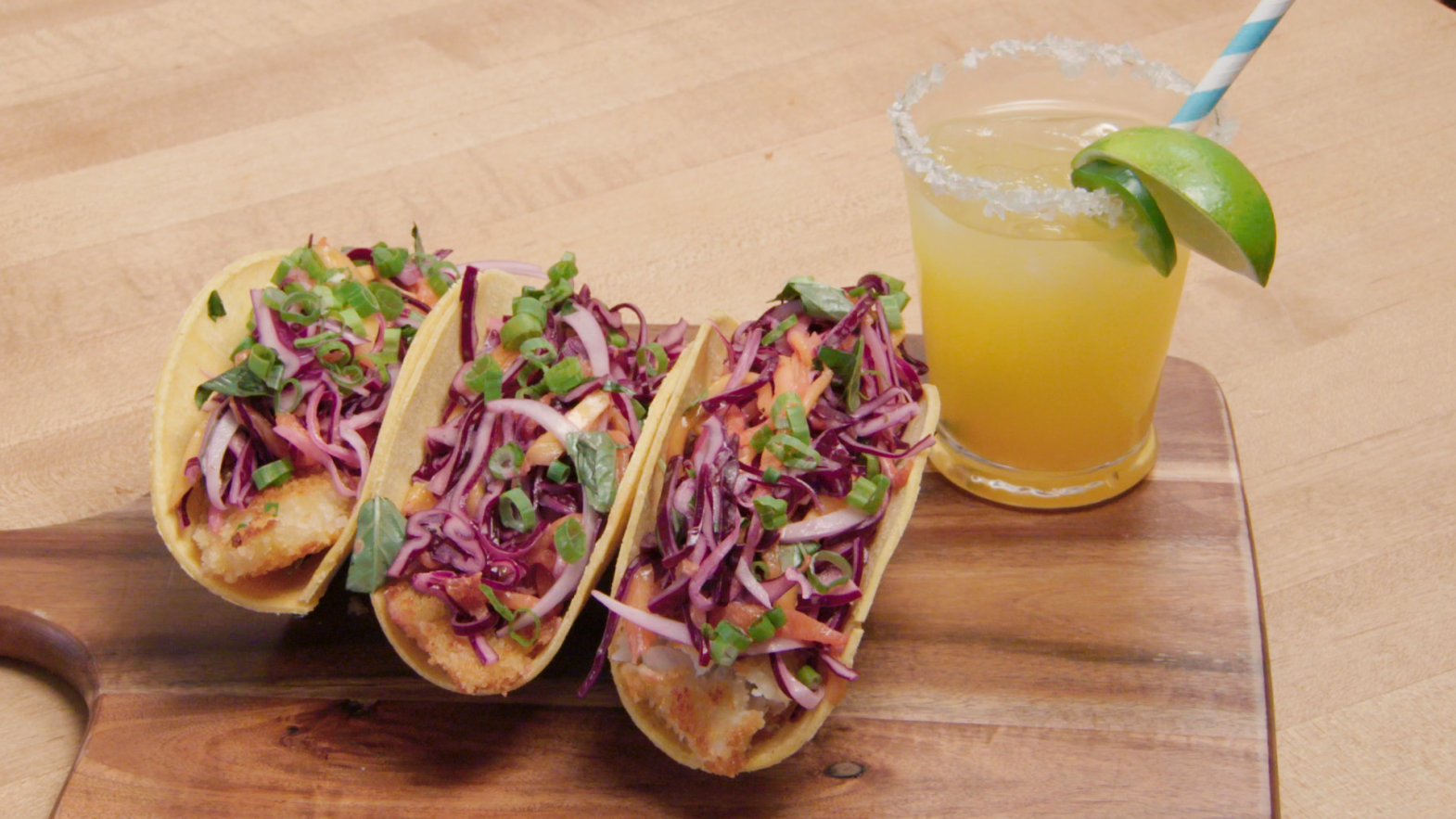 Fish Tacos:
Ingredients:
4 pieces haddock or white fish, cut into 4 x 2 inch strips
1 cup flour
1 cup Panko bread crumbs
2 eggs
Salt and Pepper for seasoning the flour
On counter, have 3 bowls. 2 bowls have measured out flour and panko crumbs. One bowl is empty with two whole eggs beside.
Crack two eggs into bowl and whisk with a fork.
Also on counter, have haddock (cut into appropriate size) on a plate. Paper towel next to it.
Pat dry fish.
Put non-stick pan on stove. Add oil. Turn heat to medium-high.
Dip fish into flour (which you've seasoned with salt & pepper), then egg mixture and into panko crumbs.
Add fish pieces to pan. Listen for sizzle. Flip over after 1 minute. Cook for an additional minute, then remove from pan onto paper-lined plate.
Mango Slaw:
Ingredients:
2 cups purple cabbage
1 mango, peeled and sliced
½ cup green onion, sliced
1 cup cilantro, chopped (or substitute with basil or dry basil)
¼ cup red onion, thinly sliced
1 lime, zested and juiced
¼ cup mayo
1 ½ tsp salt
1 tsp pepper
Assembly of Fish Tacos:
You'll need 4 corn Tortillas
For ease, bring out a taco holder if you have one
Warm up tortillas
Add one strip of fish to tortillas and top with slaw
Citrus Margarita Mocktail:
Ingredients:
2 Limes, squeezed
2 Lemons, squeezed
1 Orange, squeezed
¼ cup Agave nectar or maple syrup for sweetness (optional)
½-1 cup of Seltzer / Club Soda
1 Jalapeno pepper sliced (optional)
Flaky sea salt for rimming
Lime wedge to garnish
Ice
Glass
Method:
Rim 2 glasses with slice of jalapeno, then salt
Take a larger jar or shaker, add ice
Add lime juice, lemon juice, orange juice and agave nectar, then shake or stir
Top with Seltzer
Garnish with lime wedge