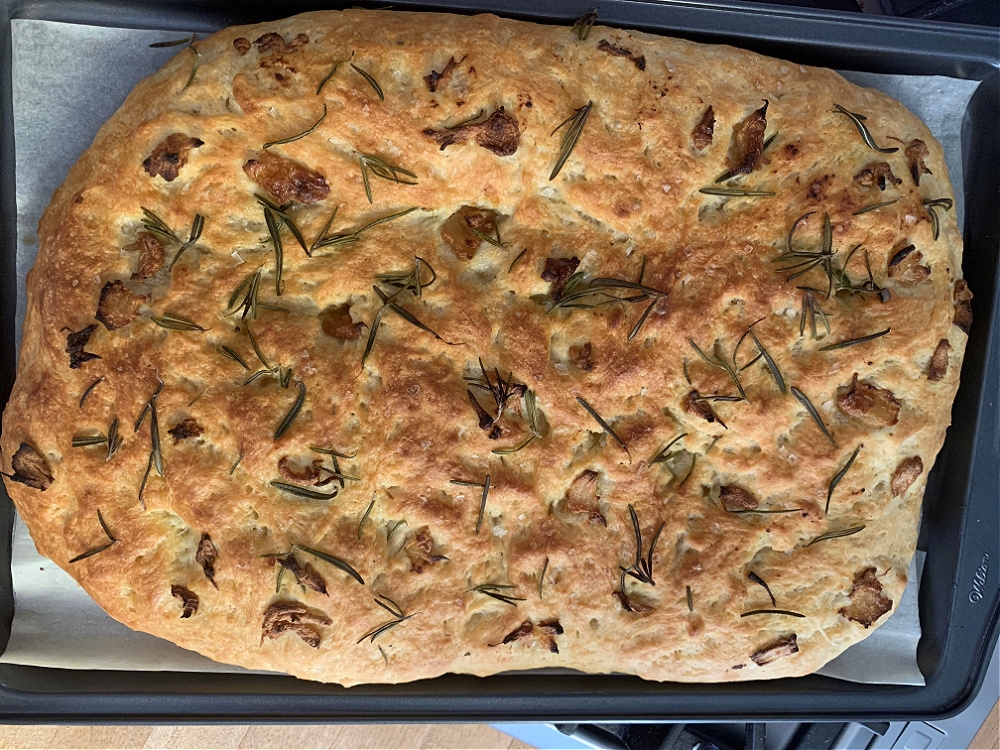 Dough:
4 cups all-purpose or white bread flour (strong flour)
2 tsp fine sea salt or table salt
1-1.5 cups lukewarm water
1 tsp instant yeast
1 Tbsp extra virgin olive oil
Toppings:
2-3 tbsp extra virgin olive oil
5-10 cloves of garlic, roasted
1 to 1.5 tsp Maldon salt or coarse salt
2 tbsp rosemary, fresh
Method:
Combine flour, yeast and salt in a mixing bowl - making sure that the yeast and salt do not come into direct contact. The flour will act as a barrier between the two.
Slowly/gradually add the water and 1 Tbsp of olive oil. (Note: you cannot remove the water if there is too much and adding extra flour isn't ideal, as you will need to add additional salt in proportion to the amount of extra flour added - so as not to mess with the balance of flavours.)
Start mixing into a basic dough.
Once all the dry flour has disappeared, cover and set aside.
Stretch and fold the dough every 20 minutes for 1 hour.
Stretch and fold the dough every hour for 1-2 hours. (Note: Allowing the dough a little more time, will yield a lighter texture and better flavour in the final loaf).
After 2-3 hours of bulk fermentation, gently tip the dough onto a baking tray lined with baking paper.
Carefully spread and stretch the dough across the surface of the baking tray.
Cover and allow to rise for 45 minutes to an hour.
Drizzle olive oil across the surface of the dough and dimple the dough with your fingertips.
Scatter garlic, rosemary and salt over the dough (or use toppings of your choice - eg. olives, sun-dried tomatoes, etc.).
Bake at 425 F for 30-35 minutes until golden brown. (if browning too quickly, place a sheet of tin foil over the top)
Cool on a wire rack.
Focaccia makes great sandwiches and is also a wonderful accompaniment to hearty soups or stews.