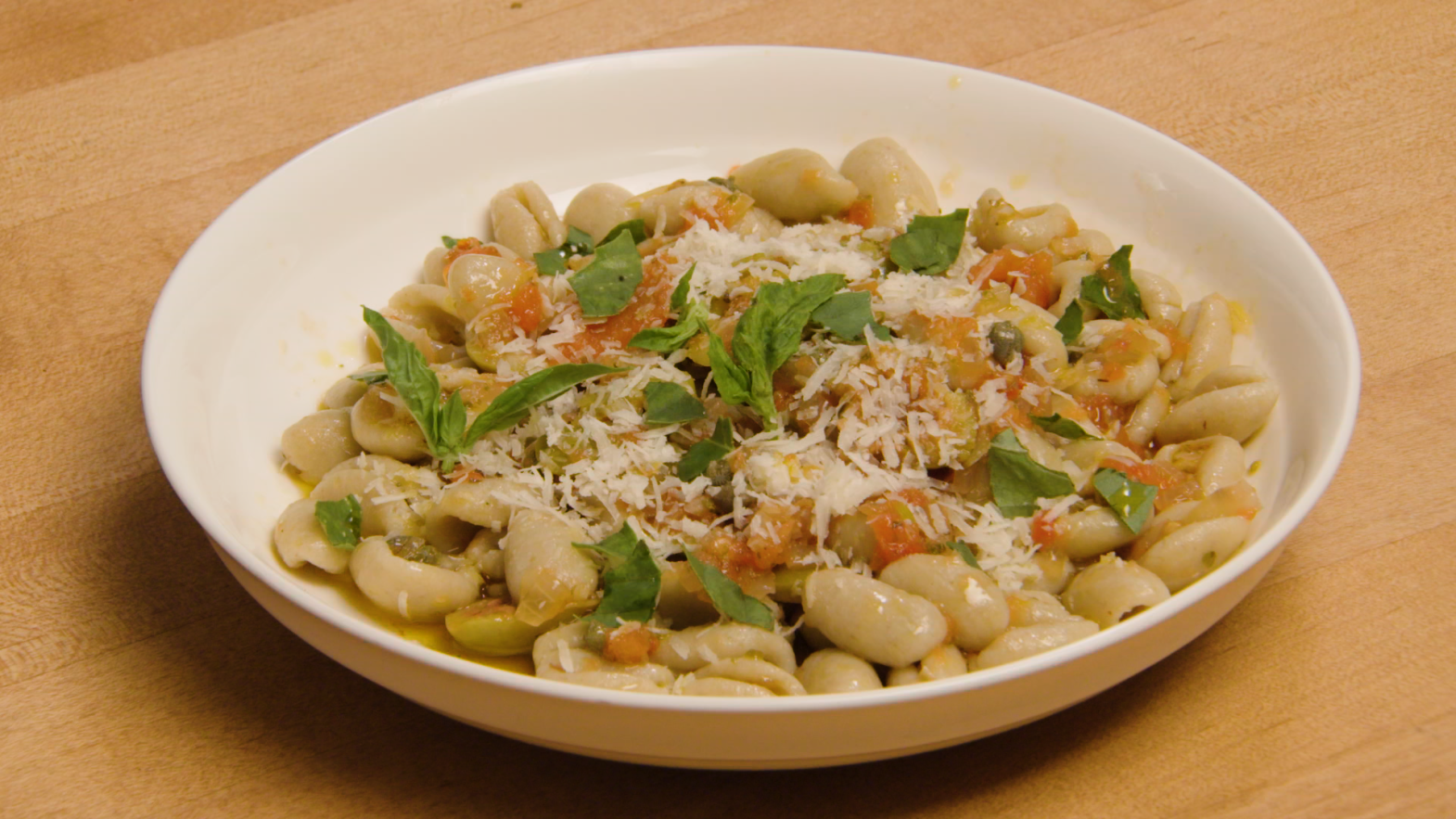 Pasta Dough:
Ingredients:
1 bag (1 lb) Good Flour Company Pasta flour or another type of Gluten free all-purpose flour
6 large eggs
1 tsp olive oil
Crack your eggs into a large measuring cup or bowl.
Pour flour onto your countertop or any clean surface and build a well or hole into the centre of it.
Pour your eggs into the well of flour.
Add olive oil into the well.
Take a fork and whisk the eggs and oil in, drawing the flour into the centre of your well with your fork until you start to feel resistance.
Once you start to feel resistance, use your hands to begin kneading your dough picking up any remaining flour on your countertop or surface.
Once your dough feels silky, refrigerate for 5 minutes.
Farfalle:
Dust your cleaned countertop or surface and then dust with flour.
Taking your dough out of the refrigerator, divide it in half using a knife or pastry cutter and set half aside for your other pasta shape.
Test the amount of flour on your countertop by seeing if you can push your dough from hand to hand on your surface without resistance.
Roll your dough into a nice thin sheet about the thickness of card paper.
Then, using a pasta cutter or pastry cutter begin to cut lines/strips of pasta the width of your thumb.
Once your lines/strips are formed, again using your thumb as your guide, cut the pasta dough into rectangles, squaring off the ends with your pastry cutter.
Once the rectangles are formed, pinch each piece in the center with your fingers and add them to a plate or bowl.
Orecchiette:
Using the remaining dough, shape tiny balls the size of a chickpea.
Cupping that ball of dough in one hand, dip the thumb of the other hand into the dusting flour and then push it ¾ of the way into the ball of dough and then move. your thumb forward and back a few times to shape the pasta.
Repeat until all your dough is used.
Pasta Sauce:
Ingredients:
In a medium pot put
1 tbsp dry oregano
½ tbsp chili flakes (as you like it)
½ tsp fresh black pepper ground
¼ tsp ground fennel (optional)
1 tbsp capers
12 big green olives pitted
½ large onion diced
½ cup olive oil
Add all the ingredients above into a medium pot.
Put the pot on stove at low heat to just simmer for 5-10 mins. (It is not meant to boil.. just bubble now and again.)
Add 3 cloves garlic, chopped.
Cook 2-4 min more, until you can smell the garlic cooking.
Using a box grater, grate 1-2 ripe tomatoes into a bowl, then add to the pot and simmer for 3-5 mins.
Season add any fresh chopped herbs.
Cooking the Pasta:
Boil a large pot of water on stove top.
Once it's boiling, season with salt.
Add pasta into the seasoned water and boil for a few minutes or until the pasta starts to float.
Once the pasta is cooked, using a slotted spoon – transfer it into the pot of pasta sauce and stir.
NOTE: The sauce will have thickened up. If it needs it, you can add some of the seasoned water you cooked the pasta in to loosen it up.
Scoop pasta and sauce into a bowl.
Top with Parmesan cheese and enjoy.