Chris Vallée spotlights Kim Kilpatrick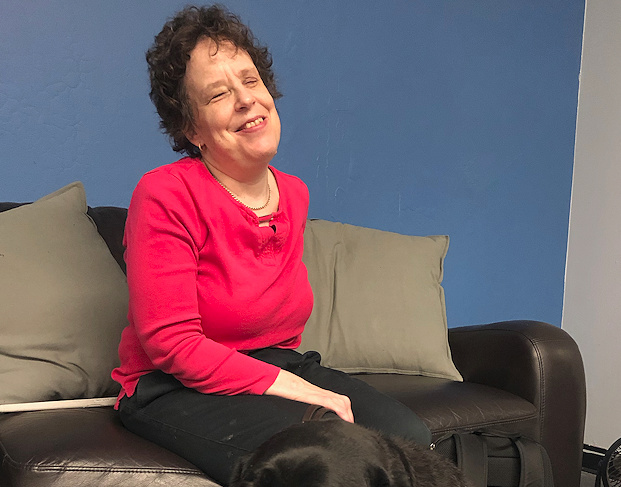 By Chris Vallée
Kim Kilpatrick, where do we even begin? Kim's name is familiar to many in the Ottawa community as well as right here on AMI. After hearing so many wonderful things about her, I was thrilled to finally meet her (virtually)! It's no surprise that Kim has been a champion for the disability community in Ottawa; her work in advocacy for accessibility, storytelling and her contributions to the Ottawa arts and culture sector are unmatched.
Kim was recently named as one of the recipients of the CBC Ottawa Trailblazer award, which celebrates those who are making a positive impact in our city.
"This is an award that describes Kim to perfection," says Karen Bailey. Karen is Kim's long-time friend and creative partner. Both Karen and Kim have worked together for many years on a popular performance piece called Raising Stanley/Life with Tulia. Karen knew that when she saw that the Trailblazer applications opened, she had to nominate her close friend.
There's no getting around that the COVID-19 pandemic has presented challenges for many. Kim isn't letting those barriers get in her way; she continues to tell stories virtually and participate in conferences that she wouldn't have had the chance to take part in if they were only offered in person.
Speaking on her award, Kim expresses that, growing up, her entire family was very active in the community and thought it was just a normal thing to do.
"I'm not sure why I was chosen, I'm just doing what I love to do," says Kim. Karen was thrilled to find out Kim was one of the recipients, explaining this was well overdue. These two fantastic ladies were fabulous, I really enjoyed learning about their connection, how they met and of course, their mutual passion for the arts.
Learn more about how Kim Kilpatrick continues to make a difference in the Ottawa community, and all about her Trailblazer award, by watching AMI This Week on Monday, May 17 at 8 p.m. Eastern on AMI-tv.
Want to read more from Chris? Search his name!