Grant Hardy previews Matthew Shifrin and LEGO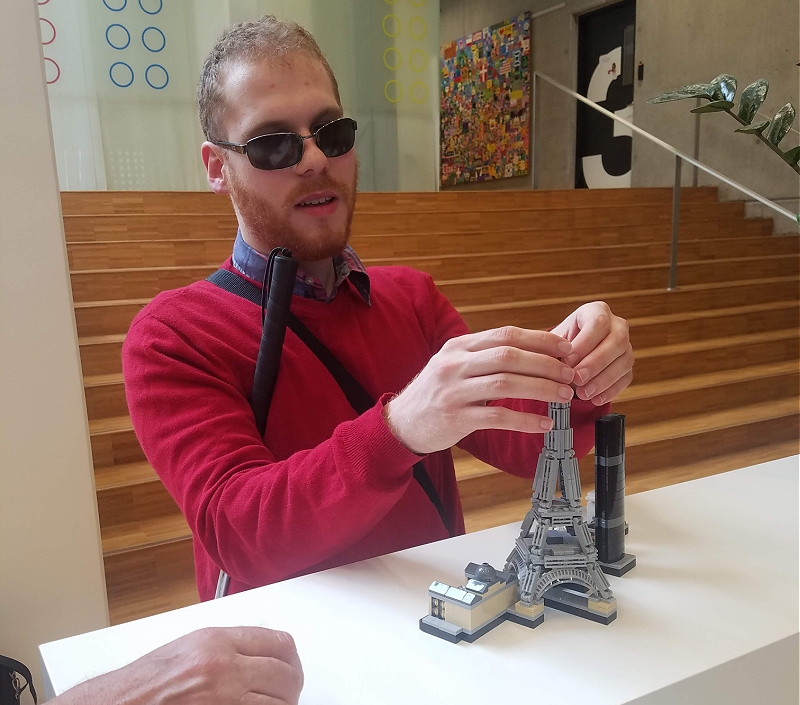 By Grant Hardy
This Monday, we're airing an AMI This Week piece that was definitely a highlight for the Vancouver team. Born without sight, Matthew Shifrin quickly caught on to how much fun LEGO bricks could be and he quickly began constructing small figures with his mom. But he never figured out how his sighted friends were constructing buildings, race tracks and other larger form structures, all out of LEGO. As someone born without sight myself, I can testify that these concepts are important, but often lacking in learning and play. Then one of Matthew's buddies pointed out the obvious: the sighted kids had visual instructions!
This led to Matthew, along with a close family friend, painstakingly creating accessible LEGO-building instructions for a variety of structures and sets. This was buoyed by positive feedback both from blind parents, and parents of blind kids, about the new appreciation they had for how fun and accessible LEGO could be. His instructions are available to this day at legofortheblind.com.
Matthew's efforts also lead to The LEGO Foundation, LEGO's not-for-profit arm, taking an interest. The LEGO Foundation has now created an artificial intelligence system that can automatically create friendly, barrier-free instructions for any commercial set. And they've created another project: LEGO Braille Bricks.
I'll leave you to watch the piece to hear what an incredibly passionate guy Matthew is, but suffice it to say it was a lot of fun chatting with him to learn about his work. One thing I can comment on personally are the LEGO Braille Bricks, which I managed to get my hands on for a brief play.
I say "managed" because these LEGO Braille Bricks are only available to school districts at this time. That's disappointing, because there are clearly individuals who would benefit from owning a set, but it does make sense. This product isn't going to be produced in the same mass market capacity as other commercial sets. So The LEGO Foundation needs to be strategic about where this product ends up. In practice, I think they're going to be a lot of fun for kids, teachers and parents alike. Each brick has dots that make up one Braille letter. You're not going to be building much with them necessarily, but they'll be really useful for Braille learners. Kids will love adding and removing letters from the board, so it's a fun, safe way to teach Braille, spelling, and mechanical skills all at once. In my experience, sighted kids love to be involved in Braille activities too, so I can imagine a classroom teacher using these bricks as part of a spelling game in class.
One minor quibble I have is that the dots form Braille letters, but it isn't real Braille. Braille is meant to be felt with the fingertip only, but these dots are quite a bit larger—and have rather more spacing around them—than typical Braille dots do. While I'm sure kids will have no problem differentiating these from "actual" Braille dots, it's an odd design choice.
All in all, it's fantastic to see The The LEGO Foundation Foundation taking an interest in the blind and partially sighted community, inspired by a difference maker like Matthew. Watch the segment on AMI This Week on Monday at 8 p.m. Eastern on AMI-tv, or stream it on AMI.ca or the AMI-tv App.
Want to read more from Grant? Search his name!