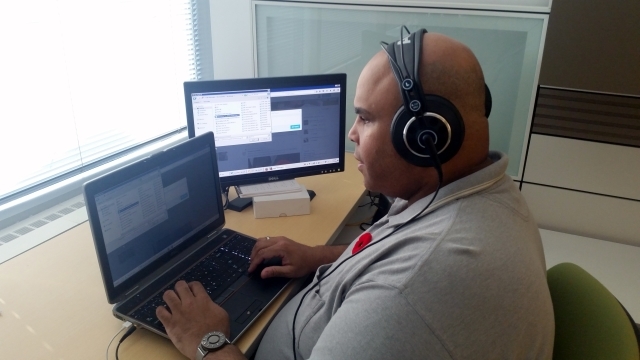 Web accessibility is an inclusive practice that refers to making websites accessible for people of all abilities. When websites, applications and the tools used to display them are correctly designed, developed and edited all users can have equal access to information and functionality. Equal access and opportunity is imperative as the web is an integral part of today's society and helps people of all abilities feel connected to the world around them.
AMI Websites
In April 2016 AMI launched two new, fully redesigned websites: AMI.ca and AMItele.ca to further reflect our mission of making accessible media for all Canadians. Members of the blind and low vision community were consulted throughout all stages of the project from design to development and asked to assist with both usability and accessibility testing using a variety of assistive technologies. Accessibility and user experience are pillars of the redevelopment and a number of new features have been incorporated including:
Capitalization of the AMI-player making it easier for visitors to access content
Segmentation of programs allowing users to select shorter clips
Optimized search functionality
Improved DV Guide and AMI programming schedules, allowing users to personalize settings based on location and cable provider
Responsive on all platforms including desktop, mobile and tablet
AMI's websites are compliant with World Wide Web Consortium's (W3C) Web Content Accessibility Guidelines (WCAG) 2.0, Level AA and we are continually working to align with the Integrated Accessibility Standard Regulation in Ontario.
Resources and Tools
There are a variety of resources and tools available to help establish and maintain media accessibility. A curated list of helpful links is included below and while it only scratches the surface of available tools and resources, we hope it will help you build a solid foundation to better understand media accessibility.
Is your organization interested in making your initiatives or events more accessible? AMI is pleased to act as a resource and provide guidance and assistance when possible. Whether it's an informal workshop or a larger scale film festival, please email info@ami.ca to see how we can work together to promote accessibility and inclusion.
Television
Broadcast Partner Accessibility Pages
Web and Mobile
Web Aim
BBC Mobile Accessibility Guidelines
BBC Mobile Accessibility Guidelines
Customizable Quickref Guide to WCAG
Google Accessibility
Mozilla Accessibility
Accessibility Standards
W3C WCAG 2.0
Web Content Accessibility Guidelines ​2.0
AODA IASR
​Integrated Accessibility Standards Regulation​
Treasury Board Secretariat
​Standard on Web A​​​ccessibility​
Validators