AMI This Week Blog: My Taste of the Prairies
My Taste of the Prairies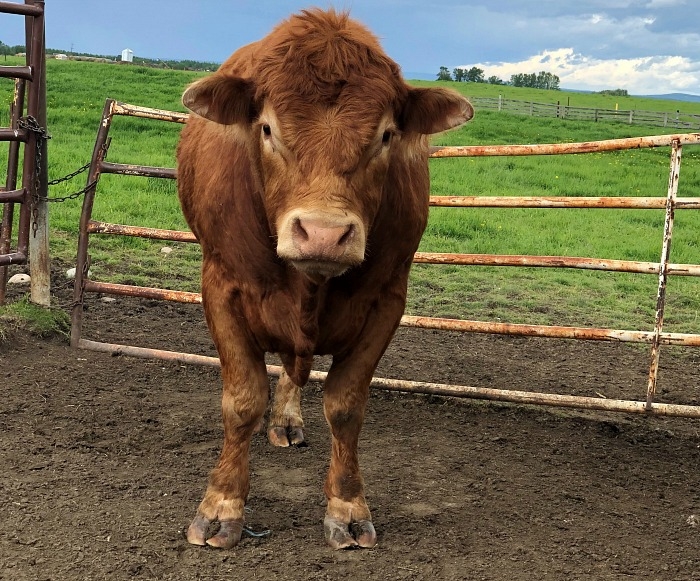 By Bethany Deer
Recently, I arrived back in Edmonton on a Friday from my training in Toronto after an exhausting but all the same exciting first week in my new position with AMI. I was aware that my new team was in the middle of shooting a documentary named A Taste of the Prairies, with the partially-sighted Toronto chef Mary Mammoliti.
On the Sunday of that weekend, I was headed to my first-ever film shoot. I arrived at the beautiful Stonepost Farms with our producer, videographer and my guide dog, Patronus. We were initially greeted by two very friendly dogs. One was a Great Pyrenees and the other was the same as Patronus, a black Labrador. We then met the owners of the farm, John and Becky, while also meeting Mary and her husband Frank for the first time. John and Becky were both amazing throughout the day, so hospitable and bending over backwards to help out the crew in any way they could.
Once all the introductions were out of the way, us ladies freshened up before we got into the swing of things. Farmer Becky's sweet daughter, Cadence, stood in their kitchen waiting for the last of us to finish up. I asked if she had any questions about my dog. Her immediate response was, "Why is your dog allowed in the house?" I explained that he was a guide dog and made sure I didn't walk into things. Then I realized it wasn't the fact he was a guide dog she was interested in, she was just intrigued to see a dog in the house in the first place. This was so interesting to me. Just a quick disclaimer, I'm from England where we don't really have farm dogs, so a dog not being allowed in the house was strange to me. This really was my first taste of the prairies and the closest I have ever come to being on a farm. I was ready to start shooting and learning more about Stonepost.
We had lots of exciting things planned for Mary to try that day. Collecting honey from bees, eggs from chickens and, of course, making Stonepost's amazing sausage. We headed off to Mary's first farming duty of the day, planting some kohlrabi. John and Becky explained to us how they grow most of their vegetables. They also shared a little of what they do differently to make their harvest extra tasty. After that, we moved along to the bee hives, which were nestled away behind some trees. Mary and the crew got dressed in bee suits and dove right into the swarm, collecting fresh honey and some honey comb. The honey was incredible, but the comb wasn't like anything you would be given as part of a dessert, very chewy and almost flavourless.
Next, we moved on to some egg picking, where Mary was brave enough to hold a chicken. Some of the chickens were inside the barn and others out. Patronus was terrified of them but that was nothing compared to when he saw the massive bull that roamed around outside the chicken barn.
Mary was such a trouper and did everything she was asked to do no matter how uncomfortable. Once she had picked some eggs Mary got started with scooping some cow dung. I have to say I was very impressed with her poop scooping skills.

Mary's last task was to fill some sausage casings with Stonepost ground meat. To begin, Becky had all of the spices in little pots ready for Mary to mix with the meat. Once combined, Mary was able to squish the mixture into the sausage maker which filled the casing to make the sausage.
After a long day of shooting at Stonepost, everyone was ready to go home to leave the farm and farmers in peace. This was my first shoot, and I could not have asked for a better one. The crew and the farmers were so lovely and I learned so much about what goes on behind the scenes when filming a documentary.
The fun wasn't over yet though. I was lucky enough to accompany the crew to Gruger Family Fungi and Rig Hand Craft Distillery. Both were in the town of Nisku, just outside of Edmonton. Gruger Family Fungi is a mushroom farm that supplies organic fungi to Albertans who are looking for a tasty vegan or vegetarian option. Rig Hand Craft Distillery is just down the street, making wonderful cream liquor, their very own brum and a variety of vodka and gin.
Gruger Family Fungi welcomed us at 8 a.m. and gave us a little tour so our cameramen could decide on the best spots to shoot. One of the owners, Rachel, introduced me to some mushroom creams. I know, mushroom creams? It's a real thing and some people swear by them! Lion's Mane is one of their best sellers and it is meant to be brain food. I couldn't get my head around all of the amazing things mushrooms are capable of doing. Seeing as there wasn't "mushroom" left in my brain for any more mushroom knowledge, I took a step back while the team started shooting. Rachel showed us what they use to grow the mushrooms and then took us to the growing room. It was filled with bags of mulch hanging from the ceiling that the mushrooms grew out of. Mary was allowed to pick some, which I think everyone was very excited about because these aren't normal mushrooms. These were red and yellow, so cool! I can't wait for all of you to hear more about the process because, I'll be honest, I never knew fungi could be so fun.
Next, we moved on to Rig Hand Craft Distillery where Mary did some bottling. When we first got there, we went to the tasting room. It is a bar inside the building where people can take a tour and sample different inventory. Here we met Mike, the general manager at Rig Hand. Mary got to taste some of their own gin, cream liquor and brum. Once taste testing was over, we watched the bottling process. After each bottle is sterilized and filled, they dip the top in a slow cooker of hot wax to give it a very creative look. This brought us to the end of another long day of filming.
I had a great time learning from Mary, the crew and our business participants. My first two shoot days were a massive success and I cannot wait to continue my adventure as AMI's new Edmonton Bureau Reporter.
Watch A Taste of the Prairies on Friday, August 2, at 7 p.m. Eastern on AMI-tv.
AMI This Week airs Mondays at 8 p.m. Eastern on AMI-tv. Watch full episodes and seasons of AMI This Week on demand at AMI.ca or on the AMI-tv App.
AMI This Week: Upcoming On The Road trips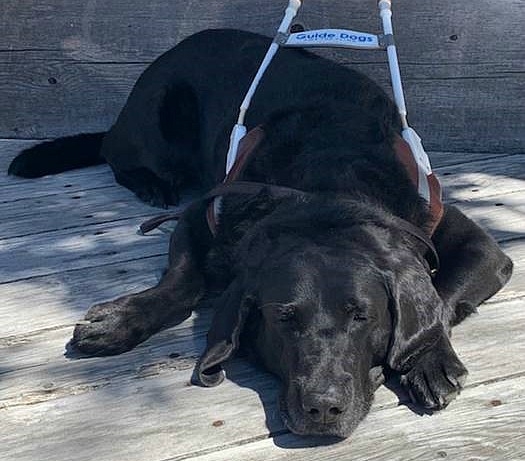 By Grant Hardy
One of my favourite parts of AMI This Week is when we have the opportunity to take our show on the road, exploring all that this wonderful country has to offer beyond metro Vancouver.
Earlier this spring, we visited beautiful Tofino, B.C., a picturesque destination with friendly people, beautiful beaches and plenty of Canadian culture. If you haven't had the opportunity to check out the July 8 episode of AMI This Week, I hope you'll join Victoria and I as we explore the region together. Highlights include co-host Victoria Nolan's accessible surfing lesson, where she does an incredible job picking up the nuts and bolts of surfing while I wait wistfully ashore with her lovely dog, Alan. They also include a tour of the fascinating Kwisitis Visitor Centre, where I learn how to distinguish subtle differences between animal tracks from dogs, wolves and cougars; and the Shorepine Bog Trail, an accessible hike on a level boardwalk that rests on the surface of a bog, where we learn more about this fascinating and delicate ecosystem. It was truly a treat exploring the region with Victoria and spending time with her. She is both a wonderful advocate for accessibility, and a heck of a lot of fun to co-host AMI This Week with. And the incredibly even-tempered Alan was the best production assistant ever.
Later this summer, you'll be able to catch a couple of other pieces we filmed for AMI This Week while on the road. The first is an accessible rowboat invented by prolific inventor John Pimlott, based out of Nanaimo, B.C. I've met John in person more than once and he's an absolutely incredible guy. His appetite for making water sports accessible for people with disabilities is insatiable. John's latest invention is a rowboat that is incredibly stable for everyone but includes an attachable electric assist motor that can assist rowers with disabilities. For example, if you're only able to row with the use of one arm, the electric assist motor can compensate by providing power on the other side of the boat. We interviewed a gentleman with multiple sclerosis who benefits from John's boat, including, occasionally, the electric assist feature. I also got the opportunity to give the boat a try myself. Although I didn't use the electric assist feature, I took directions from John via cell phone on the beautiful, calm lake near his home. The experience was very freeing, and I'd definitely love to try my hands at rowing again—literally.
Our other story, Soldier On, is an accessible recreation program for veterans of the Canadian Armed Forces who have PTSD or other disabilities. We joined them for interviews as well as an accessible yoga session followed by an intense afternoon of kayaking and hiking. What this group has accomplished is amazing, and I can't wait to see how this story molds into an upcoming AMI This Week segment.
Every story we do on AMI This Week is both interesting unique. But I think our latest on the road segments are especially interesting. Be sure to tune in.
AMI This Week airs Mondays at 8 p.m. Eastern on AMI-tv. Watch full episodes and seasons of AMI This Week on demand at AMI.ca or on the AMI-tv App.
Touch Tour at the Art Gallery of Hamilton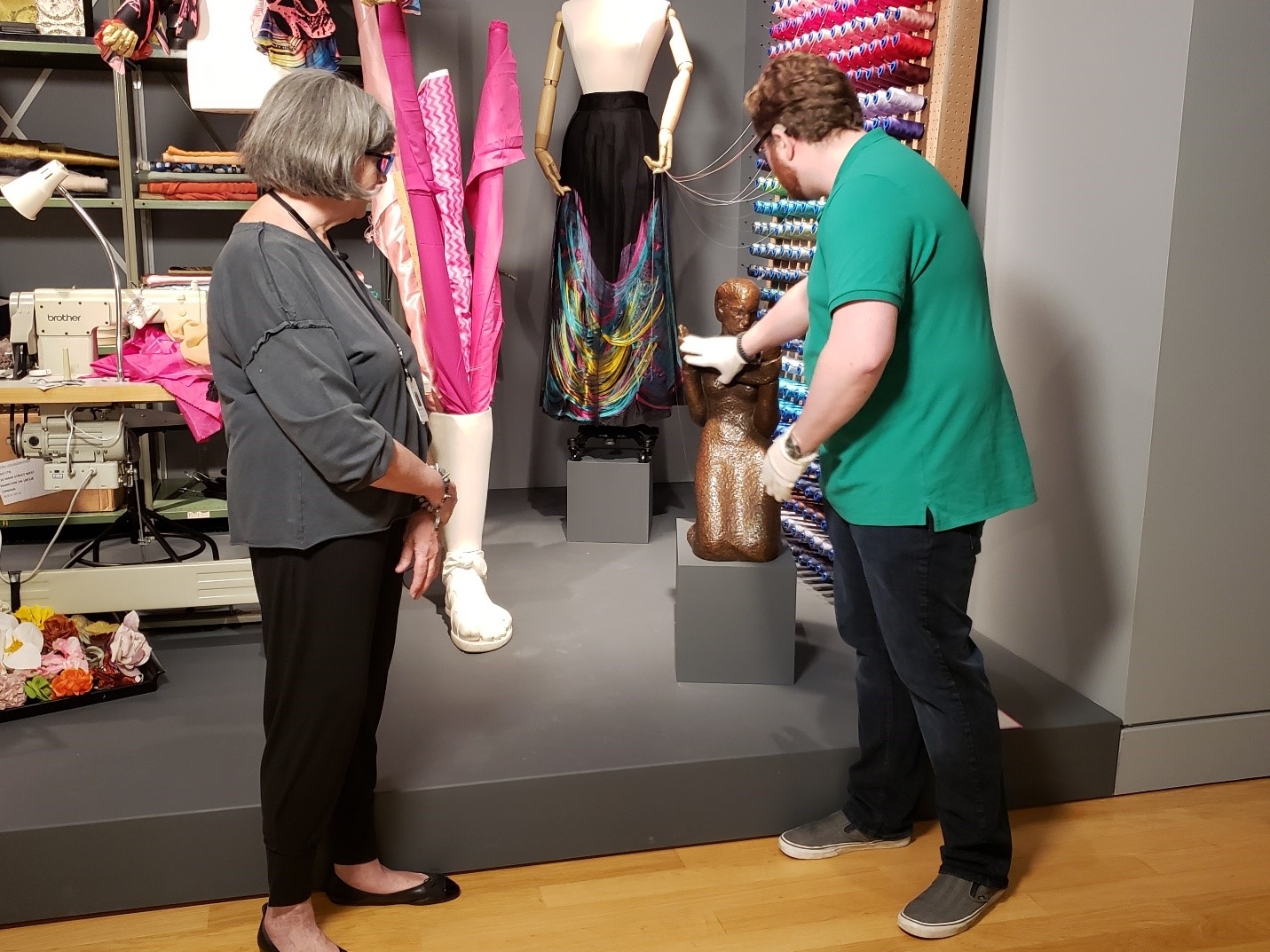 By Andrea Hodgins
Everyone can delight in interacting with art pieces at the Art Gallery of Hamilton during their weekly Touch Tour, most recently explored by Toronto Bureau Reporter Alex Smyth on AMI This Week.
Tour guide/docent Marilyn Hollick describes the tour as "... a visual intimacy with art. By adding one more thing, touch, it's one more way of describing art." Marilyn says that by using the five elements of design—colour, line, texture, shape, form and touch—every guest can describe the art pieces in detail by the end of the tour.
Currently, only a few pieces are on the Touch Tour, and all are by Canadian artists. The bronze statue called "Woman Holding Skein," by Elizabeth Wyn Wood, is a permanent piece at the gallery. The other exhibit on the tour is from the gallery's first artist in residence, Reinhard Reitzenstein, who will be working at the gallery until early 2020.

Alex donned white touch tour gloves and went through each of the five elements of design with Marilyn on "Woman Holding Skein." Marilyn has added touch when discussing texture, inviting visitors to compare skeins of real yarn to the yarn featured on the bronze bust. For a limited time, guests may take home a bookmark, created by Marilyn, with the five elements of design printed on it.
One of Reitzenstein's works in progress is a cut-up tree, which will eventually hang in the air and, with the touch tour in mind, will have felt added. Four bronze sculptures are presently part of the touch tour in the Reitzenstein exhibit, entitled "The Allegorical Minimalist." At first, the pieces look like bare branches from a tree, but upon further inspection are actually sculptures made from bronze.
Visitors can learn more about Reitzenstein and his theme on one of the gallery's pillars. In black writing on a white background, allegorical minimalism is defined as "a paradoxical synthesis of the material and natural world, challenging the perceptions of the spectator (as critic) while denying not only a fixed interpretation, but the very possibility of interpretation itself." If that definition is hard to interpret, so are his pieces. The description continues: "As an allegorical minimalist, Reitzenstein distills and combines forms to create works of art containing contradictory elements that unsettle the perceptions of the viewer. This process-oriented viewing experience frustrates reason and instead encourages the use of one's intuition in the productions of meaning."
The Touch Tours are located on the second floor of the gallery, surrounded by Hamilton designer Milli Gould's fashion exhibit and the famous Kim Adams: Bruegel-Bosch Bus. Touch Tours can be booked from Tuesdays through Saturdays. For more information about booking tours call 1 (905) 527-6610 extension 272.
AMI This Week airs Mondays at 8 p.m. Eastern on AMI-tv. Watch full episodes and seasons of AMI This Week on demand at AMI.ca or on the AMI-tv App.
Grant's Sea School Experience (Part 2)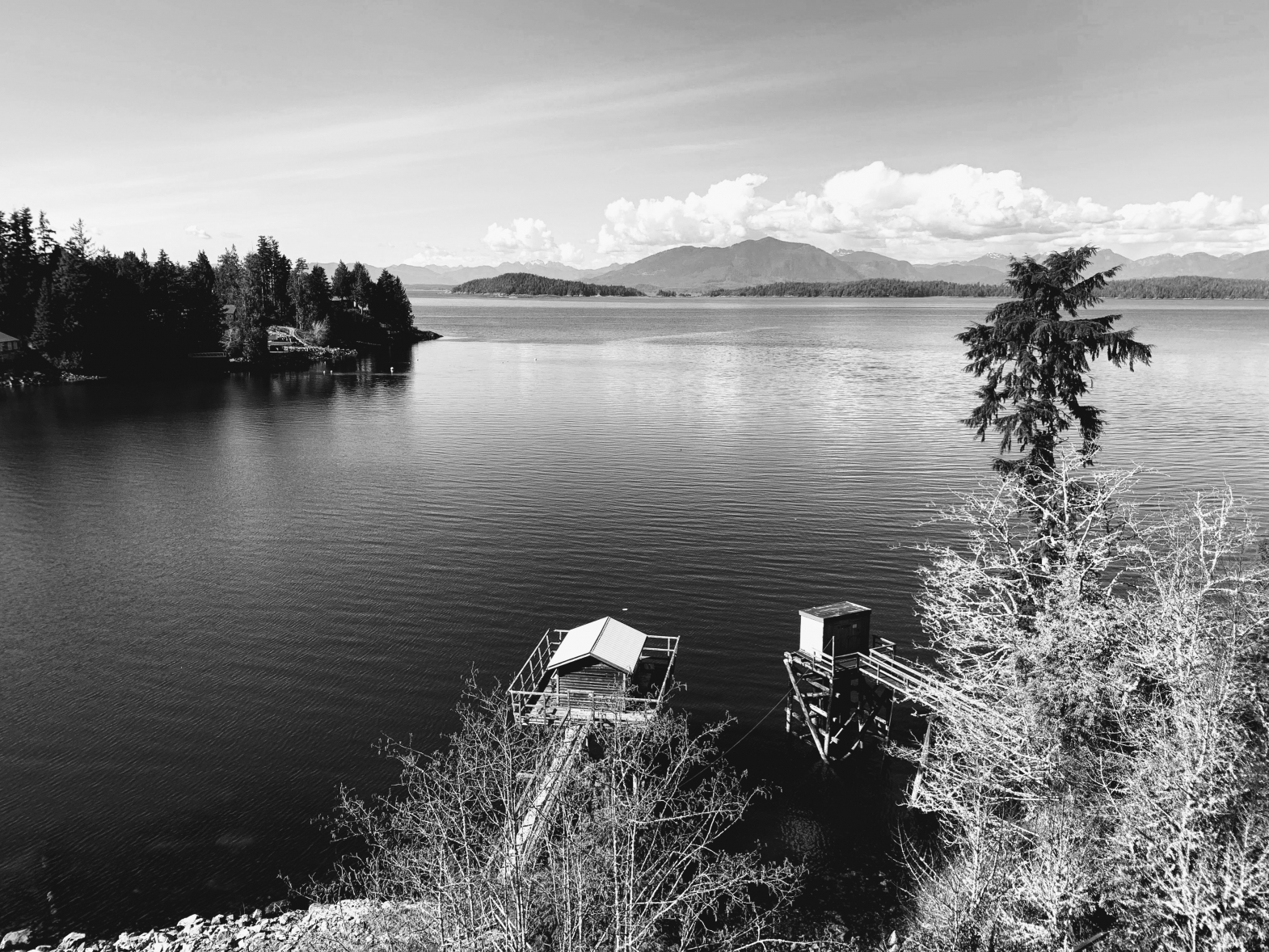 By Grant Hardy
If you read Part 1 of my Sea School: Marine Science Camp experience, then you'll know that the Vancouver team produced a half-hour documentary on a unique marine science camp held for blind and partially-sighted high school students on Vancouver Island.
With a camp as packed as this was with activities, I think everybody's takeaway was different. For some, it was seeing grey whales up close for the first time. For others, it was being away from their homes and families in a new environment.
As someone who is passionate about the environment, my biggest takeaway was how delicate the ocean ecosystem is, and how much damage we as humans are causing to that ecosystem and, in turn, to ourselves. Whenever we visited a beach, we were instructed to leave it the way we found it—touch things carefully, but put everything back undisturbed, including rocks. Tempting as it is to find a nice smooth stone and hang onto it, it could be the shelter for a small animal.
But a lot of damage has already been done to the ocean ecosystem, primarily due to our insatiable appetite for plastics. Of course, plastic is a very versatile material and has many legitimate uses for health, safety, education and more. But as more than one Bamfield interpreter explained, the problem is our reckless use of single-use plastics, which make their way into our oceans and cause damage in a number of ways. Sea creatures can sometimes get entangled in them; but most worryingly, microplastics are often mistaken as food. These tiny plastics, and the toxic chemicals they contain, are devoured by small animals which causes the toxicity to work its way up through the food chain, through larger and larger predators, and eventually to us. I recall hearing that studies of sea birds have often found a significant portion of their body mass to be composed of plastic. On the news recently, I heard a tragic story of a sperm whale who washed up on a beach, with a stomach full of plastic.
This situation is terrible for the health of our ocean ecosystem, as well as our own health. I think many of us are aware that plastic isn't great for the environment, but we figure that as long as we recycle our plastic, things will be fine. In reality, recycling alone won't solve the problem, due largely to the energy inefficiency of recycling and the fact that many items never get recycled.
I, of course, can't say I've given up all plastic, but I try to avoid single-use plastics like straws and plastic bags. Only by cutting back on our plastic appetite, and cleaning up the mess we've already made, can prevent the end of our ocean ecosystem as we know it.
Of course, raising awareness about these issues is why programs like the Bamfield Marine Science Camp are important to extend the reach of science to everyone. Along those lines, check out Sea School: Marine Science Camp on AMI.ca and the AMI-tv App to learn more about this fascinating camp.
Grant's Sea School Experience (Part 1)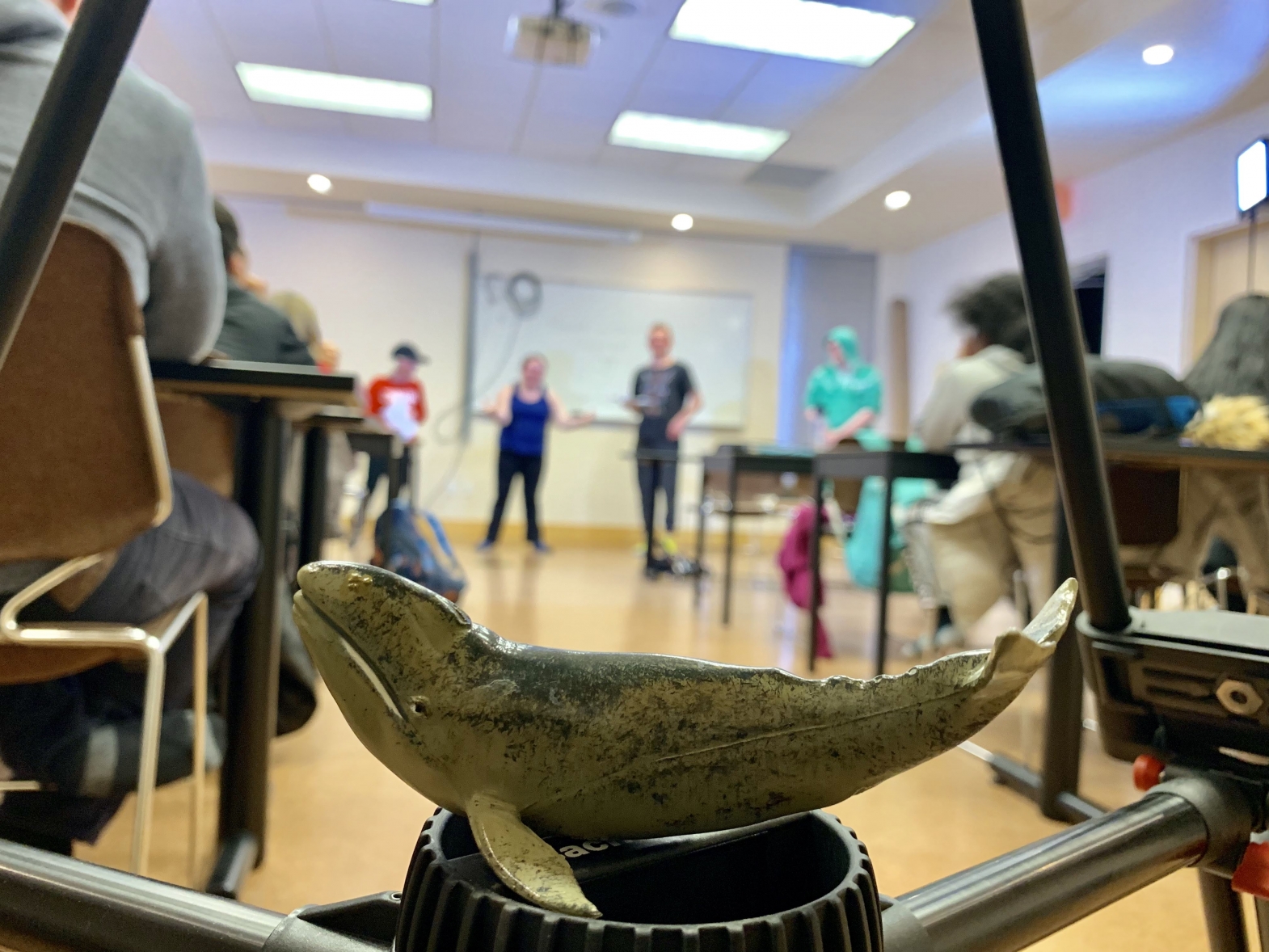 By Grant Hardy
Our Vancouver team is currently busy working on a special called Sea School: Marine Science Camp, about a unique week-long camp at Bamfield Marine Sciences Centre on Vancouver Island where eight blind and partially-sighted high school students were immersed in the world of marine biology. This included whale watching, hands-on explorations on beaches and in wet labs, a beach cleanup, a rain forest walk and lectures from experts.
You can watch the special on May 24, but if you can't wait to dive in (sorry, couldn't resist), I'll be sharing some behind-the-scenes perspective before it airs.
For me personally, this was a neat experience. I've always been passionate about the environment and am definitely interested in the ocean and how important—and fragile—it is. So having the opportunity to explore lovely, sandy beaches, interact with some of the sea creatures who call the ocean home, and learn about the perils they face, was great. It's one thing to stick your hand into a tank at an aquarium and feel a sea cucumber, one who is used to being handled. It's another thing to touch a sea cucumber on a sandy beach, have it curl up and start shooting water out of its end as a defense mechanism; or to find myself with a crab attached lovingly to my finger with its tiny pincers. All the while, knowledgeable staff are there to provide info about the beaches and the animals. And the beaches were less busy than the touristy ones found in metro Vancouver, so they were easier to explore independently.
As mentioned, we also did some whale watching. I loved being out on the boat, and it was great to see everyone's excitement upon seeing the whales. But as one of only two totally blind participants, I would have loved for a more sensory whale watching experience. The organizers mentioned going on whale watching tours in Mexico where they were allowed to physically reach out and touch the whales. Realistically, I could only hear the small sound of water shooting out of the whales' blowholes, which sounded like distant waves. But the description from others at least gave me an idea of what was happening.
Meeting the students, learning about their motivations for attending, and seeing them grow throughout the week, was really interesting as well. One blind student was used to having most things done for her by the adults around her but began to gain confidence and independence throughout the week. Another student plans on becoming a marine biologist herself, and totally immersed herself into the academics. While there were a couple "big city" folks like me, I found that most of the students came from smaller communities in B.C. In many cases, services for these students are much scarcer, so experiences like Marine Science Camp are more critical than ever. Even in the big cities, visual and attitudinal barriers make science in school less accessible than it should be. Yet access to science is critical in this time of increased environmental sensitivity. It's also needed for almost all of the jobs these students will be applying to.
Speaking of the environment, stay tuned to the AMI This Week Blog for Part 2 of this reflection, where I'll talk about the environmental lessons I took away from Marine Science Week.
Sea School: Marine Science Camp airs Friday, May 24, at 7:30 p.m. ET on AMI-tv.
AMI This Week airs Mondays at 8 p.m. Eastern on AMI-tv. Watch full episodes and seasons of AMI This Week on demand at AMI.ca or on the AMI-tv App.
March of Progress: Assistive technology updates for March 2019
By Grant Hardy
A Word Is Worth a Thousand Pictures
The last couple of years have seen the proliferation of apps and services that want to describe the world to us. Microsoft's excellent Seeing AI app for iOS, for example, uses artificial intelligence to describe faces and facial expressions, objects, text, and even handwriting that it sees in photos. This app has recently gained support for the iPad. It has also been enhanced with support for photo exploration by touch. Selecting the "explore photo" button wherever it's available, such as the scene channel, enters a mode where you can slide your finger around the touch screen to examine the relationships of objects to one another in the photo. You'll hear soft music when you're touching a place on the screen where Seeing AI doesn't detect anything. But when you put your finger over a person, object or text, you'll hear a "ding" sound followed by a description of the object you're touching. For example, you might hear "30-year-old woman with brown hair looking neutral."
In this way, you can gain some sense of where objects are positioned, such as whether everyone is standing side-by-side or if two people are standing in front of a car. Truth be told, it still doesn't replace a human describer, and if you have an organized photo library with clear descriptions of each photo, you'll greatly enhance your experience maintaining your photo collection. But this is still a neat application of artificial intelligence, and an evolution of a great app that can describe a surprising amount of content with no sighted assistance required.
This month, another player has entered this space: JAWS, the popular screen reader for Windows. With their latest Picture Smart feature included with the March 2019 update for JAWS, customers can submit photos that they'd like described. JAWS will submit these to many of the major third-party players, like Microsoft and Google, to give you the best description possible. It can also recognize objects, text, landmarks, landscape details and text.
While this feature isn't unique, it will be great because of its availability. Its integration with JAWS means you'll be able to recognize just about anything—controls in inaccessible apps, images you find on web pages, and even the contents of the clipboard. In fact, JAWS creates a special Picture Smart folder within your Pictures folder. Copy any photo to this folder, and it's automatically submitted for analysis.
The following hotkeys are available when using this feature. They all begin with the JAWSKey+SPACEBAR followed by P, for "picture":
• A: acquire an image from a scanner
• C: describe the image associated with the current control, like an image on a webpage or in an Email message.
• F: describe the photo you're focussed on in File Explorer.
• B: describe the image on the clipboard.
• Question mark: get help with these keystrokes.
Results are shown in the JAWS Results Viewer, which you can navigate using standard navigation commands including arrow keys. When you're done reviewing the description, press ESCAPE to close the window.
Conclusion
We're probably years away from our computers behaving like little humans, dutifully describing every detail of our photos with the accuracy of a sighted assistant. But you can still get some pretty accurate photo descriptions using these services. If nothing else, you should be able to tell whether you're posting the cute nature shot you took to social media, or the scanned copy of your ID card. That's a big deal!

Grant Hardy gives Powerchair Soccer a try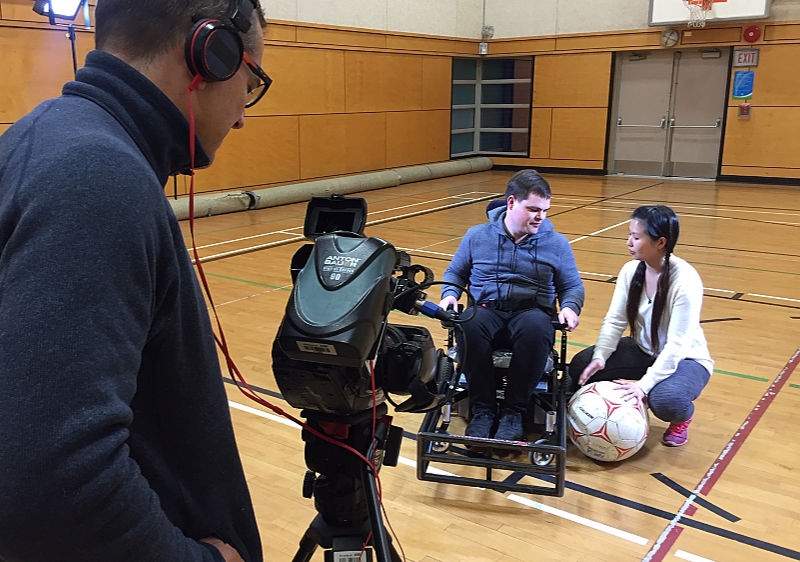 By Grant Hardy
Recently, I took part in a story for AMI This Week about the Vancouver Power Soccer team. Power soccer is a bit like mainstream soccer, only you kick, block, and otherwise interact with the ball using a special power wheelchair.
I was struck by how dedicated, diverse and talented this team is. And, with a leap of faith, the coach and the organizers let me try something I wouldn't normally have the opportunity to do: drive the powerchair. Normally, my experience with sports involves sitting on the sidelines and cheering from afar, so it was really interesting to get a hands-on experience that I don't normally have.
A powerchair operates a little like a videogame. You have a joystick that can go in all directions, and by applying whatever amount of pressure you want to the joystick, you can opt to barely move at all or to zoom down the court at a breakneck pace. This was a lesson I quickly learned, as I covered the gymnasium in seconds, heading towards our videographer at an alarming pace. Slow and subtle movements with the chair are perfect for sending the ball in the exact direction you want it to go. Zooming down the court as fast as you can go is an incredibly exhilarating feeling. Hitting the ball with the chair is also fun. In my case, the coach lined me up, so I did it in a very controlled manner, but professional powerchair soccer players have to use that same joystick to operate their chair and mobilize around the court, plus send the ball where they want it to go.
I was left with a sense of gratitude for the coach and organizers, who let me try something unique and interesting that I wouldn't normally get to do. And I'm intrigued by the sport of Powerchair Soccer, which is fast-paced and interesting.
If you're keen to learn more, keep an eye—or an ear—on AMI This Week for our upcoming piece on Powerchair Soccer.
AMI This Week airs Mondays at 8 p.m. Eastern on AMI-tv. Watch full episodes and seasons of AMI This Week on demand at AMI.ca or on the AMI-tv App.
Alex Smyth encourages an AMI adventure in Edmonton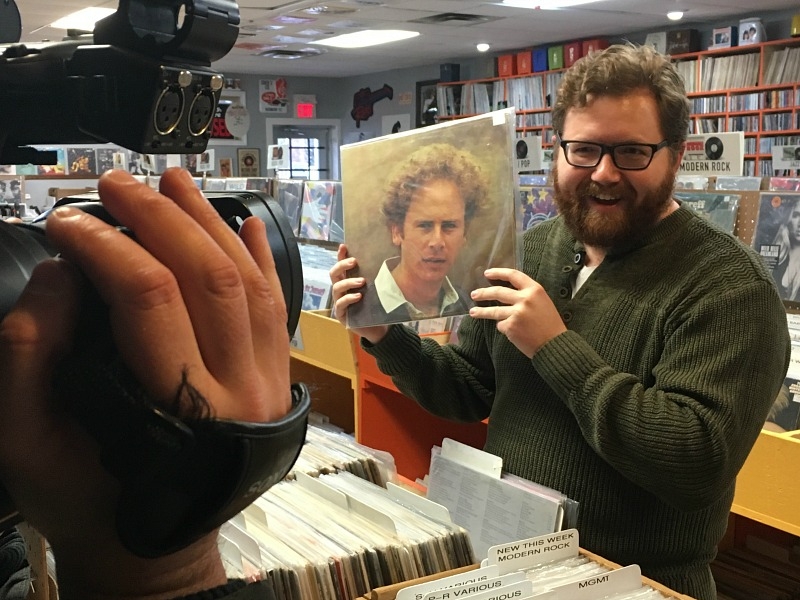 By Alex Smyth
Twenty months ago, I began my journey with AMI and accepted the position of Bureau Reporter (then called Broadcast Presenter) with the Edmonton team. It was a big leap for me as I had always lived in Ontario and hadn't even visited Alberta before my move.
I can easily say that it was one of the best decisions that I ever made. I was able to step into a position that opened a world of opportunities for me, and I joined an amazing team that offered lasting support during my entire stay in Edmonton.
Not only is the team fantastic, but in the role of reporter, I was able to try some once-in-a-lifetime experiences. I panned for gold in the North Saskatchewan River, interviewed hockey legend Lanny MacDonald at centre ice in the Saddledome, interviewed Grammy-winning musicians, met gold-winning Canadian Paralympians, drove an autonomous vehicle, covered the Canada Deaf Games, and so much more. There is the freedom to travel outside the city to film segments for both AMI This Week and original documentaries. I was also fortunate to visit Northern Alberta, Calgary, Winnipeg, Ontario, Quebec and many more places covering stories for AMI.
However, the best part of the job is being able to share the stories of the community we serve and learn about the amazing work people are doing to improve the lives of others. These have been the stories that leave the biggest impact. I still vividly remember meeting young Zach Abdalla, Calgary's Honorary Sight Night Chair. There was Super Fly, a clothing line designed for people with mobility issues, which started because the founder saw her husband struggle to dress himself and wanted to do something about it. I visited The Lending Cupboard, a non-profit organization that rents medical equipment for people who needed it, because medical costs can be so high.
These are only a small sample size of the stories I covered in my role, and you could have the opportunity to do the same.
I recently accepted the open position in Toronto and have taken the opportunity to continue to share amazing stories back in my home town. It was bittersweet to accept the position as I was excited for the chance to work in Toronto, but sad to say goodbye to my amazing team in Edmonton.
I am so happy, however, to share the opportunity to work in Edmonton for another lucky person because the city is fantastic, with so many kind and friendly people, as well as an amazing group that feels more like a family than work colleagues.
As a Bureau Reporter, you play a major role in the production of television segments for AMI by participating in research, conducting interviews, hosting documentaries, and being the face of the bureau. The job is a truly rewarding experience as you share stories from the disability community that will help inform, inspire and entertain audiences.
Working in Edmonton, you become part of a small but amazing group of people. The four-member team works closely together, and you couldn't ask for better people to spend your time with.
If you want a career that allows you to travel throughout the country and beyond, participate in amazing experiences, meet interesting people and share their stories, the Bureau Reporter position in Edmonton may be the opportunity you've been waiting for. Jobs in television are extremely competitive, so the chance to join a fantastic team in a rewarding career is an opportunity you can't miss.
To learn more about the Edmonton Bureau position, go to the Careers page and follow the instructions to apply.
Grant Hardy: Blindfolds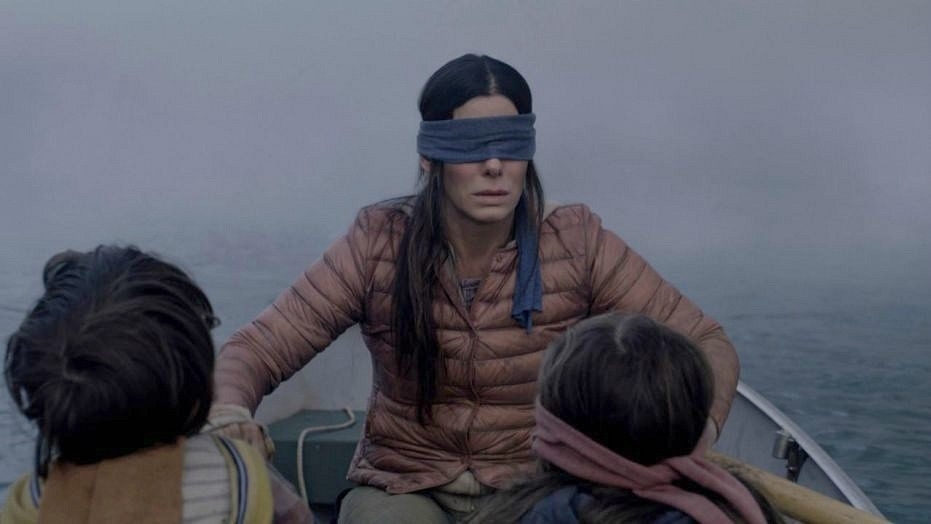 By Grant Hardy
Recently my colleague Dave Brown wrote a post on the Bird Box Challenge, discussing the bizarre series of videos where sighted people try to carry out activities blindfolded. I'd like to offer my own perspective on the issue, since blindfolds are routinely used in education, fundraising and for entertainment.
In the midst of learning about the eye in my Grade 8 science class, our teacher asked to borrow my cane so she could blindfold the class and give them a taste of what walking around without sight was like. Happy to be in the spotlight, I handed it over and the kids spent the next half hour contentedly bumping into the furniture, laughing at themselves and each other, and generally enjoying a rare opportunity away from their desks.
Though, at the time, the activity seemed harmless, looking back on it now, years later, I wish I had questioned it. I have to wonder what message my class gained from this activity. While I'm not personally offended by sighted people blindfolding themselves, my concern is that it perpetuates harmful stereotypes about blindness.
Many people who have had similar experiences talk about how panicked, disoriented, and even sad they felt losing their sight for a few moments, and how relieved they were to get it back. Yet this is not at all the experience that a normal blind person has on a daily basis. The reasons are simple: skills and familiarity. Sighted people who blindfold themselves lack the skills to travel with a cane, recognize people by their voices, use technology without seeing it, and carry out other everyday activities. But someone who has been blind all of his or her life knows how to do all these things. And because they've been practicing for years and years, they have experience that blindfold-wearers don't. More importantly, a blind person with the right skills and opportunity can live a normal, happy life. While blindness presents some inconveniences, it doesn't define who you are. It's not all-consuming, and a "professional" blind person doesn't have the same panic, sadness, or cluelessness that a blindfolded sighted person does.
I think there are legitimate reasons to wear blindfolds and practice non-visual techniques, mainly for people working in the field. Instructors who teach cane and guide dog skills need to do this to become familiar with the techniques they teach. But in most cases, a better way is simply to get to know folks who can't see. Instead of blindfolding the class, invite a blind student to speak to the class and answer questions. I have done this through opportunities such as the Rick Hansen Foundation Ambassador Program, and I believe it's a worthwhile experience for everyone. Kids usually ask lots of great questions, and are really engaged in the conversation. They learn that there are challenges, but that I'm still a normal person and can still lead a happy life. At the end of the day, I think that's a more worthwhile message than letting a class of eighth graders loose with a cane for a half-hour.
AMI This Week airs Mondays at 8 p.m. Eastern on AMI-tv. Watch full episodes and seasons of AMI This Week on demand at AMI.ca or on the AMI-tv App.
Grant Hardy on No Vacancy: Vancouver's Housing Crisis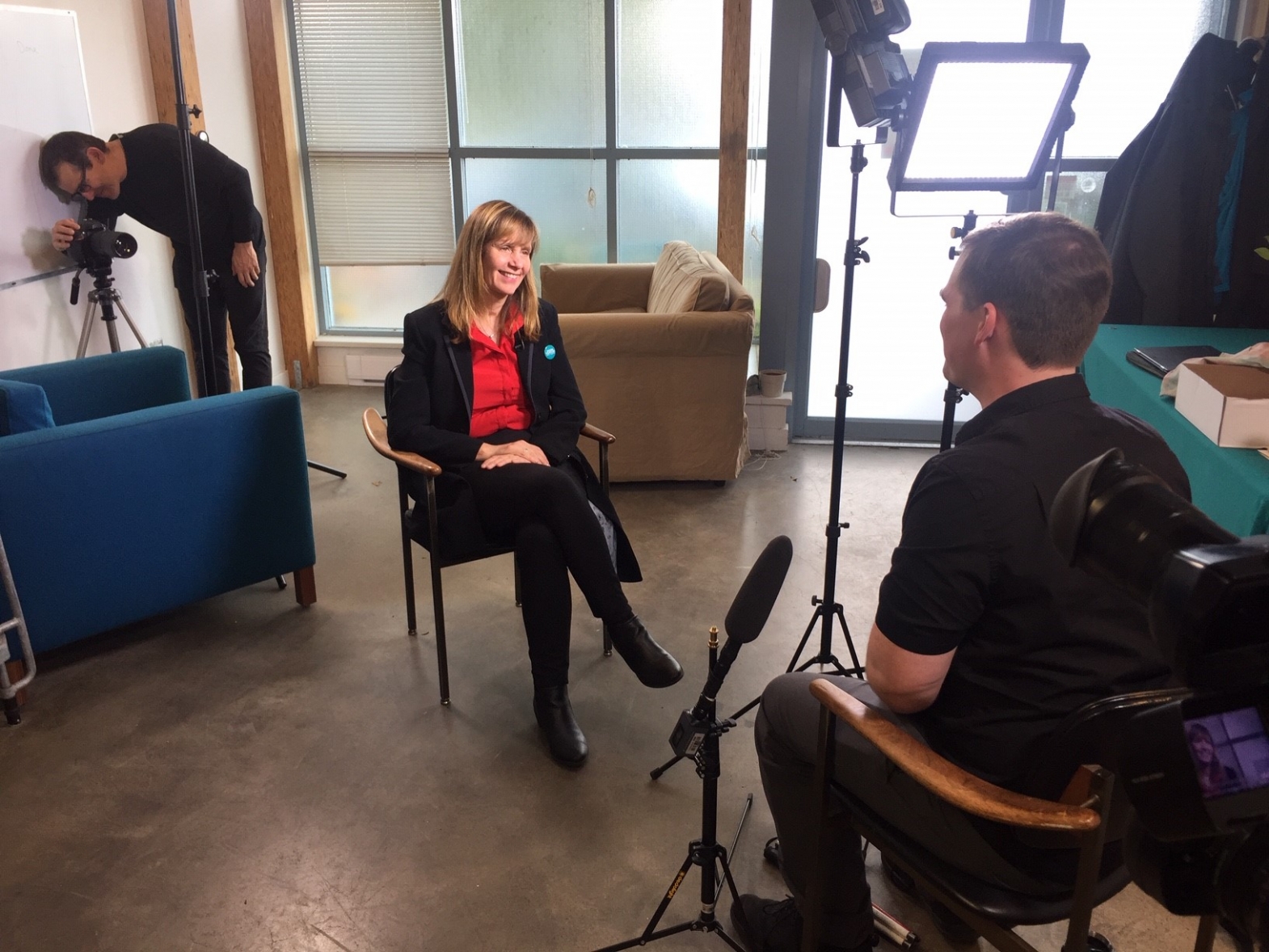 By Grant Hardy
If you've ever experienced an essential appliance failure, a water leak, a power outage, or any other temporary inconvenience at home, then you know how awful it feels when your sanctuary doesn't work or feel as it should.
Now multiply that feeling by imagining your home isn't accessible, you know your home is temporary, or you lack a home at all. No Vacancy: Vancouver's Housing Crisis explores the housing crisis in our beautiful city from the perspective of some of the most vulnerable people in the region.
While working on this documentary, one thing that has become fascinating is the precarious position tenants have in the rental market. For starters, there's the fact that we don't, in fact, have the right to a home. Of course, most people do have homes—but despite the rights we do have in today's society, housing isn't one of them. Ironically, our laws surrounding rental control can be just as detrimental to tenants. Since landlords can charge new tenants exponentially more rent than existing tenants, it means there is an economic advantage to evict loyal, existing tenants. While they cannot do this directly without cause, many landlords try to do so with the pretext of needing to renovate the suite. This practice, known as renoviction, sometimes results in small, cosmetic changes to the suite. Meanwhile, the landlord can prepare to rent to a new tenant—at a higher rate. Luckily, there are advocates out there, and we hear from an incredible lawyer who has spent her career dedicated to poverty law, including helping tenants facing eviction.
It was humbling to see how many people were willing to open up to us about their most private struggles. In one case, Ria, a single mom struggling to find an accessible unit for herself and her daughter who uses a wheelchair, agreed to open up to us despite her discomfort because she knew it was such an important topic. Johnny, a vulnerable tenant living in a poorly maintained suite in Richmond, B.C., revealed the deficiencies in his home to demonstrate how powerless many renters feel. Heather, a senior who traded pet sitting for shelter after losing her home to a fire, relived her story for us with the dog she was looking after close by for emotional support. Her story proves how vulnerable we all are to sudden changes in our living situations. In every case, our interviewees' openness and earnestness are the foundation of our documentary.
Despite blaming the housing crisis on popular scapegoats like foreign ownership, it's often our own attitudes and resistance to inevitable change which lead to a lack of affordable housing. Change is tough, especially when building accessible, affordable housing means months of construction, or re-zoning and restructuring one's neighbourhood. Yet the alternative is abandoning the diverse city that Vancouver is, which would be very unfortunate.
There's something in No Vacancy: Vancouver's Housing Crisis for everyone, and no matter what your housing requirements or current housing situation is, you'll learn something from this one-hour special.
Stream No Vacancy: Vancouver's Housing Crisis on AMI.ca or the free AMI-tv App.

Grant Hardy's Dot Watch Review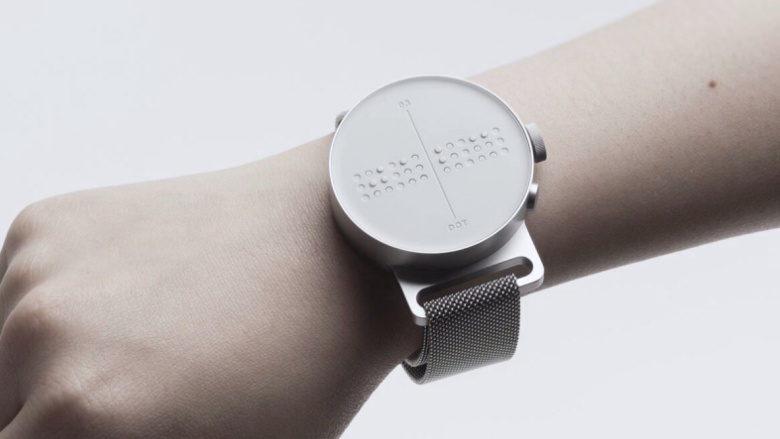 Introduction
The Dot Watch is an impressive Braille smart watch designed for blind users and features four Braille cells on its face. These offer privacy as you check the time down to the second, review notifications from your smartphone and access other watch functions like timers, alarms and a stopwatch. You can use the watch on its own as a basic Braille timepiece, but you'll get the most out of the Dot Watch if you pair it with your smartphone. You can do so using the free Dot Watch smartphone app, which can be downloaded from the Apple App Store or Google Play store.
Look, feel and usage
I wouldn't normally delve into packaging, but in the case of the Dot Watch I was particularly impressed. Firstly, the box is compact and durable, so you can save it in case you need to store or service the watch. Markings such as the product name and logos were included in Braille on the packaging. And Braille materials in the packaging include tactile diagrams of the Dot Watch and even a primer on the Braille symbols, if you want to study up. The smartphone app also includes a guided tutorial, and the company provides an online manual and FAQ pages to help get you up to speed with the Dot Watch.
The watch comes with a metallic band that's easy to attach with a magnet. On its face, the four Braille cells are in the centre and there's a raised lip around the perimeter. I'd want to treat this watch fairly carefully, but I imagine the lip could save the Braille cells in the event of a fall or hard bump.
It's surprising how much information can be crammed into just four cells of Braille. For example, the time is displayed using two digits for the hour and two for the minute. A second view shows two digits for the seconds, plus A.M. or P.M.
Below the second and third Braille cells there are tiny touch sensors. When tapped with your finger, these advance the Braille display forwards or backwards through content. Once you become used to reading on the Dot Watch, you can enter a mode where the display scrolls automatically at your preferred reading speed so you don't have to use the touch sensors at all.
There are three controls on the right side of the watch. The select button, located towards the back of the watch, toggles between displaying the time in hours and minutes, seconds, and the current date. And when using a menu or function, it acts like an enter key. The digital crown is a wheel that's used for scrolling through menus and, where appropriate, setting hours and minutes.
To set a timer, for example, you'd first press the select button to wake up the watch. Then you'd use the crown to scroll to the timer function in the main menu—abbreviated as "timr"—and press select. Finally, you'd use the crown to set how long you want the timer to run in minutes and seconds, pressing the select button after each. This interface is surprisingly simple and should be very easy to learn.
Likewise, to review recent notifications from your smartphone, you'd wake the watch up and scroll to the notifications section, abbreviated as "noti." Press select to enter the list of notifications. Each is labelled with a number—1, 2, 3 and so on. Scroll through the list and "select" the alert you want to read. You'll be able to use the Braille display and touch sensors to read the notification.
The final button, called home, puts the braille cells to sleep when you're done reading to save battery power. The watch will also vibrate to acknowledge alarms and timers, plus an optional hourly alert.
The watch charges through USB and should be able to last for several days.
Advanced Features and Conclusion
The Dot Watch app includes many more features to play with. A Braille study mode lets you send whatever text you want to the Braille display, so if you're trying to learn Braille, you have a great way of testing your knowledge. A memos function lets you save short snippets of text to the watch's memory, possibly an account number that you're trying to give someone over the phone and want a quick way of retrieving. Pressing the home and select buttons at the same time causes an alert to play on your smartphone, so you can locate it by listening. And there are many settings you can adjust to customize how the watch behaves.
Overall, I'm very impressed with the Dot Watch. I've wanted to review this product for a long time, and it's clear the team has really pushed it to the limit. There are obvious constraints with only having four cells of Braille, but the advantage is you can literally take Braille anywhere. Whether you want to check the time under the table at a gathering so you don't draw attention to yourself, or glance at notifications in a noisy restaurant, the Dot Watch is an interesting product that's worth a look, or feel.
For more info about the Dot Watch, visit the website.
AMI This Week airs Mondays at 8 p.m. Eastern on AMI-tv. Watch full episodes and seasons of AMI This Week on demand at AMI.ca or on the AMI-tv App.
My Big Alone New York Adventure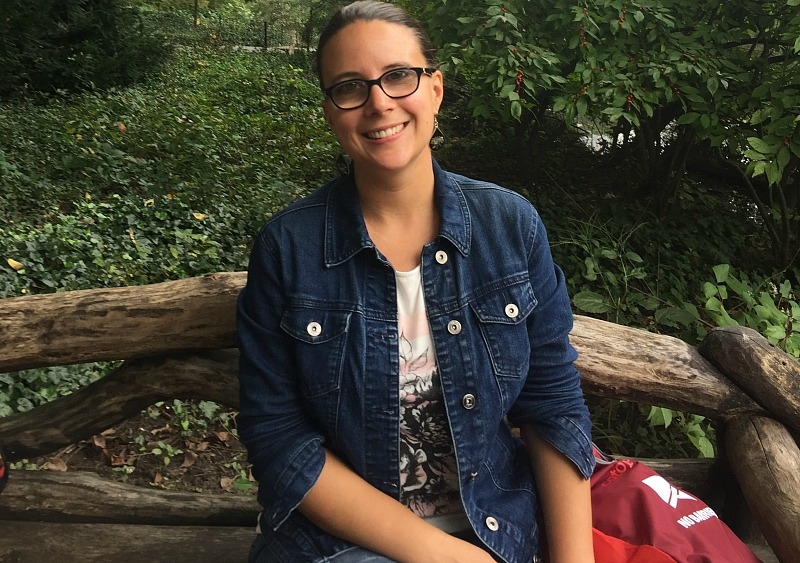 By Laura Bain
I had always wanted to go to New York City. Perhaps an odd desire since I don't care about shopping and am easily overwhelmed by crowds. Still, something about the city called to me. So, when I heard about the 2018 No Barriers Summit New York City it seemed like the perfect reason to go. 
I'd learned about No Barriers a few years earlier while randomly Googling "blind adventurer." I was looking for a role model. I was looking for someone with sight loss who had done the things I wanted to do like travel and have outdoor adventures. One of the first people to come up in my search was Erik Weihenmayer, a blind adventurer who had climbed the highest peak on every continent, written several books, and helped co-found No Barriers, an organization which describes its mission as "to unleash the potential of the human spirit." Lacking a totally clear picture of what the organization actually does, I felt drawn to it in a similar way I was drawn to the Big Apple. 
Attending the two-day summit this past October was the scariest thing I have done in my entire life. Way scarier than my recent skydive. Jumping out of a plane strapped to an instructor, there was no way I could get lost. Not the case in New York City. I had no fears about the city itself. Perhaps only another blind person will understand, but my biggest anxiety was that I would be standing on the sidewalk in front of my hotel, and not be able to find my way inside. 
I knew that my fears were somewhat irrational. If I ended up unable to find a building, or an entrance, I could ask one of the hundreds of people on the sidewalk around me for help. After all, this was New York City! Knowing that the regret of missing out is generally worse than the regret of a bad experience, I booked my flight and hotels. I tacked three extra days onto my stay so I could explore the city after the summit. 
Feeling like I was exploding with excitement and anxiety, I flew into Newark, New Jersey, where I had arranged to travel in a shuttle van to my hotel in midtown Manhattan. With three New York area airports, thousands of people, and hundreds of shuttles, I couldn't believe my luck that one of the other shuttle passengers was also attending the No Barriers Summit and staying at my hotel. It was dark and rainy by the time we were dropped off, and I would have likely hidden in my room for the night, but with my new friend (and sighted guide) Krissy from Virginia by my side I was able to venture out.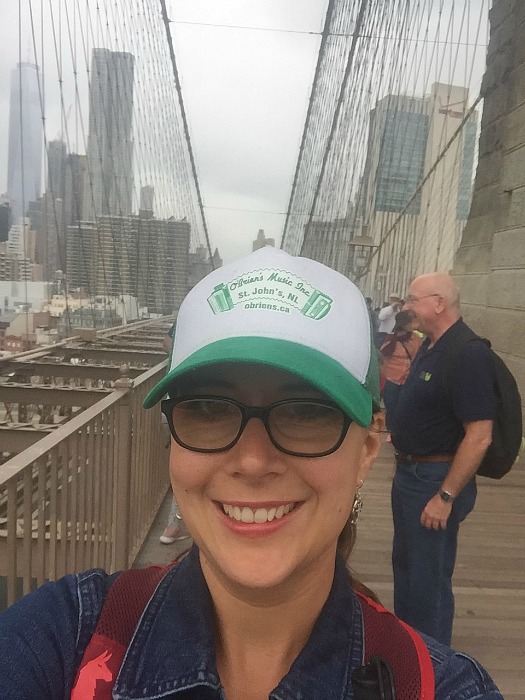 The first day of the summit consisted of dozens of workshops that participants could choose from. The first workshop I had chosen was called "Dancing for Everybody No BS." I've always found dancing awkward, partly because I can't see what others around me are doing to follow along, so I thought it would be a good way to step out of my comfort zone. However, standing with the other participants while the instructor demonstrated moves and gave directions like "move your arms like this," I felt my face burning with embarrassment. I had no idea what "like this" meant. After a few minutes, and in what I felt to be the spirit of the summit, I put my hand up and yelled out, "Excuse me, my name is Laura and I'm visually impaired and I don't know what you're doing!" Across the crowd a voice yelled back, "Hey Laura, it's Erik and the team. Come join us!" That's right, it was the very man who had inspired this whole trip for me! Together with Erik, and two sighted No Barriers staff, we laughed, struggled to learn the moves, and danced totally out of step with the group. 
The remainder of the summit, and my time in New York, unfolded in a similarly serendipitous fashion. The city-wide scavenger hunt on the second day of the summit took me and my five other teammates from Wall Street, to Brooklyn, and to the base of the Empire State Building where our task was to hug the building and take a photo! That day ended with a huge celebration in Central Park, with all of us dancing and wearing our No Barriers T-shirts which were printed with the phrase, "What's within you is stronger than what's in your way." 
New York City has many options for accessible visitor experiences. I would highly recommend Big Apple Greeter, a non-profit organization that pairs visitors with a "real New Yorker" to show them around the city. There was a space on the visit request form where I could indicate that I am partially sighted and wanted sighted guide from my greeter. My greeter Jo was amazing. She met me at my hotel and together we explored Central Park, Chinatown, Greenwich Village and more. She was an excellent guide and made a point of describing our surroundings and bringing me over to anything I might want to touch, like the iconic concrete steps of a brownstone or the highly-photographed "LOVE" sculpture at the corner of 6th Avenue and W 55th Street. 
Speaking of art and touching, I would also recommend booking a "Touch Tour" at the Museum of Modern Art (MOMA). An experience which is only available to us blind and partially-sighted folks, I was given latex gloves and allowed to touch many of the sculptures. My MOMA guide also described in detail any paintings I was interested in. 
My excitement around this trip was so big that I tried to keep my expectations reasonable. I hoped only to walk around a bit, eat something classically New York and feel the energy of the city. By the end of my six-day trip I had walked over 76 kilometres, used up a $20 transit pass, filled up on hot dogs, pizza and overpriced martinis, seen live music, and lazed around Central Park. I'd also made countless friends and met one of my personal heroes. 
My take away from this trip, aside from the cheap I "heart" NY tee I bought in Times Square, is to lean into anything that makes me feel like I'm exploding with excitement and anxiety; to not limit myself. My big "alone" trip to New York turned out to be nothing but. It was filled with all the right people at the right times … and maybe a little New York magic? 
AMI This Week airs Mondays at 8 p.m. Eastern on AMI-tv. Watch full episodes and seasons of AMI This Week on demand at AMI.ca or on the AMI-tv App.
Grant's Smart Home Diary: Even Easier with Eve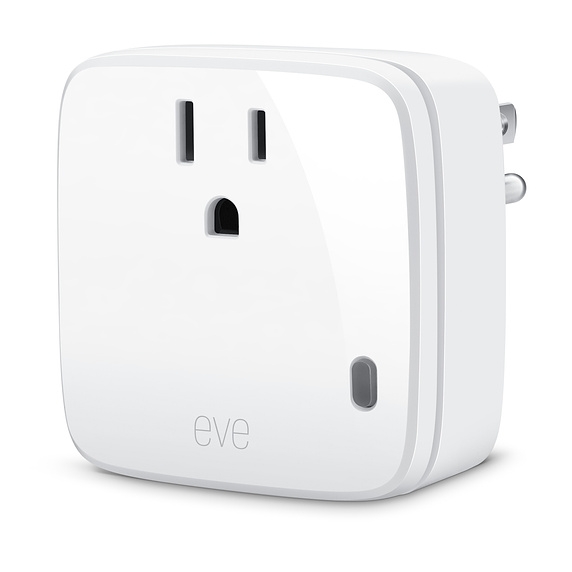 By Grant Hardy
Introduction
Setting up a smart home is both empowering and intimidating. It's empowering because you can automate tasks which are tedious or simply hard to remember, like shutting off your lights when you leave the house. For people with certain disabilities, this could provide increased independence like giving someone without the use of their hands a means of switching on the lights via voice. But it can be intimidating because, just like picking out blinds, furniture, or china, there's a vast array of devices and platforms to pick from, all of which operate differently.
Of course, there's also a financial investment, but you can start with a smart gadget or two and grow your smart home as resources permit. Since I have an iPhone, I've gone with Apple's smart home platform called HomeKit, which I think offers a great user experience. Keep in mind that in order for automations to work properly, you need a compatible iPad, HomePod or Apple TV that's always at home.
I'm going to take a look at two smart home products: the Eve Motion and Eve Energy. Eve Motion is a motion sensor that can control your accessories, or simply notify you, based on whether there's motion in a room. Eve Energy, on the other hand, is a smart plug that turns appliances you already own—like lamps, kettles and radios—into smart appliances. Plug your appliance into Eve Energy; plug Eve Energy into the wall; and keep your appliance switched on. Eve Energy will decide when it should get power or not based on rules you set.
Both devices are small enough to fit in one hand, and require no hard wiring or special installation beyond simply pairing them with one of your iOS devices through the Home App.
I'll focus on the very basics, with three cool automations you can use to tech out your home using one or both of these devices. These are configured in the Home App on an iOS device.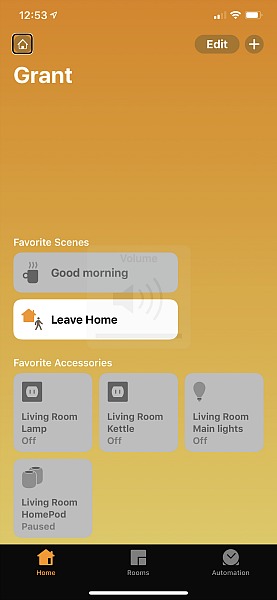 Get notified when there's movement
When no one's home, there obviously shouldn't be any motion activity. So if Eve Motion detects movement, it can notify you right away. At that point you could, for instance, contact one of your neighbours to ask if there's something strange going on.
To set this up, do the following on your iPhone:
1.    In the Home app, tap (double-tap for VoiceOver users) the "add/edit homes" button in the top-left.
2.    Tap on "sensors" under the "notifications" section.
3.    Tap on "Eve Motion."
4.    Set the "notifications "switch to on, tap "people", then tap "when I am not home."
5.    Tap "back" twice, then tap "done" to back out to the main screen.
From now on, if there's motion in the room with Eve Motion when you aren't home, you'll be notified on your phone. When you're at home, you won't be bothered with constant alerts as you move around.
Turn the kettle or coffee maker on in the morning
If you get up at a consistent time in the morning and want your favourite hot drink right away, set up an automation so Eve Energy turns your kettle or coffee maker on at the right time. Here's how:
1.    In the Home app, select the "automation" tab in the bottom-right, then the "add" button in the top-right.
2.    Choose "a time of day occurs."
3.    You'll land on a screen where you can pick the time you want your automation to occur, and on what days. Use standard gestures to adjust these settings, then tap next.
4.    The next screen asks what exactly you want to automate. Tap your Eve Energy that's connected to the kettle or coffee maker, then tap "next."
5.    Tap on your Eve Energy to toggle it on, then tap "done."
Now you can wake up to the soothing sound—or smell—of your favourite hot drink.
Making Eve Energy and Eve Motion work together
For a final example, let's say you want to have your lamp automatically turn off when you leave the room. For example, I own an extremely bright light which I use to help regulate my sleep cycle. But since it takes up a lot of energy, I might want to use Eve Motion to turn the light off when I'm no longer nearby. Here's how to do it:
1.    Connect the light to Eve Energy.
2.    In the Home App, tap on "automations," then tap "add."
3.    On the next screen, tap on "a sensor detects something."
4.    Tap your Eve Motion, then tap "next."
5.    On the next screen, tap on "stops detecting motion," and then tap "next."
6.    The next screen asks what should happen when no motion is detected. Tap on the Eve Energy connected to your light, and then tap "next."
7.    On the next screen, make sure Eve Energy is set to off, and then tap "done."
Now you'll have peace of mind knowing your lamp won't waste energy when you've left the room—even if you forgot to switch it off.
Conclusion
I've only scratched the surface here, but it's clear smart home devices like the Eve Motion and Eve Energy have the potential to make your home more efficient, accessible, and maybe even fun.
AMI This Week airs Mondays at 8 p.m. Eastern on AMI-tv. Watch full episodes and seasons of AMI This Week on demand at AMI.ca or on the AMI-tv App.
A special effects transformation in Ottawa
By Shelby Travers
Makeup has been a passion of mine for a decade now. It's not because I find it makes things pretty, but more due to the transformation abilities it possesses. For example, every day I wear makeup I contour my nose to transform the appearance to make it less bulbous-looking. Since a Halloween story was needed, I figured a different type of nose makeup transformation was required.
There were so many steps involved in transforming me into the gross, old, witch that you experience on AMI This Week. With our stories only being so long we weren't able to fit everything in, so this is the behind-the-scenes scoop.
We had talked about the life cast process but let me tell you that was an experience all in its own. It could probably even be a full story. I was nervous going into it. I knew a little bit about the process before it happened so knew I would be completely covered in a silicone substance, and then have plaster put overtop, making me completely restricted from sight and speech. I think this would make most people a little nervous – and I was no exception.
It wasn't that I was nervous or afraid of not being able to see or talk, but about how breathing would be and for how long I would truly be restricted. The special effects artist, Michel, made me comfortable and assured me the whole time. While he was putting on the first layer of silicone, he paid close attention to my nose to make sure my only source of breath was still exposed. Every once in a while, my nostrils would get covered and I would go into a quick state of panic, but Michel would quickly clear the airway.
The whole process took about 20 minutes of being completely covered; 10 minutes for the silicone and 10 for the plaster. This is where the blind perks come in handy. Being able to use my phone without sight is something that I've gotten used to over my decade of limited vision. So, naturally, I was still able to do all my texting and selfie-taking during the whole process, making it actually quite relaxing.
Once the plaster had completely hardened, it was time to take the mold of my face off. I could touch the inside of it, but it didn't really feel like much. Only once I came back to the On Scene FX studio one week later was I truly able to experience my face from a whole new perspective. Full disclosure, I did do one of the biggest blind misconceptions – I touched a face. I think we all know that – as much as movies like to think that blind people touch faces to see what they look like – we don't. Unless it's a life cast, apparently.
Touching your own face doesn't really feel weird because it's attached to your body. So, your brain makes the connection and its no big deal. However, when you're touching your face and it isn't attached to you – well, it was weird.
The whole experience was amazing, and I learned so much about a field of makeup I always wanted to. I've now developed that relationship with Michel and he has invited me back anytime I want to learn more. And if you are to know anything about me, it's that I love trying new things, so I'll definitely be taking him up on that offer.
AMI This Week airs Mondays at 8 p.m. Eastern on AMI-tv. Watch full episodes and seasons of AMI This Week on demand at AMI.ca or on the AMI-tv App.
Keywords: AMI This Week, ATW, Shelby Travers, Grant Hardy, Alex Smyth, Laura Bain, Victoria Nolan