AMI This Week Blog: Laura Bain's Big Alone New York Adventure
My Big Alone New York Adventure
By Laura Bain
I had always wanted to go to New York City. Perhaps an odd desire since I don't care about shopping and am easily overwhelmed by crowds. Still, something about the city called to me. So, when I heard about the 2018 No Barriers Summit New York City it seemed like the perfect reason to go. 
I'd learned about No Barriers a few years earlier while randomly Googling "blind adventurer." I was looking for a role model. I was looking for someone with sight loss who had done the things I wanted to do like travel and have outdoor adventures. One of the first people to come up in my search was Erik Weihenmayer, a blind adventurer who had climbed the highest peak on every continent, written several books, and helped co-found No Barriers, an organization which describes its mission as "to unleash the potential of the human spirit." Lacking a totally clear picture of what the organization actually does, I felt drawn to it in a similar way I was drawn to the Big Apple. 
Attending the two-day summit this past October was the scariest thing I have done in my entire life. Way scarier than my recent skydive. Jumping out of a plane strapped to an instructor, there was no way I could get lost. Not the case in New York City. I had no fears about the city itself. Perhaps only another blind person will understand, but my biggest anxiety was that I would be standing on the sidewalk in front of my hotel, and not be able to find my way inside. 
I knew that my fears were somewhat irrational. If I ended up unable to find a building, or an entrance, I could ask one of the hundreds of people on the sidewalk around me for help. After all, this was New York City! Knowing that the regret of missing out is generally worse than the regret of a bad experience, I booked my flight and hotels. I tacked three extra days onto my stay so I could explore the city after the summit. 
Feeling like I was exploding with excitement and anxiety, I flew into Newark, New Jersey, where I had arranged to travel in a shuttle van to my hotel in midtown Manhattan. With three New York area airports, thousands of people, and hundreds of shuttles, I couldn't believe my luck that one of the other shuttle passengers was also attending the No Barriers Summit and staying at my hotel. It was dark and rainy by the time we were dropped off, and I would have likely hidden in my room for the night, but with my new friend (and sighted guide) Krissy from Virginia by my side I was able to venture out.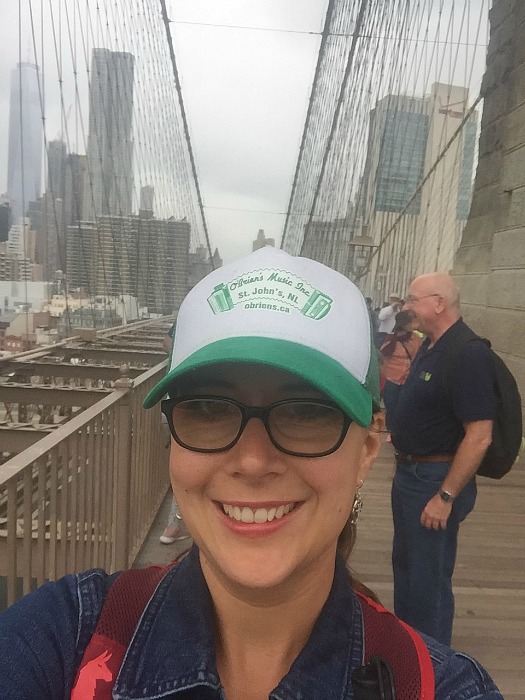 The first day of the summit consisted of dozens of workshops that participants could choose from. The first workshop I had chosen was called "Dancing for Everybody No BS." I've always found dancing awkward, partly because I can't see what others around me are doing to follow along, so I thought it would be a good way to step out of my comfort zone. However, standing with the other participants while the instructor demonstrated moves and gave directions like "move your arms like this," I felt my face burning with embarrassment. I had no idea what "like this" meant. After a few minutes, and in what I felt to be the spirit of the summit, I put my hand up and yelled out, "Excuse me, my name is Laura and I'm visually impaired and I don't know what you're doing!" Across the crowd a voice yelled back, "Hey Laura, it's Erik and the team. Come join us!" That's right, it was the very man who had inspired this whole trip for me! Together with Erik, and two sighted No Barriers staff, we laughed, struggled to learn the moves, and danced totally out of step with the group. 
The remainder of the summit, and my time in New York, unfolded in a similarly serendipitous fashion. The city-wide scavenger hunt on the second day of the summit took me and my five other teammates from Wall Street, to Brooklyn, and to the base of the Empire State Building where our task was to hug the building and take a photo! That day ended with a huge celebration in Central Park, with all of us dancing and wearing our No Barriers T-shirts which were printed with the phrase, "What's within you is stronger than what's in your way." 
New York City has many options for accessible visitor experiences. I would highly recommend Big Apple Greeter, a non-profit organization that pairs visitors with a "real New Yorker" to show them around the city. There was a space on the visit request form where I could indicate that I am partially sighted and wanted sighted guide from my greeter. My greeter Jo was amazing. She met me at my hotel and together we explored Central Park, Chinatown, Greenwich Village and more. She was an excellent guide and made a point of describing our surroundings and bringing me over to anything I might want to touch, like the iconic concrete steps of a brownstone or the highly-photographed "LOVE" sculpture at the corner of 6th Avenue and W 55th Street. 
Speaking of art and touching, I would also recommend booking a "Touch Tour" at the Museum of Modern Art (MOMA). An experience which is only available to us blind and partially-sighted folks, I was given latex gloves and allowed to touch many of the sculptures. My MOMA guide also described in detail any paintings I was interested in. 
My excitement around this trip was so big that I tried to keep my expectations reasonable. I hoped only to walk around a bit, eat something classically New York and feel the energy of the city. By the end of my six-day trip I had walked over 76 kilometres, used up a $20 transit pass, filled up on hot dogs, pizza and overpriced martinis, seen live music, and lazed around Central Park. I'd also made countless friends and met one of my personal heroes. 
My take away from this trip, aside from the cheap I "heart" NY tee I bought in Times Square, is to lean into anything that makes me feel like I'm exploding with excitement and anxiety; to not limit myself. My big "alone" trip to New York turned out to be nothing but. It was filled with all the right people at the right times … and maybe a little New York magic? 
AMI This Week airs Mondays at 8 p.m. Eastern on AMI-tv. Watch full episodes and seasons of AMI This Week on demand at AMI.ca or on the AMI-tv App.
Grant's Smart Home Diary: Even Easier with Eve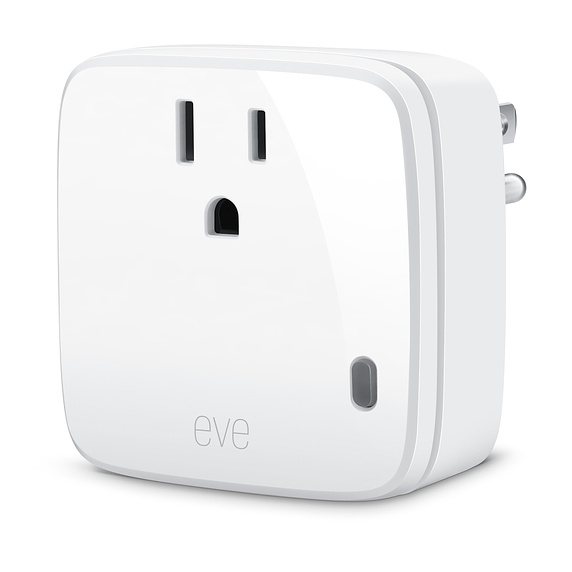 By Grant Hardy
Introduction
Setting up a smart home is both empowering and intimidating. It's empowering because you can automate tasks which are tedious or simply hard to remember, like shutting off your lights when you leave the house. For people with certain disabilities, this could provide increased independence like giving someone without the use of their hands a means of switching on the lights via voice. But it can be intimidating because, just like picking out blinds, furniture, or china, there's a vast array of devices and platforms to pick from, all of which operate differently.
Of course, there's also a financial investment, but you can start with a smart gadget or two and grow your smart home as resources permit. Since I have an iPhone, I've gone with Apple's smart home platform called HomeKit, which I think offers a great user experience. Keep in mind that in order for automations to work properly, you need a compatible iPad, HomePod or Apple TV that's always at home.
I'm going to take a look at two smart home products: the Eve Motion and Eve Energy. Eve Motion is a motion sensor that can control your accessories, or simply notify you, based on whether there's motion in a room. Eve Energy, on the other hand, is a smart plug that turns appliances you already own—like lamps, kettles and radios—into smart appliances. Plug your appliance into Eve Energy; plug Eve Energy into the wall; and keep your appliance switched on. Eve Energy will decide when it should get power or not based on rules you set.
Both devices are small enough to fit in one hand, and require no hard wiring or special installation beyond simply pairing them with one of your iOS devices through the Home App.
I'll focus on the very basics, with three cool automations you can use to tech out your home using one or both of these devices. These are configured in the Home App on an iOS device.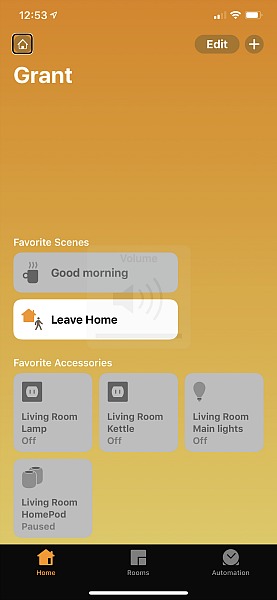 Get notified when there's movement
When no one's home, there obviously shouldn't be any motion activity. So if Eve Motion detects movement, it can notify you right away. At that point you could, for instance, contact one of your neighbours to ask if there's something strange going on.
To set this up, do the following on your iPhone:
1.    In the Home app, tap (double-tap for VoiceOver users) the "add/edit homes" button in the top-left.
2.    Tap on "sensors" under the "notifications" section.
3.    Tap on "Eve Motion."
4.    Set the "notifications "switch to on, tap "people", then tap "when I am not home."
5.    Tap "back" twice, then tap "done" to back out to the main screen.
From now on, if there's motion in the room with Eve Motion when you aren't home, you'll be notified on your phone. When you're at home, you won't be bothered with constant alerts as you move around.
Turn the kettle or coffee maker on in the morning
If you get up at a consistent time in the morning and want your favourite hot drink right away, set up an automation so Eve Energy turns your kettle or coffee maker on at the right time. Here's how:
1.    In the Home app, select the "automation" tab in the bottom-right, then the "add" button in the top-right.
2.    Choose "a time of day occurs."
3.    You'll land on a screen where you can pick the time you want your automation to occur, and on what days. Use standard gestures to adjust these settings, then tap next.
4.    The next screen asks what exactly you want to automate. Tap your Eve Energy that's connected to the kettle or coffee maker, then tap "next."
5.    Tap on your Eve Energy to toggle it on, then tap "done."
Now you can wake up to the soothing sound—or smell—of your favourite hot drink.
Making Eve Energy and Eve Motion work together
For a final example, let's say you want to have your lamp automatically turn off when you leave the room. For example, I own an extremely bright light which I use to help regulate my sleep cycle. But since it takes up a lot of energy, I might want to use Eve Motion to turn the light off when I'm no longer nearby. Here's how to do it:
1.    Connect the light to Eve Energy.
2.    In the Home App, tap on "automations," then tap "add."
3.    On the next screen, tap on "a sensor detects something."
4.    Tap your Eve Motion, then tap "next."
5.    On the next screen, tap on "stops detecting motion," and then tap "next."
6.    The next screen asks what should happen when no motion is detected. Tap on the Eve Energy connected to your light, and then tap "next."
7.    On the next screen, make sure Eve Energy is set to off, and then tap "done."
Now you'll have peace of mind knowing your lamp won't waste energy when you've left the room—even if you forgot to switch it off.
Conclusion
I've only scratched the surface here, but it's clear smart home devices like the Eve Motion and Eve Energy have the potential to make your home more efficient, accessible, and maybe even fun.
AMI This Week airs Mondays at 8 p.m. Eastern on AMI-tv. Watch full episodes and seasons of AMI This Week on demand at AMI.ca or on the AMI-tv App.
A special effects transformation in Ottawa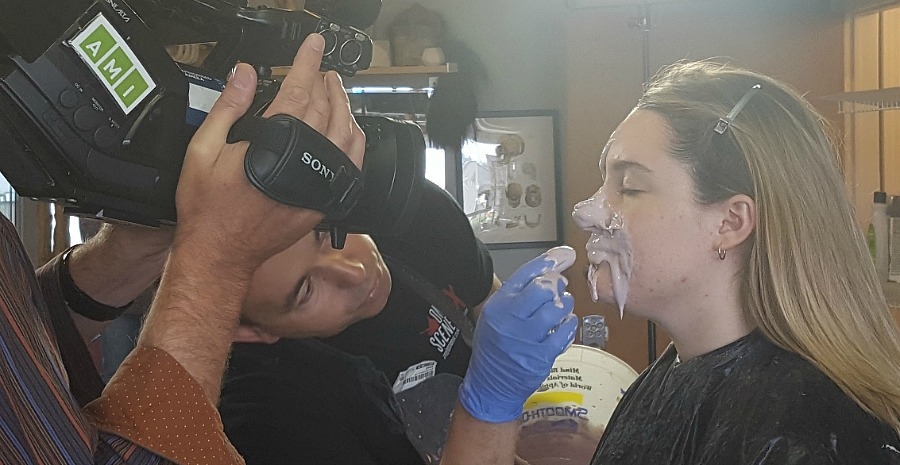 By Shelby Travers
Makeup has been a passion of mine for a decade now. It's not because I find it makes things pretty, but more due to the transformation abilities it possesses. For example, every day I wear makeup I contour my nose to transform the appearance to make it less bulbous-looking. Since a Halloween story was needed, I figured a different type of nose makeup transformation was required.
There were so many steps involved in transforming me into the gross, old, witch that you experience on AMI This Week. With our stories only being so long we weren't able to fit everything in, so this is the behind-the-scenes scoop.
We had talked about the life cast process but let me tell you that was an experience all in its own. It could probably even be a full story. I was nervous going into it. I knew a little bit about the process before it happened so knew I would be completely covered in a silicone substance, and then have plaster put overtop, making me completely restricted from sight and speech. I think this would make most people a little nervous – and I was no exception.
It wasn't that I was nervous or afraid of not being able to see or talk, but about how breathing would be and for how long I would truly be restricted. The special effects artist, Michel, made me comfortable and assured me the whole time. While he was putting on the first layer of silicone, he paid close attention to my nose to make sure my only source of breath was still exposed. Every once in a while, my nostrils would get covered and I would go into a quick state of panic, but Michel would quickly clear the airway.
The whole process took about 20 minutes of being completely covered; 10 minutes for the silicone and 10 for the plaster. This is where the blind perks come in handy. Being able to use my phone without sight is something that I've gotten used to over my decade of limited vision. So, naturally, I was still able to do all my texting and selfie-taking during the whole process, making it actually quite relaxing.
Once the plaster had completely hardened, it was time to take the mold of my face off. I could touch the inside of it, but it didn't really feel like much. Only once I came back to the On Scene FX studio one week later was I truly able to experience my face from a whole new perspective. Full disclosure, I did do one of the biggest blind misconceptions – I touched a face. I think we all know that – as much as movies like to think that blind people touch faces to see what they look like – we don't. Unless it's a life cast, apparently.
Touching your own face doesn't really feel weird because it's attached to your body. So, your brain makes the connection and its no big deal. However, when you're touching your face and it isn't attached to you – well, it was weird.
The whole experience was amazing, and I learned so much about a field of makeup I always wanted to. I've now developed that relationship with Michel and he has invited me back anytime I want to learn more. And if you are to know anything about me, it's that I love trying new things, so I'll definitely be taking him up on that offer.
AMI This Week airs Mondays at 8 p.m. Eastern on AMI-tv. Watch full episodes and seasons of AMI This Week on demand at AMI.ca or on the AMI-tv App.
Keywords: AMI This Week, ATW, Shelby Travers, Grant Hardy, Anthony McLachlan, Alex Smyth, Linda Bain, Victoria Nolan