Chris Vallée previews Treat Accessibly
Authored on

October 18, 2021
Four-hundred-thousand Canadian children have a disability and, for some of them, the Halloween experience is filled with accessibility barriers. One Toronto family's idea is giving the trick-or-treating experience, a necessary upgrade. Here's a story that will lift your spirits.
Have you ever wondered if there was a way to make your home accessible to all children come the night of October 31st? It's easier than you think, and it starts with a Treat Accessibly lawn sign!
In October of 2017, Rich Padulo was outside of his Toronto home installing some Halloween decorations when he noticed that his house, and practically all the others in his neighbourhood, weren't accessible to children with mobility challenges. That was when Rich and his daughter, Siena, created the Treat Accessibly Project, a Halloween initiative that removes barriers and creates an accessible experience for children of all abilities.
"Obstacles as simple as stairs are blocking children with disabilities from enjoying the experience with their family and friends, that's something we take for granted," Rich says. "Treat Accessibly removes all of those obstacles by asking families to hand out treats from the end of their driveway."
An estimated 100,000 homes will participate this year; you still have time to join the movement and make your home accessible this Halloween.
Here's how:
• Place an accessible trick or treating sign on your front lawn
• Make sure your house is well lit
• Hand out treats at the end on your driveway
• Avoid strobe lights
• Make sure your driveway is clear of all obstacles
"This might take a while, but my goal is to have at least three houses in every neighbourhood that treat accessibly, so all children have the opportunity to have a fun Halloween," Siena says.
To get your own lawn sign and to find out more about Treat Accessibly visit treataccessibly.com and watch AMI This Week on Monday, October 25, at 8 p.m. Eastern on AMI-tv. Have a fang-tastic Halloween!
Want to read more from Chris? Search his name!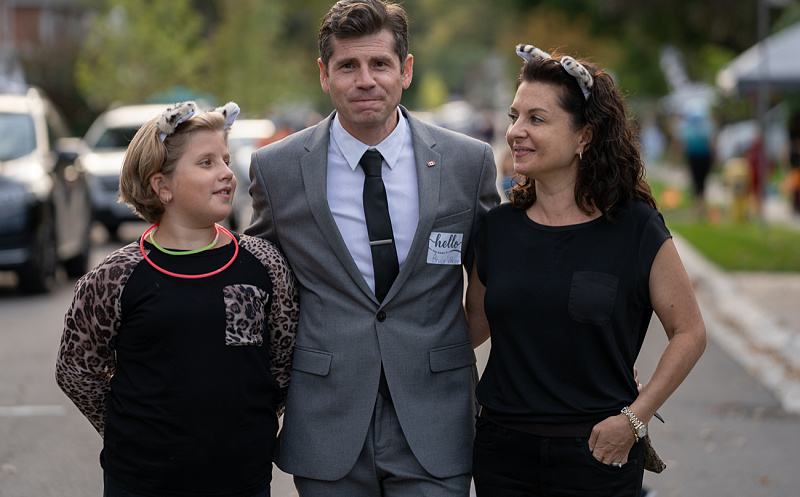 Jillian Gillis previews Drag Queen Shayla Shenanigans
Authored on

October 12, 2021
By Jillian Gillis
This has to be my favourite shoot I have been on to date, and you will not want to miss this story. When I heard about Steven Poole, I knew I had to meet him, and let me just say he has an incredible presence on and off the stage!
Steven, also known as Shayla Shenanigans, is well known in the Halifax drag community. Over his 22 years of doing drag, he has built quite the impressive resumé, including producing, hosting and performing over 1,000 shows, raising money for local charities, sponsoring families at Christmas, delivering necessities to those needing assistance during the pandemic and mentoring 11 "drag kids."
Recently, I had the pleasure of joining Shayla for a day full of drag events during the Halifax Pride Festival. Shayla hosted a drag queen story hour, an all-ages drag show and an adult evening performance. I also had the chance to sit down with Steven so he could tell me about his experience with sight loss; he has no vision in his left eye and is partially sighted in his right. His vision does impact how Steven applies his makeup and manages his performances, but he's come up with some adaptations that work well for him.
I have a deep love for the LGBTQ+ community, so it was a treat to spend time getting to know Steven and see firsthand how he inspires others. I don't want to give too much away but I may have made an appearance on stage in a wig, I just couldn't resist!
To see more Shayla or book her to host an event visit her website.
Tune into the segment to learn more about Steven and how he uses his drag to empower others by watching AMI This Week on Monday, October 18, at 8 p.m. Eastern on AMI-tv.
Want to read more from Jillian? Search her name!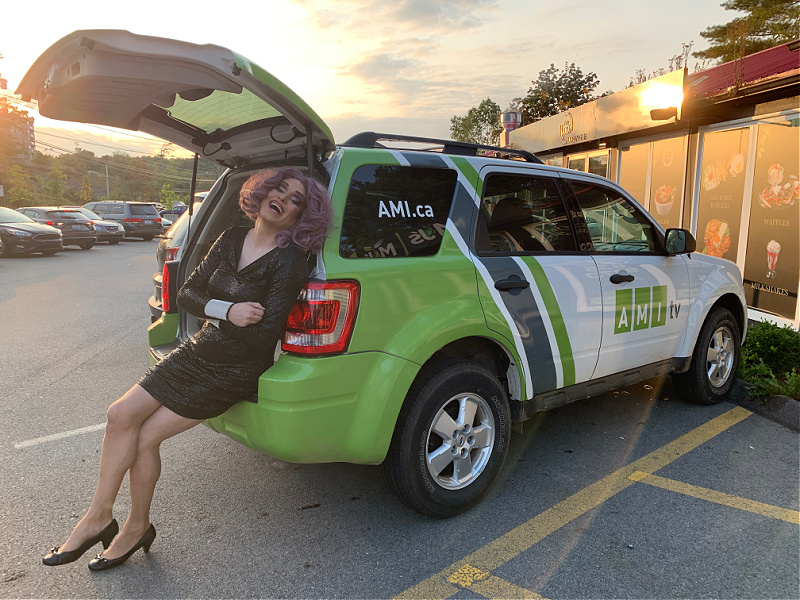 Frances' Jollof Rice Recipe
Authored on

October 5, 2021
Ingredients:
5 Roma tomatoes
2 red bell peppers
2 large onions
1 habanero pepper (or scotch bonnet) or more, depending on your taste
1 400-gram can of tomato paste (Frances uses and prefers the Nigerian)
1 cup of vegetable oil, or more to taste
2 Bay leaves
4 cups of beef or chicken stock
4 tablespoons of beef or chicken stock powder
2 tablespoons of thyme powder
2 tablespoons of curry powder
2 tablespoons all-purpose seasoning
5 cups of long-grain rice parboiled rice
Salt to taste
METHOD:
Step 1
Rough chop the following and add to a blender:
5 Roma tomatoes
2 red bell peppers
1 large onion
1 habanero pepper (or more depending on your preferred hotness level)
Blend until a smooth texture, about 1 to 2 minutes.
NOTE: if you do not have a professional-grade blender, add ¼ of water to help the mixture blend.
Pour the blended mixture into a large pot on the stove, and boil, uncovered, for 18 minutes on high heat.
Reduce to low until you complete the next step.
Step 2
Have ready:
1 400-gram tin of tomato paste
1 large onion - chopped
1 cup of vegetable oil
Pour the oil into a second smaller pot on the stove and heat for five minutes on high heat.
Add chopped onion and then add the tomato paste.
Deep fry the mixture for roughly six minutes, stirring continuously so it doesn't burn.
Step 3
After six minutes add the fried tomato paste into the blender mixture.
Then add 2 bay leaves and 2 cups of beef or chicken stock
Next, stir in the spices:
2 tablespoons of beef or chicken stock powder
2 tablespoons of thyme powder
2 tablespoons of curry powder
2 tablespoons of all-purpose seasoning
Salt to taste
Cover the pot and let cook on high for about five or six minutes.
Step 4
Wash and rinse six cups of long grain parboiled rice with hot running water until the water is clear or for about three minutes.
Step 5
Add the rice to the mixture on the stove and stir until well blended.
Add the final 2 cups of beef or chicken stock, two more tablespoons of powdered chicken stock and another pinch of salt.
Cover with foil wrap, replace the cover and cook on low heat for about 1 hr 15 minutes.
Step 6
Enjoy!
Suggested sides include fried plantains and barbeque chicken.
Grant Hardy previews Marco and Stella
Authored on

October 4, 2021
By Grant Hardy
Stay tuned for the return of a familiar face on AMI This Week: Marco Pasqua. His many hats include inspirational speaker, entrepreneur, star of AMI's Postcards from the Okanagan, and now, parent.
After meeting their lovely new baby, Stella, I sat down to interview Marco and his wife, Karin, about accessible parenting. It's quite a fascinating journey, as you'll learn how every aspect of their nursery has been reimagined to be the most accessible experience for a wheelchair user as possible. For example, the lighting and curtains within the nursery are fully accessible, and even the crib and change table has unique designs allowing Marco to utilize them. The crib is raised, allowing Marco to fit underneath it with his wheelchair, and has a set of bifold doors letting Marco check-in on Stella, but otherwise keeping her secure.
There are several things that strike me as empowering. For one, universal access doesn't just improve accessibility for people with disabilities: it actually makes the environment more accessible for everybody. For instance, Marco's wife Karin doesn't use a wheelchair, but the crib is still easier for her to get access to as she doesn't have to bend her back to reach in and pick up Stella. It's great to see your community rally around you to provide support. For instance, organizations like the Tetra Society, which pairs individuals with disabilities with a volunteer to make adaptive equipment, helped design equipment in the nursery. Lastly, as someone who didn't have a dad in my own life, it's inspiring to see two happy parents working as a team raising a wonderful daughter, putting all imitations behind them and always looking for new possibilities.
It's always lovely seeing what the Pasqua family is up to, but this is an extra special occasion, so I especially invite you to tune into AMI This Week on Monday, October 11, to learn all about their accessible parenting journey.
AMI This Week airs Mondays at 8 p.m. Eastern on AMI-tv. Stream it anytime on AMI.ca or the AMI-tv App.
Want to read more from Grant? Search his name!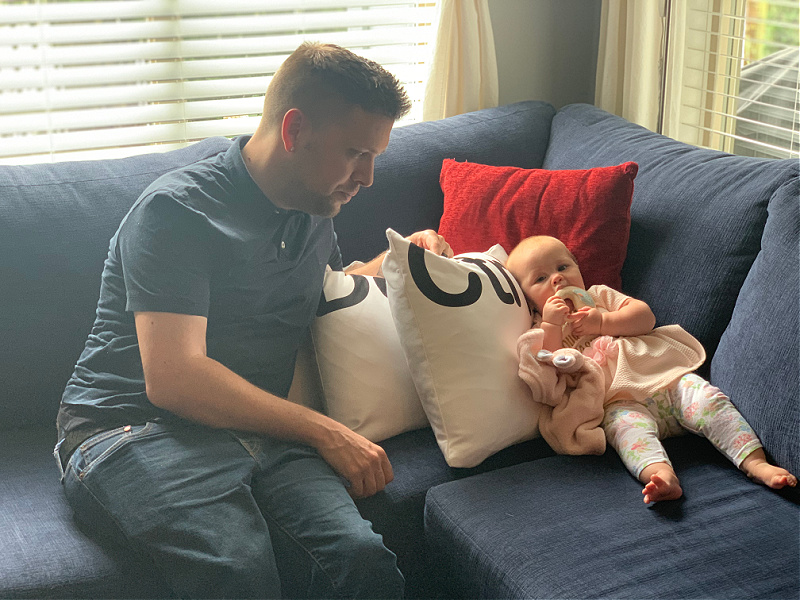 Alex Smyth previews The Vale: Shadow of the Crown release
Authored on

September 28, 2021
By Alex Smyth
When it comes to gaming, visuals are typically king. With constant improvements being made to graphics and creating immersive worlds, it can be a challenge for players with disabilities, especially those with vision loss, to connect with the worlds these games create.
However, a recently released game has changed that narrative. The Vale: Shadow of the Crown is an audio-based game that transports players to a medieval-fantasy world where they play as a blind princess named Alex. Not only is the premise tied to vision loss, but so too was the development of the game. Falling Squirrel Inc., the studio responsible for the game, worked with blind and partially sighted community at numerous stages of development to make a game for the community by the community.
The fact that this concept is not widely utilized yet shows how much work there is to be done overall, but it's important to celebrate the studio for taking this approach. The best part is, the game is not just marketed as a game for blind players, but for anyone who wants to try an audio-based fantasy game. With a wide release across multiple platforms including Steam, Xbox, and more, this game has the potential to leave an impact and become an example of a game that is made to be accessible for the community, without sacrificing the quality of the experience.
There is no longer a sense that one must make concessions to achieve a level of accessibility for the player. Much like the work done at AMI, it forces creators to become nimble and think outside of the box. The result is an immersive experience that can challenge players to pay attention to their surroundings, perfect timing in combat, and keep exploring their environments to find hidden spaces.
Now I have to admit, while I am an avid gamer who has been playing games since I was 4, I had never played or even heard of audio only games. In researching and following the development of The Vale, I have learned more about them and became aware of this style of game. I am hopeful that the tactics and tools used in audio games will continue to grow and become popular in the mainstream game sphere as well. I feel we have started to see some elements lifted, including 3D surround audio, sound queues in combat, and dictation for on-screen text, but there is more that can be done.
So while I love playing The Vale (and not just because the protagonist and I share the same name!), I am really excited to see how this game will continue to push the options and direction of games in the future! Here's hoping accessibility soon becomes standard on all AAA games, so that we can stop talking about it and just play the games we love!
Watch the segment on AMI This Week on Monday, October 4, at 8 p.m. Eastern on AMI-tv.
Want to read more from Alex? Search his name!