Jillian Gillis previews Peggy's Cove platform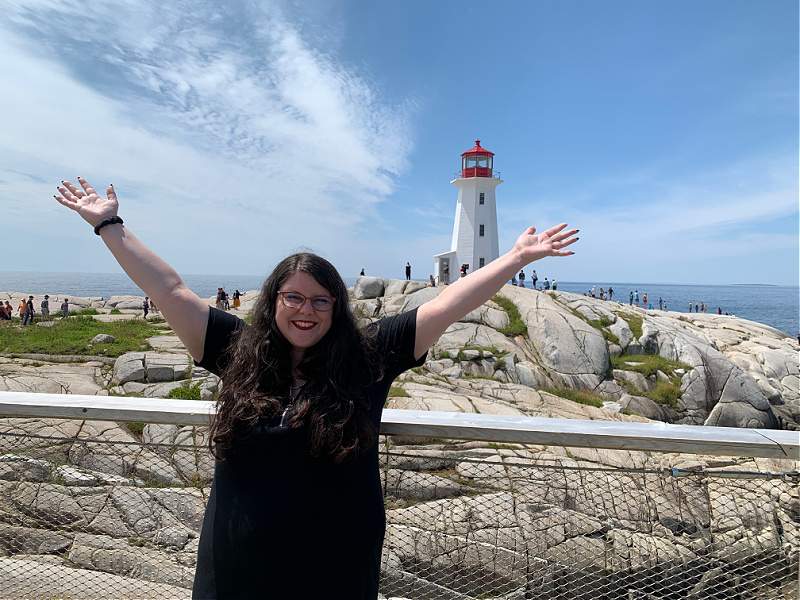 By Jillian Gillis
If you've heard of Nova Scotia, you likely have also heard of the Peggy's Cove Lighthouse, as it is one of the most recognizable landmarks in Canada. Peggy's Cove is a small fishing village located about 40 minutes outside of Halifax, and if you are visiting from away, it's a place you have to visit. Pre-pandemic, the beautiful sight attracted nearly 700,000 people every year.
Until recently though, the rocky landscape could make it difficult to navigate if you have a disability. In 2021, the spot underwent renovations to add a safe and accessible way for everyone to enjoy the beautiful view via a new accessible viewing deck.
I know for me, as a person with low vision, it can be hard to move around safely on the shoreline because of my depth perception and light sensitivity. I'll admit in the past when I went to Peggy's Cove, I did feel it was a bit risky when I ventured over the rocks to get to the lighthouse, though I took the chance anyway. But, because of the rugged terrain, the attraction was virtually impossible to explore beyond the parking lot if you use a mobility aid.
Since I don't drive and there is no public transit that goes all the way to Peggy's Cove, this was the first time I got to witness the new facelift. I was beyond excited to check out the incredible 14,000-square-foot accessible platform. It was really nice to feel confident that I wouldn't be skinning my knees on the rocks that day!
I caught up with both Gerry Post, a disability advocate, and Doug Waugh, the Project Manager of Construction from Develop NS, to chat about the new updates. Gerry talks about what something like this means for the disability community and how disability advocates were involved in the development process. Doug tells me about some of the challenges of working with the natural topography of the area, how it was designed to blend in with the natural surroundings and how it was set in gently, having minimal disturbance to the land.
The Peggy's Cove black rocks are extremely dangerous and have been known to sweep onlookers into the sea if they are too close and a rouge wave comes along. Even with lots of signage and warnings, people would still venture out too close, but the new observation deck gives the feeling that you are just as close without putting yourself in danger. People enjoy going out to watch the waves when there is a storm, now they have a safer place to see the view.
I am so pleased with how things turned out and how things are now being designed with accessibility in mind, instead of being an afterthought. These changes not only benefit the disability community but everyone else too.
Join me as I check out the new accessible viewing deck at Peggy's Cove lighthouse on AMI This Week, Monday, August 15, at 8 p.m. Eastern on AMI-tv or the AMI-tv App.
Want to read more from Jillian? Search her name!