AMI-audio contributor Amy Amantea visits AMI headquarters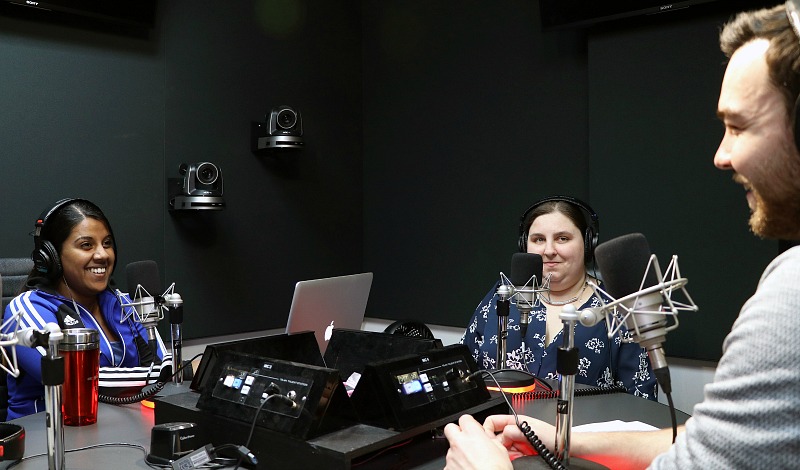 You could say that Amy Amantea paddled her way into Accessible Media Inc. 
The Vancouver-based member of AMI-audio was an avid watcher of AMI-tv programming when she was introduced to AMI This Week Bureau Reporter Grant Hardy. Grant was filing a segment for ATW about the BC Blind Sports Vision Impossible Dragon Boat team and Amy vowed to get him into the boat and holding a paddle. She succeeded in doing that—Grant was part of the team for a couple of seasons—and was on AMI's radar. Her first assignment for AMI was as the company's B.C. community reporter; now Amy does a weekly movie review for Live from Studio 5 and fills in with the entertainment and lifestyle segments on Late Edition.
Amy recently visited AMI's head office in Toronto for a two-day visit, where she was in-studio on Live from Studio 5 and Late Edition, received a tour of the office and met staff. 
"Everybody here has been absolutely fantastic," Amy says. "It feels like a family, so I'm tickled to have been invited to come." The Vancouver native is active in her community, not only in the dragon boat but on land too. She is currently on the boards and committees for the CNIB, Canadian Council for the Blind and Community Housing Action Committee, to name a few. Jumping into volunteering and being active in the community was done out of necessity.
"When I lost my sight, I was 24," Amy recalls. "I couldn't retire. Volunteering buys you time on a resumé in terms of when you're ready to go out and find work." As she explains, a blank resumé begs employers to ask what you've been doing. Instead, she immersed herself in the community she's been a part of for 12 years—routine eye surgery led to complications and sight loss—to gain skills and keep herself fresh. She encourages both new and longtime members of the blind and partially sighted community to reach out to others and, above all, be active … in whatever form that takes.
"Active doesn't mean you're on a dragon boat team," Amy says. "Active can mean you participate in a once-a-month teleconference book club. You can do that from the comfort of your own home. There are things available to you that are totally in your comfort zone.
"Living with sight loss is inconvenient, it's challenging, but it's not a death sentence," she continues. "It doesn't mean that you have to stop living your life. You just have to find a way of incorporating it into your life so that you can be happy, healthy and successful. I want to do everything that everyone else does. Put me behind the wheel of a car and I'll drive it!"
 
Keywords: AMI-audio, Amy Amantea, Live from Studio 5, Late Edition