Eyes for the Job Blog – Episode 12: Fun in the Sun, Lake Style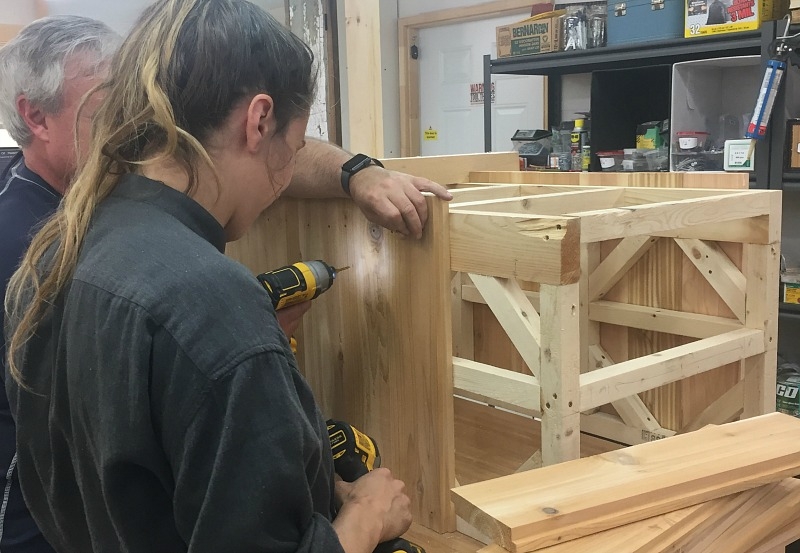 By Alex Haider
I appreciate upcycling and saving things from going to the landfill as much as the next person - maybe more than some - but holy cow, Chris Judge is in a league of his own. That guy keeps everything. He truly believes all should be kept just in case. The worst part about it is that in my time working at the workshop, it turns out he's right. So many things that were just lying around are now something useful. I love it.
Now the word is spreading, which is how Chris' friend, Nicole, ended up bringing us four great big plastic barrels. Honestly, Chris is such a smooth talker that everyone wants to help him out in the workshop's community projects. It's really great. On the flip side, with so much support the workshop is able to give back. Chris was talking to some people at Orenda Canoe Club, not far from the workshop. During the conversation it came out they had docks for the paddlers, but not for the swimmers. Orenda is walking distance for a lot of the people in the community, so a dock would be a great addition.
Next thing I know I'm building a floating dock. We did a lot of prep work back at the workshop, then Orenda volunteers helped us build the dock. We made it out of cedar, and besides its fantastic smell, the floating dock will look even better as it ages.
Our road trip to the lake got us thinking about when we were kids. (I'm starting to reminisce as much as Chris!) We both loved swimming. We both love kicking back at a lake and maybe having a few beverages. Chris decided we needed a cooler, and not just any cooler, a cooler on wheels with multiple compartments for ice. (No food cross-contamination!)
When I first started helping Chris at the workshop, I was a little timid about some of the tools, but I can say with confidence that I have gotten rid of any fear. I really enjoy planning, measuring and problem solving. You know, like when the fabulous cooler on wheels didn't fit through the door of the workshop. (Yes, that happened. Stop laughing!)
Suffice it to say the floating dock and cooler will see many happy times.
Eyes for the Job airs Wednesdays at 8:30 p.m. ET on AMI-tv. Check your local listings for the AMI-tv channel in your area or use AMI's online channel guide. Episodes will be available online after the initial broadcast.
The complete first season of Eyes for the Job is available to stream online at AMI.ca or on the AMI app.
Keywords: Eyes for the Job, Chris Judge, Alex Haider, DIY, woodworking, community, workshop, home improvement, renovations