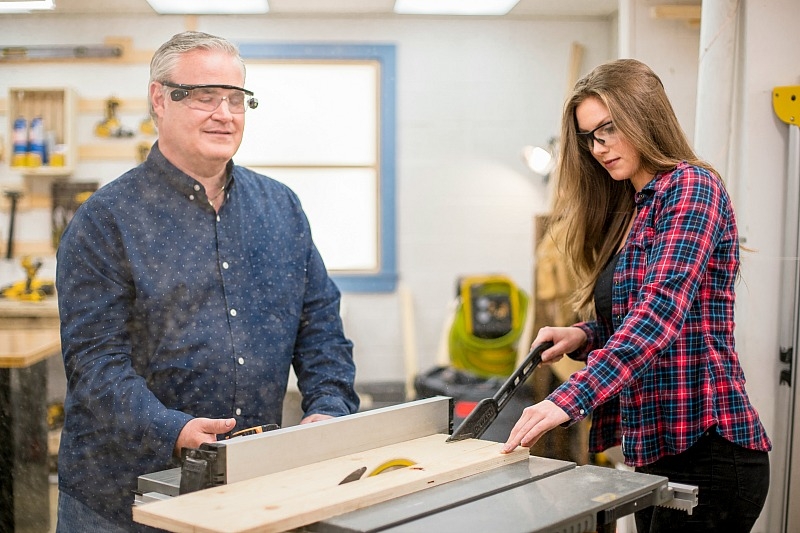 They say change is good. In the case of Eyes for the Job, it's great.
Season two, set to debut Tuesday, July 31, at 7 p.m. ET on AMI-tv, features two major changes viewers will note. The first, and most obvious, is Chris Judge's new co-host. Alex Haider joins the program, bringing enthusiasm and an inquisitive mind to the sophomore series.
"I had taken some time away from television and found that I really missed it," Haider says. "I wanted to get back into TV hosting." Some good luck with emails and knowing a producer at Clerisy Entertainment, Eyes for the Jobs' production company, and Haider was interviewing for the job.
Haider makes an immediate impact in the first episode of Season two. Her energy is infectious and her curiosity at how Judge completes renovations despite being blind is compelling. The pair have incredible on-screen chemistry, something that was fostered when they met.
"Right away, I knew she was the one," Judge says. "I knew by her personality that she was fun and that we could build a good rapport."
Building, as it was in Season one, is once again the focus of Eyes for the Job. The second big change comes with the setting. Rather than a house being the big project, Judge and Haider are based out of a community workshop in Halifax. The season premiere follows the duo as they tidy up the workspace by installing shelves to hold lumber and a dust collection system for easy breathing. Future half-hour episodes include building a desk and organizing waste disposal in the shop. They also venture into the Halifax area, creating a Murphy bed/breakfast nook, constructing a fire pit and concocting a super-cool way of storing adult beverages.
"There are a mix of everything," Judge says of the projects. "There is some basic, some intermediate and even some difficult things."
In keeping with AMI's mandate of making accessible media for all Canadians, Eyes for the Job features Integrated Described Video (IDV); Judge and Haider described their actions and surroundings during filming to make the program accessible to the blind and partially-sighted. Judge and Haider hope viewers will be inspired to take on the projects they do and embrace the show's unofficial mantra.
"It's all going to work out and it's going to be OK," Haider says with a laugh. "We had some bumps in the road during production but it all worked out in the end. That was a big thing for me that carried on into my personal life."
"All too often people are taught to believe that because they are blind that they can't do things or just believe than themselves," Judge says. "What I want people to get out of Eyes for the Job, besides being entertained, is to sit down and say, 'Wow, it's amazing that a person with no vision is doing these things. If he can do it, why can't I do it?'"
Season two of Eyes for the Job airs Tuesdays at 7 p.m. ET on AMI-tv. The complete first season of Eyes for the Job is available to stream online at AMI.ca or on the AMI app.