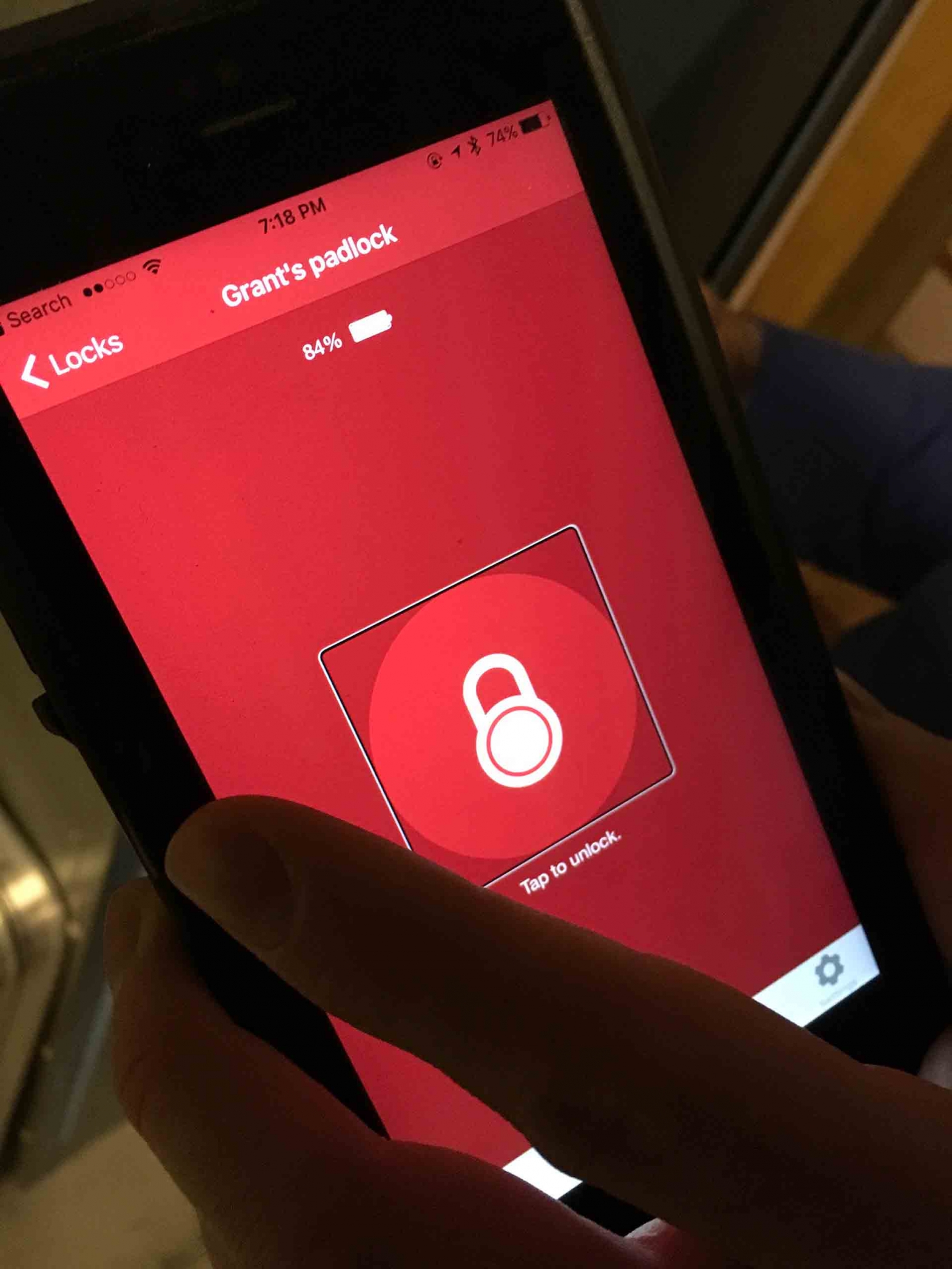 The Dog & Bone LockSmart products are accessible, keyless, Bluetooth padlocks that you can unlock from your smartphone. I've been testing the LockSmart Mini (USD $69.95) but the company also offers a more heavy-duty version called simply the LockSmart as well as the LockSmart Travel, a TSA-friendly padlock that airport security staff can open.
Usage
The padlock is packaged with a micro-USB cable which allows charging from any computer or USB wall adapter. On the bottom edge of the lock, there's a rubbery, weather proof seal that you can pull back with your fingertip to open. This will reveal the USB port for charging, as well as a small power button. By default, the lock goes into power saving mode after several seconds, requiring a press on the power button to wake it up. This can be disabled however, and while it'll cost some extra battery life, it's still the first setting I changed. I've noticed I still need to hit that power button after several hours of not using the lock, though.
As mentioned, there is no key. Instead, you'll need to download the free LockSmart app for your iPhone or Android phone. I've been testing the iPhone app, and it's fully accessible for VoiceOver users like myself. Every user needs to create an account—whether you own a LockSmart or are sharing someone else's. That means providing your name, a password, plus your Email address and mobile number. That's a fair amount of information, but seems to be common for internet-connected devices. Once your account is set up, pairing the lock is simple. Press the power button to turn the LockSmart on; then tap on "add new lock" from within the app. Follow the on-screen instructions to complete pairing, which includes giving your lock a unique name such as "my storage locker" or "backyard gate." This associates the lock with your account—and what's great is that the pairing process is accessible.
The app's interface is simple to use, but there's a lot of power too if you need it. To unlock your padlock, make sure you're within close range of the lock: generally, within a metre or two would be good. Open the LockSmart app, tap on the name of your lock, then tap on the button in the center of the screen and the lock should spring open. You'll also see info like the lock's current battery level on this main page. The battery life will vary based on many factors, but it'll only need to be recharged occasionally—not on a daily or even weekly basis.
Along the bottom of the LockSmart app screen, you'll see five tabs:
The main "unlock" tab, described above.
The find tab. This shows where in the world your lock was last seen, and whether that was by the owner or a shared user. This info comes from the fact that your smartphone can keep track of its location.
Share: allows you to invite other people to access your lock. The sharing controls are very fine-grain, so if you need to, you can restrict what dates and times the user can use the lock or even limit how many times they can unlock it.
Activity log: lets you see if, and when, the lock has been used by others.
Settings: lets you configure a ton of options about how your padlock behaves. For example, you can configure whether you want the lock's location to be tracked, and whether you'd like to be prompted for a PIN or fingerprint before the lock will open.
Relevancy
I'm not going to lie: remotely controlling a padlock from my iPhone makes me feel like a kid with a new toy, and it's a crowd-pleaser for sure. But the more important question is whether you should get one.
Internet-connected appliances come with all manner of extra features—and many people don't need all of them. But there's an equally good chance a few may come in handy. For example, it's not too much of a stretch to imagine offering shared access to a group locker, or a suitcase while traveling; and keeping tabs on who's been using it and when. It's an off-the-shelf device that's accessible, too, which certainly can't be said for many combination locks on the market where it can be difficult or impossible for someone with vision loss to read the numbers. And, of course, unlike traditional combination locks, you can change your account password and take away permission from shared users at any time—effectively having the security of a new padlock. Of course, you'll always need your smartphone to open the lock, which may not be ideal for everyone—especially if you're participating in a sport where your phone is one of the valuables you need to lock away!
If any of these features seem enticing, a LockSmart padlock may be up your alley. Either way, you're sure to feel the pull of an internet-connected appliance some time soon. The technology is cool, and powerful.
AMI This Week airs every Monday at 7:30 p.m. ET on AMI-tv. Follow @AMIThisWeek on Twitter for the latest updates and follow Grant @AMIGrantHardy.
Keywords: blogs, grant hardy, locksmart, keyless, lock, security, accessibility