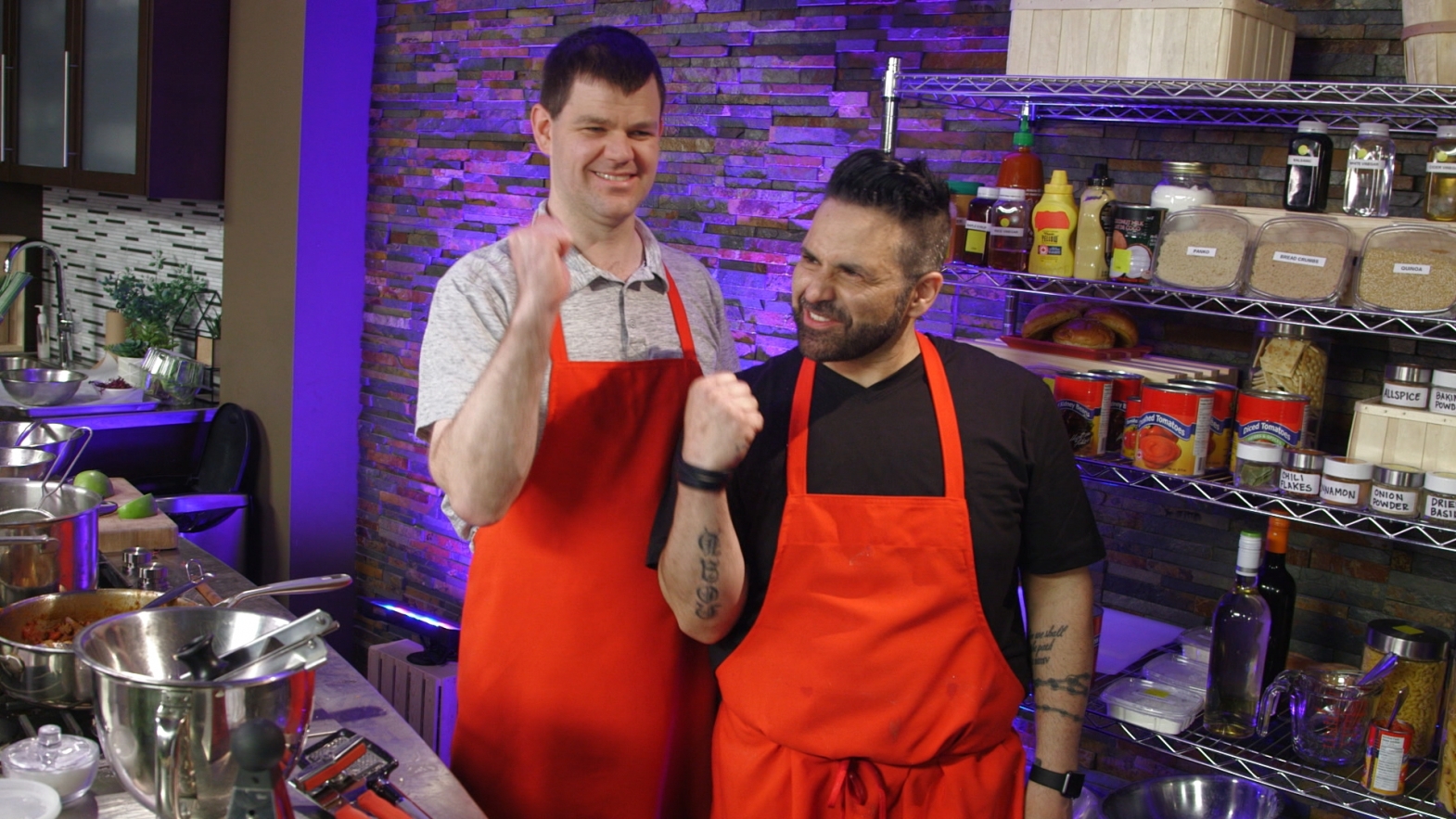 Orly
Married with three boys, Orly was born with a degenerative eye disease that claimed her limited vision 20 years ago. She received a bionic eye implant in 2014 that now helps her to perceive light and shadows. She started cooking at the age of 19 and dreams of opening her own restaurant one day.
Yolanda
A married mother of one, Yolanda learned to cook with her mother when she was a child and hasn't let her vision loss slow her down in the kitchen. Drawing from her Italian roots, her favourite compliment is when her son tells her that her dish tastes just like Grandma's.
Mary
In her twenties, Mary was diagnosed with retinitis pigmentosa and now has obstructed central vision and no peripheral vision. It wasn't until two years ago that her interest in cooking started when she was unable to continue working. Formerly a financial analyst she is now a food blogger and says cooking represents family, unity and laughter.
Ramya
Born with a severe form of retinal dystrophy, Ramya is partially sighted and had to learn to cook for herself when she left home for college. She now loves the social aspect of cooking and also co-hosts a live afternoon show on AMI-audio, putting her radio broadcasting degree to good use.
Alicia
A former track and field star, Alicia developed retinopathy from early onset diabetes causing her to lose her vision. With the help of an intensive program at the CNIB she regained her competitive spirit and is back in the kitchen, often using cooking as a way to relax and reboot.
Sharon
Cooking is in Sharon's blood as her grandmother, and mentor, was a professional chef. She developed diabetic retinopathy at the age 25 but with a solid foundation in cooking she still likes to be adventurous in the kitchen, often drawing on her Guyanese roots and testing new recipes out on her husband.
Dan
At the age of 26, Dan was diagnosed with retinitis pigmentosa and was unable to continue working his job in construction. His Polish grandmother taught him to cook when he was younger but he says he's become more creative and unconventional in the kitchen since losing his vision – often re-creating dishes, Dan-style.
Sylvia
Sylvia was born with an eye-condition and lost her vision when she was 8-years-old. She's married and loves to be around other people, often cooking for them. She prefers the freedom of cooking without a recipe and has amazing knife skills.
Chris
Born almost totally blind due to a genetic eye condition, Chris learned to cook in school. He loves the relaxing, therapeutic aspect of cooking and one of his favourite dishes is mac and cheese. Chris lives with his wife, newborn daughter and guide dog Jaffe.
Michelle
Growing up, Michelle was always helping her parents in the kitchen. At the age of 16, she lost her sight and was diagnosed with a rare brain condition affecting the optic center of her brain. Michelle finds cooking to be a calming experience and likes that you don't need to follow any rules in the kitchen. She loves outdoor activities like skiing and surfing.
Jean Lydia
Jean Lydia didn't start to lose her sight until her mid 50's and now volunteers to help teach kitchen skills to other people. She sees cooking as a form of experimentation and a way to express her self-esteem and confidence. She's been cooking since she was little and loves to travel.
Kristina
Born with bilateral optic nerve coloboma, Kristina only sees light in her right eye and has limited vision in her left. Her love of cooking developed after dissecting her mom's cookbooks and helping her Oma make chocolate chip cookies. She's passionate about the outdoors and has been active all her life.
Karen
Karen has retinitis pigmentosa and is legally blind. She has a scientific mind and believes that food has a magical alchemy. She looks at cooking the same way as applied chemistry and physics! She is currently working on a cookbook filled with family recipes and loves gadgets that can assist you in the kitchen.
Shaunelle
With encouragement from her sister, Shaunelle started experimenting in the kitchen after being diagnosed with Stargardt's disease at 7-years-old. At W. Ross School for the Blind, she was taught how to navigate around the kitchen using various tools. She feels cooking is art form and loves music and fashion.
Brad
Brad grew up on a farm and says he was born with a shovel in one hand and a spatula in the other. He was born with a rare gene disorder causing vision loss. He learned to cook from his mother and great-grandmother and has worked in a bakery for the last 10 years.
Beverley
Beverley first lost the vision in her left eye in a bull-riding accident and 10 years later lost the vision in her right eye as well. She is married with two adult children and loves drawing inspiration for her cooking from her French husband and Corsican brother-in-law.