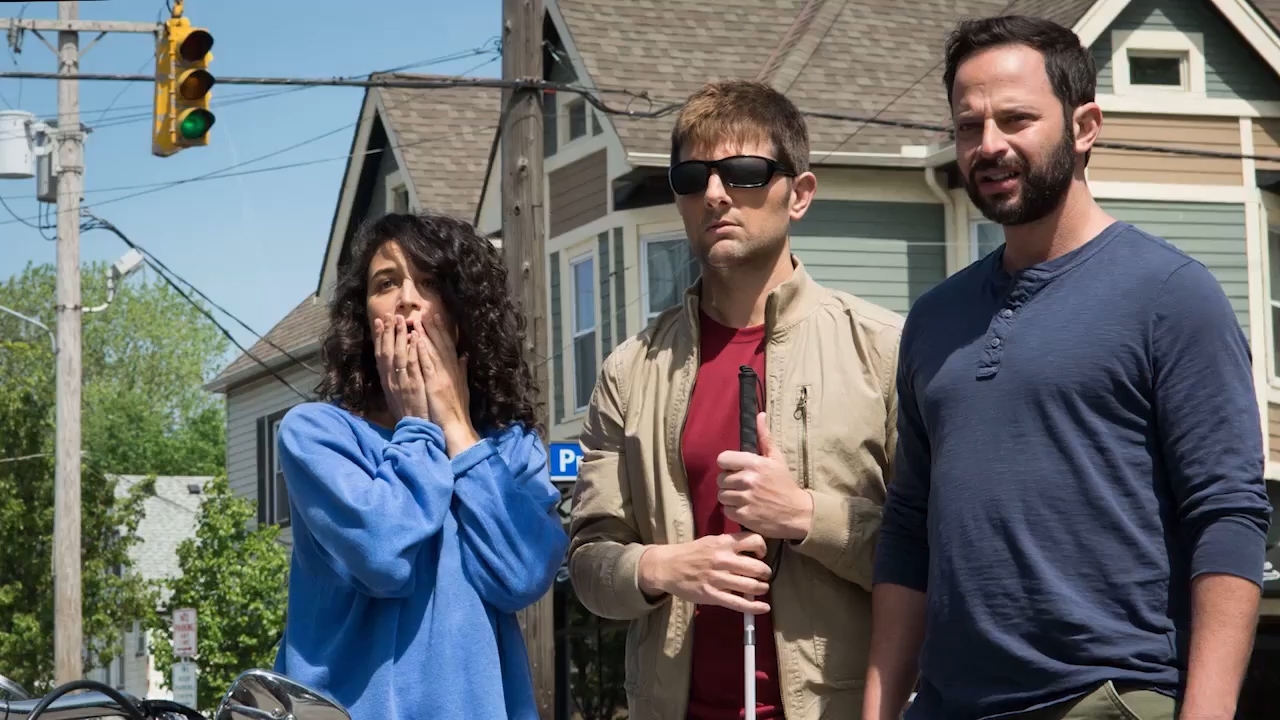 Let's credit Stevie Wonder for putting accessibility centre stage in the world of entertainment this year.
While presenting the Song of the Year Award at the Grammy's in February, he brilliantly joked about being the only one able to read the Braille in the winner's envelope.
Laughs erupted and quickly became cheers when Wonder made the following statement about global accessibility: "I just want to say — before saying the winner — that we need to make every single thing accessible to every single person with a disability."
The following month at the SXSW Film Festival, a handful of buzz-worthy films starring characters with disabilities debuted, further highlighting accessibility's increasing role in mainstream media.
Here's a list of five recently released films that not only star characters with disabilities, but also aggressively smash stereotypes of how saintly such characters should behave.
Hush
Being compared to recent horror genre hits like The Babadook and It Follows speaks volumes about what this film accomplishes with a purposely minimalist approach to storytelling through spoken words. Hush, which is now available to stream on Netflix, is a thriller starring a woman who lost her hearing at 13 years old. Deafness drives almost every production decision made and the film's tagline, "Silence can be killer," can be applied to the racing hearts of the audience as much as the characters themselves.
My Blind Brother
Full disclosure: As soon as I heard about the concept of this movie, I started planning my trip to SXSW. Much to my delight, the SXSW conference highlighted accessibility issues at every turn, from film to interactive workshops hosted by the United Nations. I interviewed My Blind Brother writer and director Sophie Goodhart after one of the film's screenings in Austin, Texas and loved hearing her approach to portraying characters with disabilities in the film. "My friends felt it was refreshing to see a [character with a disability] who is not portrayed as a saint-like victim…." The film is a romantic, dark comedy about two brothers, one sighted and one blind, who fall in love with the same woman. It's edgy, hilarious and brilliantly refreshing.
Play the "My Blind Brother" trailer on YouTube: https://youtu.be/5jCQBCfJGhY
Borealis
Jonas Chernic wrote the screenplay for Borealis and plays the role of Jonah, a gambling-addicted father to a daughter named Aurora, who is losing her vision to retinitis pigmentosa at the age of 15. Rather than confronting the loss of his wife and a mounting gambling debt head-on, Jonah decides to whisk his daughter away from Winnipeg to Churchill, Manitoba to see the Northern Lights before Aurora loses her ability to do so. Joey King won Best Actress at the 2016 Canadian Film Festival for her work as Aurora.
The Hollywood Shorties
This documentary tells that story of a professional dwarf basketball team that played in L.A. in the 70s and 80s. Many team members were also Hollywood actors. I spoke with Ryan Green, Director of The Hollywood Shorties, and learned more about the family stories that made this project so important to him.
Don't Breathe
The Don't Breathe trailer alone is absolutely terrifying, which should come as no surprise to fans of Director Fede Alvarez. He remade the cult classic Evil Dead and chose to set this heist film in Detroit in homage to RoboCop, one of his favourite flicks of all time, Alvarez said during a question and answer session following Don't Breathe's premiere at SXSW. A trio of reckless thieves break into the house of a wealthy military veteran who lost his vision while serving his country. Needless to say, the thieves underestimate this man's abilities. The director uses dim lighting to even the playing field and bare walls with dark lines from guiding fingers within the veteran's house for subtle authenticity. Buckle up and catch Don't Breathe when it hits theatres in August 2016.
Please note: These films did not contain video description at the screenings I attended, but each would greatly benefit by making the content accessible to all potential audiences.
What are your favourite films starring characters with disabilities? Tweet me @PeterBArmstrong and follow @AccessibleMedia for the latest AMI programming and accessibility news.