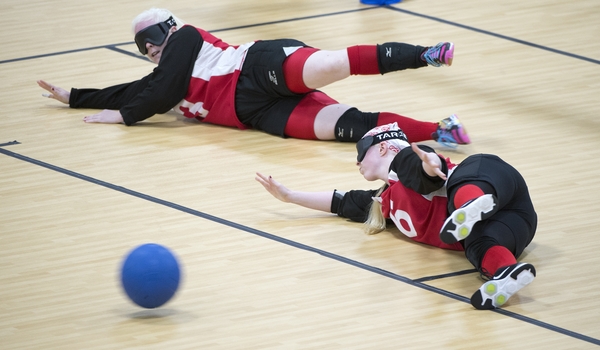 Each day of the Rio 2016 Paralympic Games, AMI presents the top five sports to watch, with a focus on Canadian athletes from the blind and partially sighted community. See the AMI-tv schedule for described video the Opening and Closing Ceremony of the Rio 2016 Paralympic Games on CBC, as well as weekend coverage of high performance sport. For more information regarding daily coverage of the 2016 Paralympic Games on CBC, please visit cbc.ca/paralympics.
Athletics
Pamela LeJean has earned her reputation as one of the best throwers in the world of para-athletics. She enters the competition on Day 5 of the Rio 2016 Paralympic Games riding a wave of confidence after capturing gold in shot put and bronze in javelin at TO2015. The Cape Breton, NS native recently spoke to AMI This Week's Laura Bain about how she overcame her fear of never competing in sports again after an accident left her paralyzed from the chest down. Watch the segment in the YouTube clip below:
Goalball
Goalball is played by visual impairments athletes, and each competitor must wear blackout masks to ensure equality. The sport was devised to help rehabilitate war veterans and has been part of the Games since Toronto, 1976. Today's schedule includes the Canadian men's squad taking on Algeria, and the women's team battling China.
Wheelchair Basketball
Despite a slow start in the tournament's opening days, the Canadian men's team hope to defend its gold medal from the London 2012 Paralympic Games with a strong mix of veteran leadership from the likes of David Eng and Bo Hedges, and the youthful energy and potent shooting touch of Nik Goncin. Today's action pits the Canadian men against Turkey, and the women's team takes on Brazil.
Archery
North Bay, ON's Karen Van Nest and Kevin Evans of Jaffray, BC compete in the round of 16 mixed team compound versus Spain.
Swimming
There is gold running through Devin Gotell's bloodline, as his sister Chelsey is one of Canada's most decorated Paralympic swimmers, and the Ontario Blind Sports Association inducted Chelsey into its Hall of Fame last year. Devin will join Tyler Mrak in the men's S12 400m freestyle today, while Aurelie Rivard looks to continue her golden Games in the women's S10 100m. Rivard shared some of her secrets to success with the next generation of Paralympic Games hopeful's in the AMI-tv documentary Are You PARATOUGH?