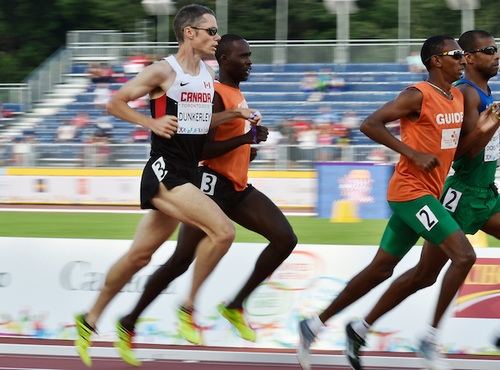 Each day of the Rio 2016 Paralympic Games, AMI presents the top five sports to watch, with a focus on Canadian athletes from the blind and partially sighted community. See the AMI-tv schedule for described video the Opening and Closing Ceremony of the Rio 2016 Paralympic Games on CBC, as well as weekend coverage of high-performance sport. For more information regarding daily coverage of the 2016 Paralympic Games on CBC, please visit cbc.ca/paralympics.
Athletics
Blind long-distance runner Jason Dunkerley, a mainstay of the Paralympic and Pan Am podium, runs for gold this evening in the 1500m (with guide Josh Karanja) T11.
Competing in her sixth Paralympics, Diane Roy of Sherbrooke, Que. is looking for her sixth Paralympic medal in the 1500m T54.
Wheelchair Fencing
It's a full day for sword fighting, as Matthieu Hébert of Beauharnois, Que. takes on competitors from Italy, Iraq, France, China and Brazil in the individual Epee category. Will he make it all the way to the gold medal duel this evening?
Table Tennis
Stephanie Chan of Richmond B.C. squares off with rival Seong-Ok Kim of South Korea for the bronze medal this afternoon in the C7 category.
Wheelchair Basketball
The Canadian women have battled their way into a quarterfinal matchup against the Netherlands. Arinn Young of Legal, Alta. and Cindy Ouellet of Quebec City hope to bring their scoring touch to this do-or-die game. The Canadian men's team lost to Turkey yesterday, eliminating the defending gold medallists from the tournament.
Goalball
The Canadian men close out the preliminary round against Sweden, and the women take on Australia in their final game. Both matches are very important for seeding in the knockout round.
Let's make it a top six!
Swimming
Superstar Aurelie Rivard looks to swim for her third medal at Rio 2016 this evening in the S10 100m freestyle.