Vic Rauter sweeps his way onto AMI-audio's Curling Championship coverage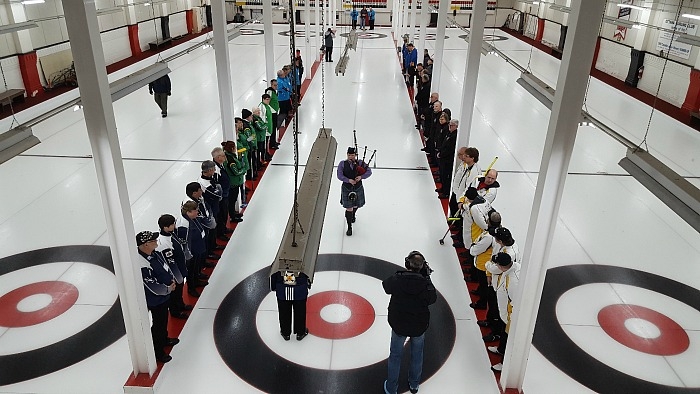 Vic Rauter is known across this country as "the voice of curling." And, with 32 years of covering it for TSN under his belt, it would be safe to assume he's covered it all.

Not so. Rauter has never done an audio-only curling broadcast. That will be rectified on Friday, February 8, when he—alongside AMI's Norma Wick—call play-by-play of the AMI Canadian Vision Impaired Curling Championship. The live broadcast from the Ottawa Curling Club runs from noon-4 p.m. Eastern and is part of the Canadian Council for the Blind's White Cane Week.

In curling's earlier days, Rauter recalls, the sport was called exclusively on the radio. But his only experience doing that was when TSN's satellite television feed would cut out and the picture would disappear. He's looking forward to the test and describing the end-to-end action with AMI-audio listeners.

"You have to explain to listeners that the rock is going into the house," Rauter says. "That is the 12 o'clock position and then you work around the clock. Stones will be at 1 o'clock, 2 o'clock, 3 o'clock, all the way around to 11 and 12 and you describe where they are in location to the circle. I haven't done a full game, so that will be a challenge."

"As a describer, audio is quite different than television, in that on a television broadcast you can only describe what you see on the screen, so you're a bit hostage to what the broadcast chooses to show or present to the audience," Wick says. "Audio will be a little more freeing—and fun—because you aren't limited to what the cameras are showing you, you can be more creative about the stories you're telling or the details and colour you can share with the audience."

Ever the fan, Rauter is excited that AMI's in-rink setup includes shotgun microphones around the rink to catch all the action. Speaking of fans, he hopes Friday's broadcast will pull new ones into the sport.

"This is about furthering the game," he says. "I hope that someone may hear it and say, 'Son of a gun, I didn't know that I could do that.' If we can get a few more people on the ice who are visually-impaired that would be great news."

The AMI Canadian Vision Impaired Curling Championship is broadcast live Friday, February 8, from noon-4 p.m. Eastern on AMI-audio. Check your local listings for AMI-audio in your area or listen live.

--

The Canadian Council for the Blind is celebrating its 75th anniversary and Accessible Media Inc. is getting in on the action at two events. CCB chapters across the country devote the first full week of February to White Cane Week, which raises public awareness of the challenges facing Canadians living with vision loss and to connect their local chapters.

"We encourage Canadians to get out and connect with their communities and to share information about what it means to live with vision loss," says Ian White, president of the CCB Toronto Visionaries Chapter. With over 100 chapters across the country, that connection can take many forms. Ian describes messaging through pancake breakfasts and fish fries to darts competitions, curling bonspiels or setting up a booth in a mall to hand out literature. Click here for a full list of events across Canada.

"We stress abilities, rather than disabilities," says Louise Gillis, president of the Canadian Council for the Blind.

The CCB Toronto Visionaries Chapter of the Canadian Council of the Blind is marking the occasion with the 2019 WCW Experience Expo, the only exposition and consumer show for people living with vision loss in Canada. This interactive, hands-on exhibition features dozens of exhibitors, products and services covering every aspect of the experience of living with vision loss. With so many resources in place in the Toronto market, the Toronto Visionaries Chapter opted to spotlight them with the Expo.

"We wanted people to walk into the room and say, 'Wow, these are all my options?'" Ian explains. "Having all of that information in one place at one time was the motivation for holding an expo." Expo attendees can get connected with information on new adaptive technologies, recreation and leisure, tactile art and accessible entertainment, sport and fitness, transportation, education, employment, government supports, advocacy issues and more. Come to the Expo and experience the passion, creativity, wide range of activities, tools and tips for people living with vision loss.

AMI will be broadcasting live from the Miles Nadal Jewish Community Centre at 750 Spadina Ave., in Toronto. It begins at 11 a.m. Eastern with The Neutral Zone, as Brock Richardson and his panel of sports experts hold a lively roundtable discussion about Parasports and professional sports news and newsmakers. Then, at 1 p.m. Eastern, join Kelly and Company's Ramya Amuthan and Kelly MacDonald as they conduct interviews with organizers, exhibitors and attendees.

Click for more details on White Cane Week across Canada and on the Toronto Chapter's WCW Experience Expo.
Keywords: AMI, AMI-audio, Kelly and Company, The Pulse, White Cane Week, Experience Expo, blind, partially sighted, Vic Rauter, curling, AMI Canadian Vision Impaired Curling Championship