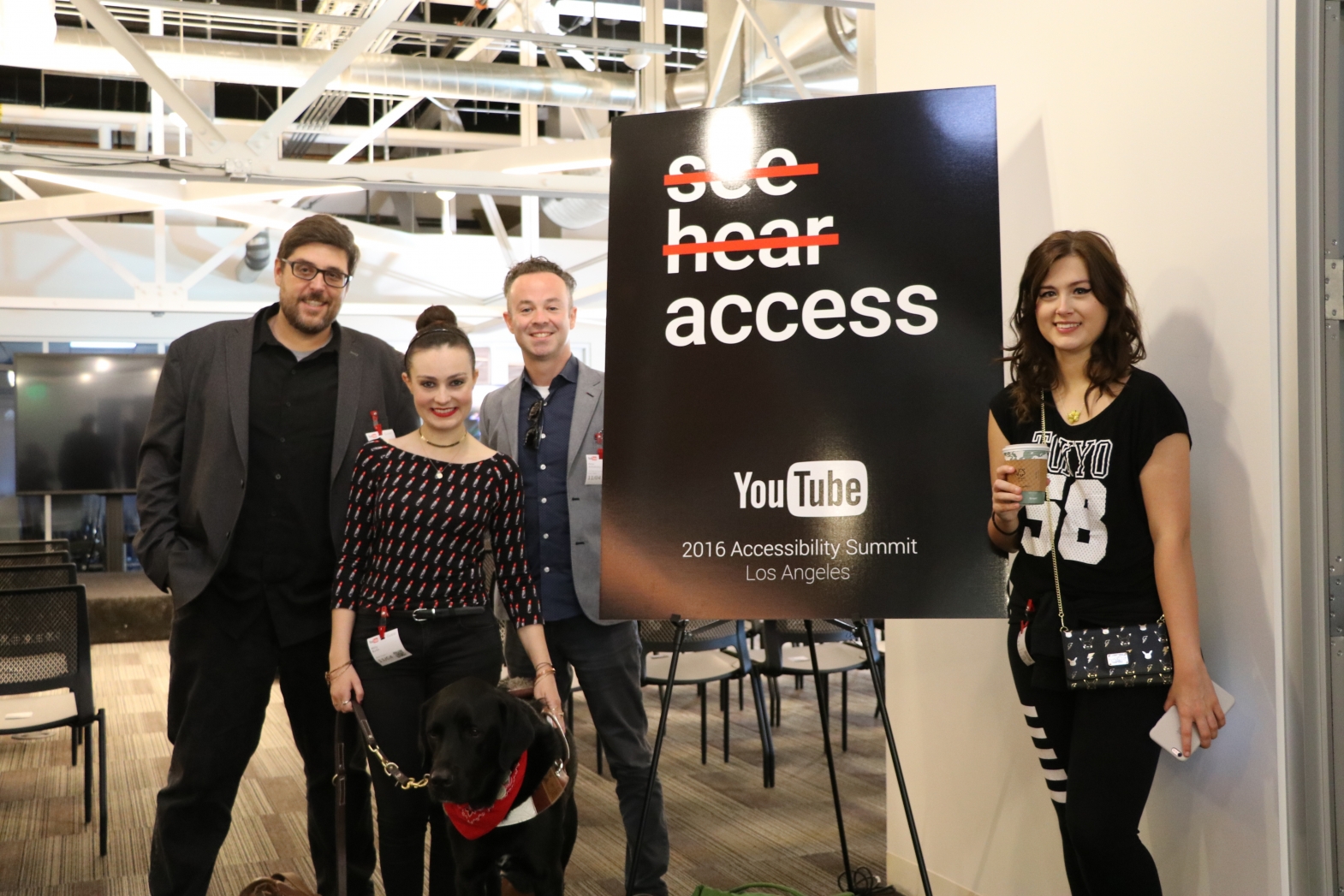 By Peter Armstrong
YouTube demonstrated its commitment to people with disabilities by hosting the inaugural YouTube Accessibility Summit.
AMI was honoured that YouTube invited us to speak about our expertise in creating accessible video and social media content. Also speaking at the summit was an impressive collection of inclusion experts from Google's accessibility and research science teams, as well as YouTube stars with disabilities Molly Burke, Rikki Poynter, Tommy Edison and Lolo Spencer.
On Nov. 4 at YouTube Space LA, I was joined on stage by AMI's Accessibility Officer Chris O'Brien to discuss how content creators can use integrated described video to make their videos accessible for people of all abilities. The term "video description" is synonymous with "audio description," which is more common language in the United States. Both refer to describing visual elements within a video that wouldn't traditionally be included in spoken dialogue.
We compared AMI's examples of traditional video description and integrated video description to show the ease and value of considering accessibility during initial planning phases of video production, much like one would be at the beginning of a website development project.
"What's the right amount of audio description? How much is too much?" was one of the audience questions following AMI's presentation. The simple answer was, it's more of an art than a science. Fortunately, AMI partnered with other organizations to write the best practices for described video.
Another YouTube content creator asked if AMI hosts workshops where its described video specialists share insights and best practices. The answer: AMI trains sports broadcasters to describe live events such as Blue Jays baseball and the Paralympic Games. We've also partnered with organizations like the HotDocs documentary film festival on a described video series.
Partnering with companies like YouTube to share AMI's expertise in media accessibility is exactly the type of outcome from the summit that AMI would love to participate in.
We also discussed longer term accessibility improvements that YouTube could make, including giving users the ability to add a secondary audio track to include video description on existing videos, and building a crowd-sourcing service that allows people from around the world to voluntarily describe videos from other creators. One of our favourite accessibility apps Be My Eyes inspired this idea.
The summit included a star-studded panel with diverse YouTube celebrities with disabilities. The chemistry between the speakers was evident throughout the day as they were laughing, vlogging and connecting with fans in all corners of YouTube Space LA. Subscribe to each YouTubers channel and get to know them in the videos below: