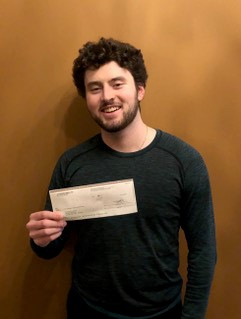 There was a bit of irony when Nik Provenzano got the call congratulating him as the 2020 English recipient of the AMI Robert Pearson Memorial Scholarship: he was in the middle of writing mid-terms.
Following a review of over 150 applicants, Nik was awarded $5,000 on behalf of the program. Established in 2012, the AMI Robert Pearson Memorial Scholarship is open to Canadian students enrolled in a diploma or degree program at a Canadian post-secondary school. It is awarded annually to one English- and one French-speaking student with a permanent disability.
"I would like to sincerely thank AMI for granting me this amazing scholarship," Nik said. "I will be using this money to further pursue my educational goals." Currently enrolled in his fourth year at the University of British Columbia, the scholarship will help offset the tuition of Nik's fifth year and the cost of living in Vancouver. 
"I was born without my left hand at the wrist," the Sault Ste. Marie, ON, native explains. That influenced his educational and career choices; Nik is enrolled in Biomedical Engineering with a specialization in Biomaterials and Biomechanics, with a goal to enter the orthopedic and prosthetics field where he'll focus on devices to fit humans. 
"It's definitely a growing field with a lot of opportunities," Nik says. "We're always going to need medical advances." 
And while technology is advancing at a rapid pace, Nik believes there are still platforms that need work. He points to film and television as being barriers for the disability community, stating he'd like to see more representation on the big and small screen. 
"You don't see a lot of representation of those with physical disabilities, and when you do, it's not in an empowered way," Nik says. "As an amputee, I rarely see myself represented on media platforms. Seeing people like me on those platforms would give me more confidence in general." 
AMI partnered with the National Educational Association of Disabled Students (NEADS) to administer the program. Since its founding in 1986, NEADS supports full access to education and employment for post-secondary students and graduates with disabilities across Canada.
The 2021 AMI Scholarship Program kicks off later this winter. Interested applicants can find more information on the AMI Scholarship Program page.