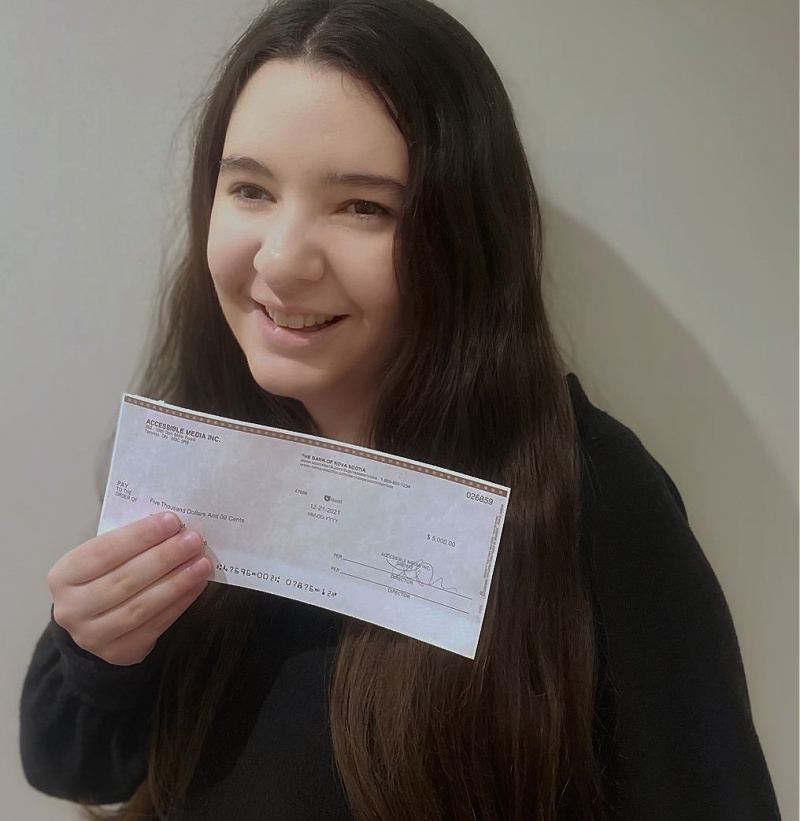 By Donna Greenidge
Rebecca Nicol is the 2021 recipient of the AMI Robert Pearson Memorial Scholarship. A student in her first year of a two-year Masters of Social Work program at the University of Toronto, Rebecca had the following to say when she was informed she was the winner of the award: "Honestly, I was shocked…it was definitely a surprise, but a good surprise."
Rebecca has interests in two possible career pathways, hoping to "work with kids and teens and families with disabilities, possibly in a hospital setting," or in child welfare.
Starting in 2012, The AMI Robert Pearson Memorial Scholarship is awarded to two students with the following requirements:
• The student is either Canadian or a permanent resident of Canada
• They have a permanent disability
• Currently registered and returning to a full-time program at an accredited Canadian college or university
• One bursary goes to an English community student and one to a French community student
Rebecca, originally from Barrie, ON, has been helping people understand her partially sighted disability for some time. Her journey as a student has taught her a lot more than just her necessary classes and studies.
"I run into barriers quite often, especially in academic spaces," she says. Rebecca believes she might know one of the reasons this happens.
"[I'm] the first person walking through their door that they've encountered with a disability."
Due to these barriers, Rebecca, who was shyer and more reserved at one point in her life, is now an impassioned advocate. She realized that not asking for the tools she needed to succeed was hurting nobody but herself.
One observation that Rebecca revealed was how she views the public who are not used to dealing with people with disabilities.
"I don't think that people have bad intentions," she says. "I think it's a lack of education on their part or knowledge, so I consider it an opportunity to advocate and teach people." She ends up teaching someone about her disability almost every day and has admitted that it can be a bit exhausting.
Rebecca will be using her bursary to help pay her upcoming tuition. She was delighted as the cheque "pretty much covers it."
Rebecca recognizes how vital her scholarship is and how rare these opportunities are for students in the disability community.
"Scholarships for people with disabilities are so important," Rebecca says. "There are so many barriers to education that people with disabilities face, and you know money is one of those things, unfortunately. It's so helpful to have something like this available to make those academic and educational spaces a little bit more accessible."
AMI partnered with the National Educational Association of Disabled Students (NEADS) to administer the program. Since its founding in 1986, NEADS has supported full access to education and employment for post-secondary students and graduates with disabilities across Canada.
The 2022 application window for the AMI Robert Pearson Memorial Scholarships opens soon. For more information, please visit ami.ca/scholarship.
When Rebecca was asked what she would tell others about applying, she enthusiastically said, "I'd say go for it! I encourage anyone to do it."