Community Reporter Suzanne Boudreau visits AMI Headquarters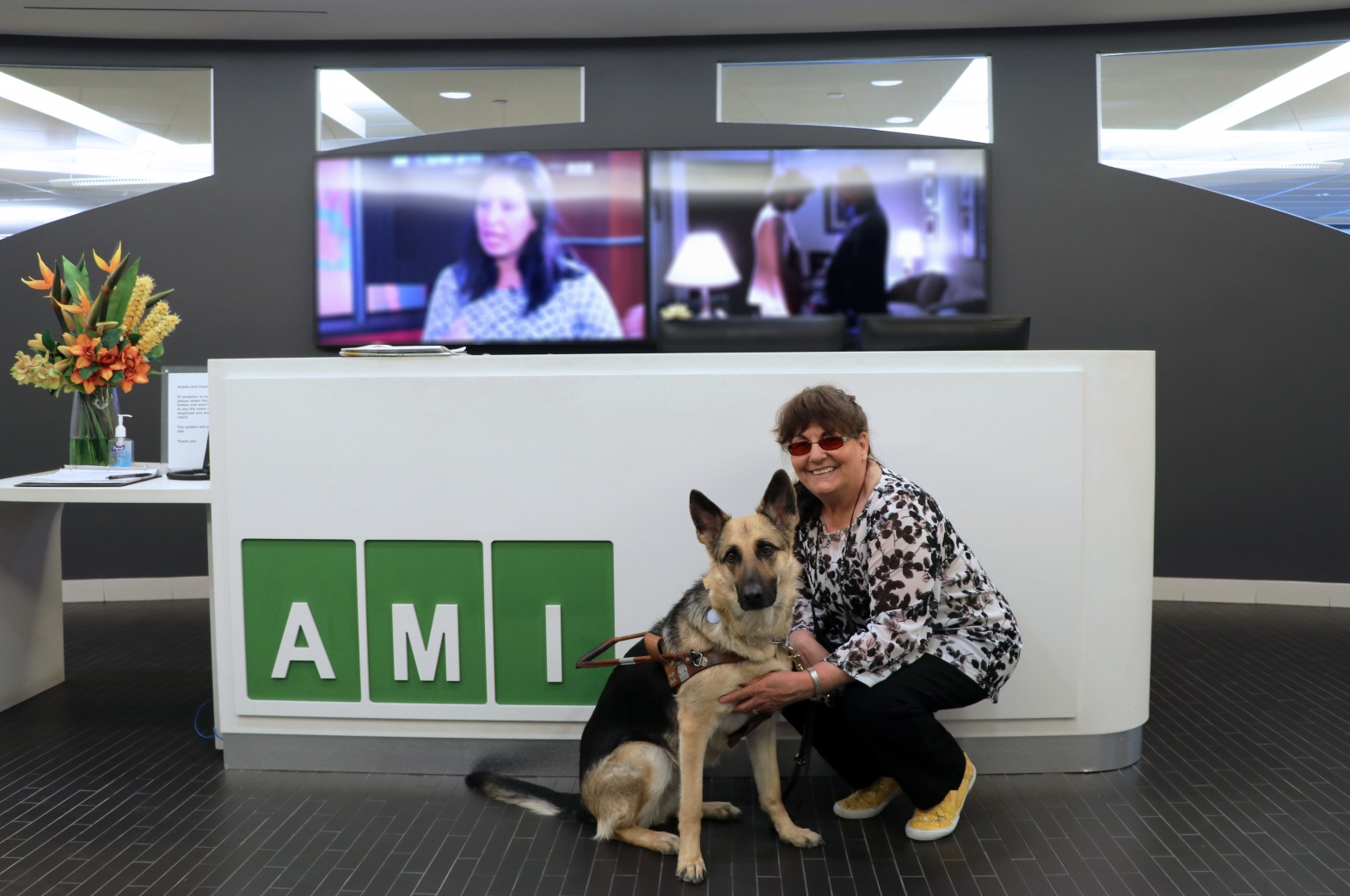 Last year, AMI-audio introduced the addition of Community Reporters to our programming. The Community Reporter mission is simple, to report on information, events and happenings in the blind and partially sighted community in their region. Our Community Reporter team helps us create an inclusive broadcast experience for our listeners coast to coast. Over the course of the year this program has expanded to over 20 reporters and now represents Canada from P.E.I. to Victoria and everywhere in between! 
AMI-audio is excited to be hosting several community reporters at our headquarters in Toronto. Suzanne Boudreau is a Community Reporter from Timmins, Ontario. In the interview below, she reflects on her experience with AMI.
Tell us a little bit about yourself…
My name is Suzanne Boudreau. I volunteer with the CNIB, The Timmins Golden Manor Day Program which is a senior's home, the Native Friendship Centre and St. Mary's Garden which is a retirement home. I have retinitis pigmentosa and I started losing my vision in 2007. I soon lost my job when my vision started to go. It started slowly and progressed quite quickly. I got Emilie, my guide dog from the Seeing Eye in 2015. Emilie helps me get around town. She brings me to my appointments, my banking, my shopping -Emilie keeps me independent. 
How did you become a Community Reporter? 
Monique Pilkington from the CNIB in Sudbury sent me an e-mail about the program. She told me about it and said I would be a great person to represent Timmins and Northern Ontario. I thought, a reporter? I've never done that. I talked to my family and they said go for it! I have to try stuff before I say no so I gave it a shot. Now, I love being a Community Reporter and working with Marianne! When we first talked I felt like I knew her for years!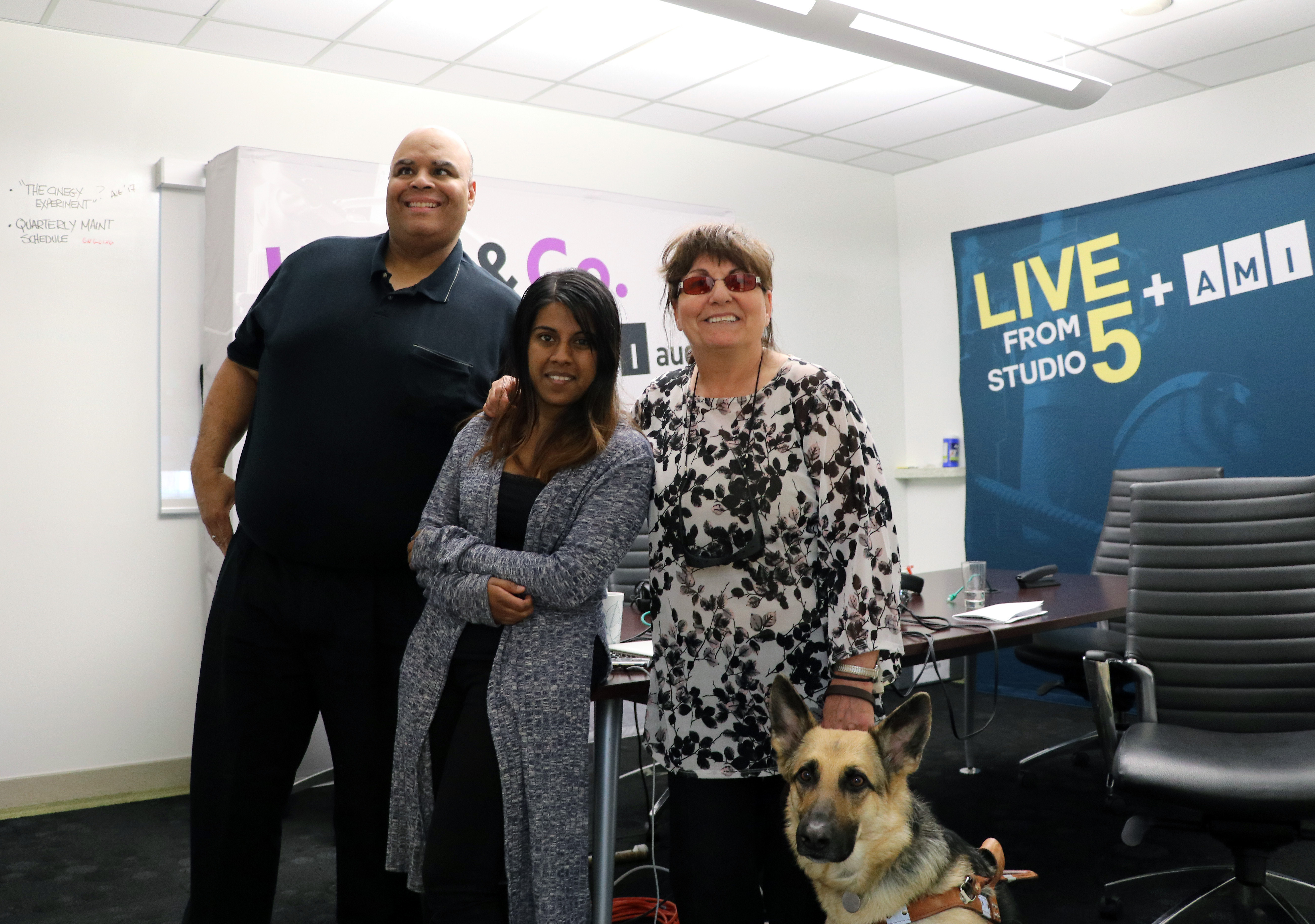 What do you love most about being a Community Reporter?
As a Community Reporter, I research what's going on in my community. This job brought me closer to technology. I took a "tech social" class at the Timmins Library and that has helped me engage with what's happening online. I normally reach out to whoever is holding the event. I like to meet with them in person. I talk to them about AMI and learn more about the event or service. I can't believe how many places I've been and how many people I've talked to. 
Why are Community Reporters on AMI-audio important? 
It gives an advantage to everyone out there, to know what's happening in the community and more about accessibility. It can create change in your community when you hear about what's happening in other communities across Canada. For me, I get a chance to help people and I love doing that. If somebody needs help advocating, I would do it for them. 
Tell us about your experience here at AMI HQ?
It was the ULTIMATE experience. Everything was amazing. First, we started with a screening of the AMI-tv documentary Passion Connected. It was awesome. I told my family about it and I got a chance to meet one of the Paralympians and hold the medal he worked so hard for! The next day, I had a tour of the office and it's very accessible. I was so impressed. It has inspired some ideas for when I get back to Timmins. I want to find out how to make changes in some of the buildings around the city. Then, I met with all the teams that work in the office. Everyone was very nice. I then prepared to co-host Kelly and Company. I was nervous at first and then that soon passed. They made me feel very included. When the music started my heart was beating pretty fast. So much work goes into creating the show. Every area is working hard. I told myself, they're lucky to have this job but they work so hard. I would love to host again. If someone goes on holiday, give me a call! 
What surprised you the most about being here?
When we went in the control room. I looked around and was taken aback by all the gadgets. People are doing so much work and there's so much going on. Everything from on-air to social media, it's teamwork and it all comes together. 
What do you love most about AMI-audio?
It's important to listen to AMI-audio to learn about how other people are struggling in their community and be able to relate or to learn about more accessibility that could be in your community. It feels like AMI-audio is connecting the blind and low vision community across Canada. I love telling everyone about AMI!
Any parting words for your AMI family?
Many, many good memories during my visit. Emilie and I enjoyed it and we were so well received. I felt like part of the team. I was part of the gang! 
Listen to Suzanne's episode of Kelly and Company. 
Tune in to Kelly and Company weekdays at 2 p.m. ET on AMI-audio. 
Keywords: AMI-audio, Suzanne Boudreau, Community Reporter, Timmins, Kelly and Company