Accessibility Review of Samsung Galaxy S9 and S9+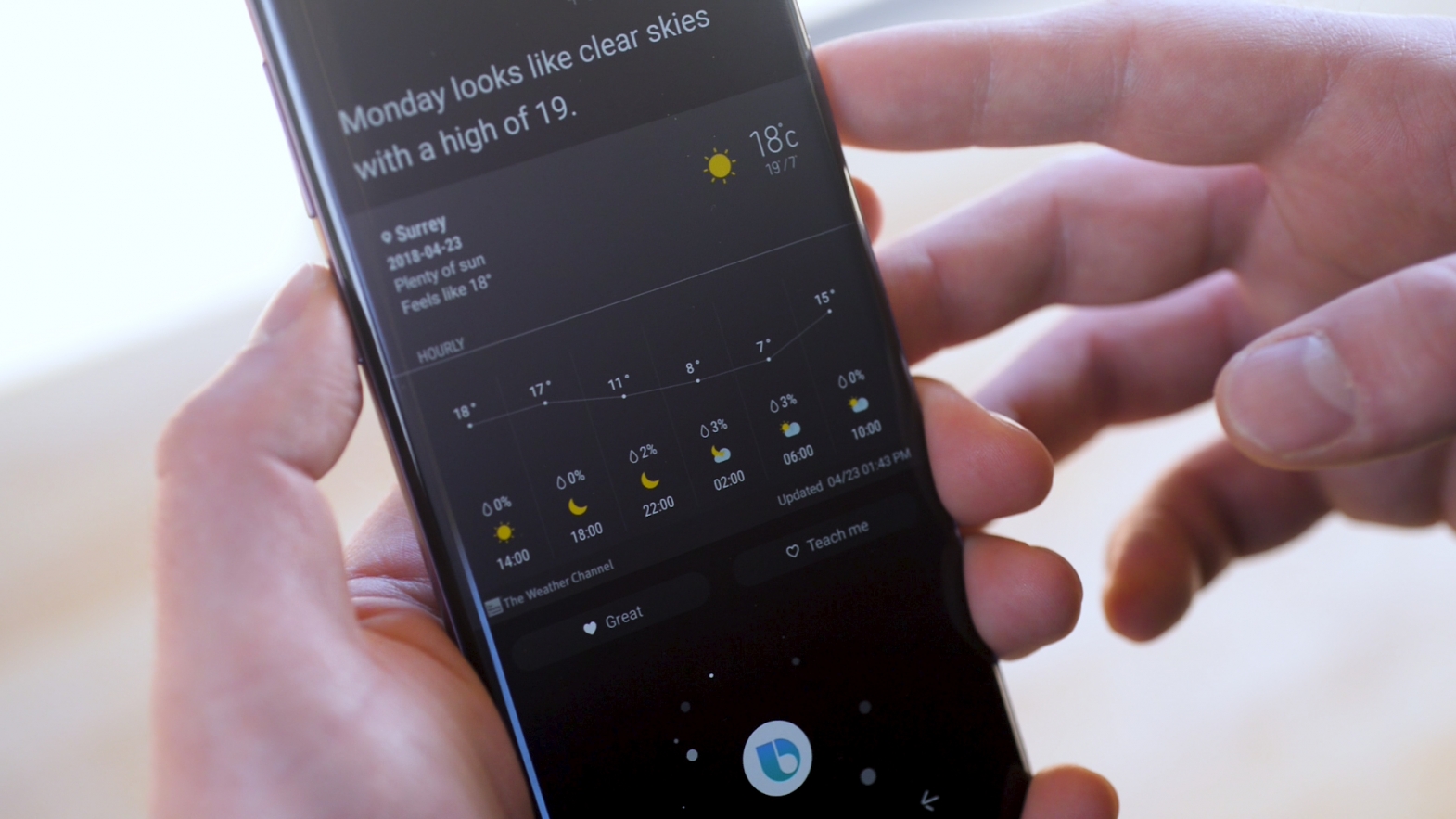 The Samsung Galaxy S9 and S9+ are Samsung's latest accessible, flagship smartphones. After playing with the S9+ for the past few days, I thought I'd share my perspective as a totally blind Android user.
First, some basics. The hardware in these phones is particularly impressive. They both have a very acceptable stereo speaker setup, since the phone's earpiece doubles as a second speaker. The front is almost entirely taken up by the phone's touch screen; there's practically no bezel surrounding it. This means I do find it hard to grip the phone securely without tapping the screen accidentally, but it's still a positive trait since more screen real estate is better than less. Measured diagonally, you have a 5.8-inch display in the S9, and a 6.2-inch display in the S9+.
The S9 and S9+ are completely dust proof as well as IP-68 water resistant, meaning they can be fully submerged in 1.5 m of water for up to 30 minutes. Yet they still retain the coveted headphone jack, micro-SD card slot to add additional storage, and fingerprint reader. The fingerprint reader is located on a very convenient spot near the centre of the phone on the back. It's easy to find the sensor tactually and authenticate, and it'll read your fingerprint even if the screen is off.
You have a number of ways to secure your phone, including an intelligent blend of facial recognition and iris scanning, a PIN or password, and the fingerprint reader. You can also configure the phone to stay unlocked at trusted locations such as your home, when trusted Bluetooth devices are in range, or even with voice recognition. So depending upon how you want to balance security and convenience, there are a ton of great options. Disappointingly, I couldn't set up the iris and facial scanning features because there was no audio prompting to help me align my face within the on-screen circles, as there is on the iPhone X. And for the highest level of security, where data is encrypted with your PIN or password and it's required every time your device starts up, accessibility features aren't available when rebooting the device. Still, I'm reasonably happy with the security available on the S9 and S9+.
I understand that the dual 12-megapixel rear camera setup is particularly impressive in low light situations on the S9+, and enhances Samsung's live focus feature which allows you to capture your subject and the background separately, so you can adjust the focus as needed. And there's a front-facing 8-megapixel camera as well.
Accessibility for blind users
All modern Android phones include a free screen reader, but Samsung has enhanced the screen reading experience with features not found on other brands of Android phones. Enhancements include a more familiar set of on-screen gestures for users switching from other platforms, an easy way to change important settings like speech rate and volume on-the-fly, and an easier method for selecting, copying, and pasting text. I covered Samsung's screen reader, Voice Assistant, in my Samsung Galaxy S7 and S8 accessibility post, and it still works the same way. Samsung has also published a support document which you can use as a quick reference guide to get you started with Voice Assistant's gestures.
Voice Assistant generally works well, letting me use most of the built-in apps on my phone as well as many third-party apps which you can download from the Google Play Store. In fact, I've heard Android users on other brands express the wish that they could purchase Samsung's screen reader and use it instead of the default one. I fully agree with this sentiment. But there are a few missing pieces. One is support for refreshable Braille displays, which debuted in iOS in 2010 but still doesn't ship out-of-the-box on any Android phone to date. One can download the Google Brailleback app which adds basic Braille support to Android. I wasn't able to test this app with my own Braille display due to lack of compatibility, but it has not been updated since December 2015 and does not include support for writing in contracted Braille. I use my Braille display with my iPhone every day and find it a wonderfully efficient way to send messages, respond to Emails and much more. I would miss this if I switched to Android full time.
I also found myself missing some of the accessibility features iDevices have when using the photos and camera apps. For example, when getting ready to snap a picture, they'll announce how many faces are in the frame, their facial expressions, and the location of the faces in the frame. When reviewing photos you've taken, there is even basic support for identifying objects and text in photos, as well as the number of faces and their facial expressions. Given that I was trying to test the camera and photo features on the S9+, these features would have been a real asset.
On the other hand, there are some clear accessibility advantages Android still has. One of my favourites is that you have a two-hour window for getting a refund on a paid app that you purchase from Google Play. This is a great opportunity to evaluate an app for accessibility, so you can buy that $4.99 game that everyone is talking about and never fear that you'll be stuck with your purchase if it isn't accessible.
Other accessibility features
For low vision users, there are the expected screen zoom, magnification, and high contrast features that are there to make the screen easier to see. For users with hearing impairments, features include flashing the camera light or the screen when you receive a notification, and alerting you when the phone detects a baby crying or the doorbell ringing. And there's a plethora of other accessibility settings to review for users with a variety of abilities.
Bixby and Bixby Vision
My time with the S9+ was my first opportunity to play with Samsung's digital assistant, Bixby, which is triggered using a dedicated side button below the volume rocker on the left side of the phone. There are three components to Bixby:
Bixby Home, triggered with a single tap on the Bixby button, displays a feed with info like nearby places, recommended apps, and generic content like trending topics on Facebook. It has some potential, but it seems like more of a novelty at this point rather than a place to check throughout the day. In fact, I'd love it if this button could be swapped so it did something else, like launch a favourite app or toggle an accessibility feature.
Bixby Voice, triggered by pressing and holding the Bixby button and speaking, allows you to get help by speaking hundreds of scripted commands. Samsung has a definitive list of commands which you can read here. There's a learning curve to find out what Bixby will and won't do. For example, asking it to "Send an Email using Gmail to Bob" should work, but asking for transit directions to my office didn't work for me, even though Google Maps comes preloaded on the device. But it's still super handy for quickly launching apps.
Bixby Vision, accessible through a button in the camera app, attempts to extract info about what the phone's camera sees. You select a mode (such as text translation, image searching for similar photos, info about wines, QR codes, and so forth) then point the camera at an object to let Bixby analyze it. My results were pretty hit-and-miss, but the potential is certainly there. Depending on the shots you get and how good you are at aiming the camera, your results may vary.
Ultimately, I think Bixby has potential, but Google's voice assistant still comes pre-loaded on the S9 as well. Since it's more tightly integrated with Google's services and has had years to evolve, it may be a more reliable bet for now.
Conclusion
On the accessibility side, I think iOS is still more polished in some ways, and it's Braille support that really prevents me from jumping ship. But the more accessible mobile platforms we have access to, the better. So it's great to see Android—and especially Samsung—thriving and becoming more accessible. The Galaxy S9 and S9+ are great, accessible options that play to Android's strengths, like hardware choice and openness. And if you're looking for an accessible Android smartphone, you can't beat Samsung.
AMI This Week airs every Monday at 8:30 p.m. ET on AMI-tv. Follow @AMIThisWeek on Twitter for the latest updates and follow Grant @AMIGrantHardy.
Keywords: blogs, grant hardy, smartphones, samsung, galaxy, s9, s9+, accessibility, bixby, voice assistant