Accessible Media Inc. (AMI) is on Instagram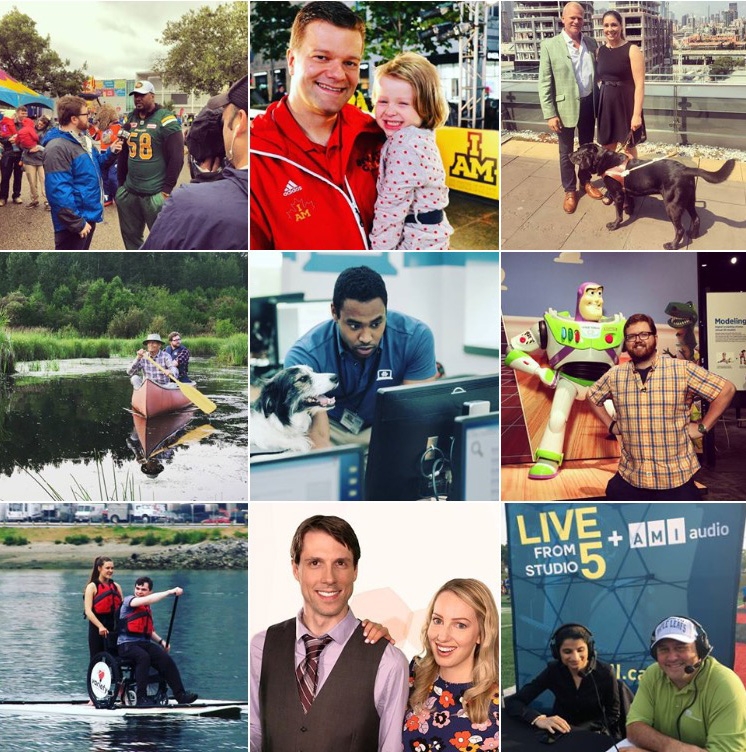 Members of the AMI Research Panel are increasingly using the social media channel Instagram, so we've responded by launching our own account.
Follow AMI on Instagram @AccessibleMediaInc.
Accessible Media Inc. (AMI) Social Media Research
Feedback from the AMI Research Panel guides all of AMI's content and platform priorities. Currently, over 1,200 Canadians who are blind or partially sighted form the panel, and an increasing number of those people are using Instagram, which corresponds with the channel's growing popularity within the general population.
The percentage of AMI Research Panel members who use Instagram almost doubled between 2015 and 2017. About 76 per cent of panel members use social media in general, and amongst that group, 12 per cent had used Instagram according to AMI's February 2017 Tech Monitor report. That's up from seven per cent who had used Instagram in AMI's September 2015 Tech Monitor report.
We're very fortunate to have the support and insight from real users in the blind and partially sighted community across Canada. We take their feedback as marching orders, which is why we launched the AMI Instagram account in English and French.
Facebook continues to be the most popular social media channel among AMI Research Panel members, followed by AMI on Twitter and AMI on LinkedIn.
How to Make Your Instagram Posts Accessible
Yes, Instagram is a highly visual social media channel. It's a photo library that many amateur and professional photographers use as an online portfolio. However, it doesn't give users the option of adding alternative text to describe the images.
Instagram is far from perfect from an accessibility perspective. That's why we weren't surprised when Tom Coburn asked us the following question on Facebook: "More like, why would a blind person want to use Instagram. That's like a deaf person wanting to use voiceover."
Instagram: Accessible User Experience
Like we said to Coburn, AMI hopes to improve the user experience for people of all abilities by taking a universal design approach to social media. We add image descriptions below each of our posts, and voice commands allow smartphone users who are blind to navigate Instagram.
Richard Harlow is the social media-savvy co-host of AMI's AppTV, an Instagram user, and legally blind! Watch his full review of the Instagram app's accessibility tools in the YouTube video above, or stream all AppTV segments on AMI.ca.
Instagram: Using Mobile VoiceOver and TalkBack
"Since I'm legally blind, the biggest thing for me is to turn on the VoiceOver feature on my iPhone," Harlow said. "You'll find this under Settings, then General, then Accessibility. Just toggle on the VoiceOver option. Now, when I open Instagram, I'll be able to hear who's posting what."
As Richard Harlow from AMI's AppTV points out, VoiceOver on iPhone and TalkBack on Android smartphones will read the text that users post with each photo. However, that means the onus is on the individual user of every personal and business Instagram channel to include image descriptions in every post.
Instagram: Video Accessibility
Instagram also allows users to post videos that are up to one-minute long. Unfortunately, and unlike Facebook, you cannot upload a closed captions file to go with your video. We strongly encourage Instagram to give users the ability to add alternative text and closed captions for videos. In the meantime, here are a few tips all content publishers can use to make their Instagram content more accessible:
Instagram: Accessibility Tips
On a new line below your caption, add a sentence or two of alternative text to describe your photo. This allows you to keep your initial caption short and punchy for people who do have the ability to see the image clearly.
Only use hashtags at the end of your caption or in a comment on your post. It can be distracting for VoiceOver and TalkTalk users to hear hashtags in the middle of sentences.
Follow AMI's Described Video Best Practices for all video content.
Embed closed captions into video and direct users to a link in your Instagram bio where they can watch a fully accessible version of your video on another channel with a separate captions file.
We want to know what you think about accessibility on Instagram and what AMI can do to improve your user experience.
Tweet me @PeterBArmstrong and follow @AccessibleMedia on Twitter for the latest on AMI programming and accessibility news. Like our Facebook page to stream accessible video and to join the conversation in our most active online community.