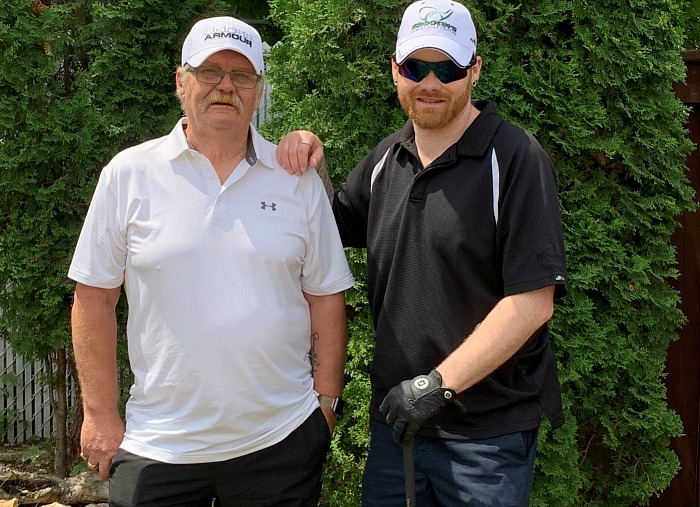 Blind golfers from around the world will descend on beautiful Cranbrook, British Columbia, for the ISPA Handa 2019 Canadian Open Blind Golf Championship and AMI-audio will be there too.
The spectacle, played at the storied St. Eugene Mission Golf Resort, runs from July 11-13, with a practice round and opening ceremony before the tournament begins. Players from Canada and those represented by International Blind Golf from England, Scotland, Northern Ireland, South Korea, Israel and the United States will take to the links, making it a truly international event.
AMI-audio provides a recap of the competition each day at 10:35 a.m. Eastern, with Mike Ross reporting live from Cranbrook back to Jim Van Horne and Joeita Gupta on Live from Studio 5 on Thursday, Friday and Monday. Mike will be joined by golfer—and Live from Studio 5 contributor—Derek Lackey, Derek's father Alan, tournament organizer Darren Douma and golf pro Cindy Soukoroff.
"I love the opportunity to talk about golf," Derek says. "And my dad is getting pretty excited about it too."
Blind golf's rules strictly adhere to those put forth by the Royal and Ancient Golf Club of St. Andrews and the United States Golf Association. Each player has a sighted coach or guide who describes the hole, helps with club selection and makes sure the club head is directly behind the ball. Then the player swings away. To be successful, a golfer must trust their coach completely, even though that coach may not love golf all that much.
"He doesn't really know a lot about the game of golf," Derek says of Alan. "So when we have a couple of those shots that end up going completely haywire, he gets frustrated with himself and I'll have to tell him to shake it off and not worry about it. We're out here, we're having a good time, that's all that matters." 
Founded by Japanese philanthropist Dr. Haruhisa Handa, the International Sports Promotion Society (ISPS Handa) promotes the power of sport across the globe. supporting a wide range of athletes and sporting events, including archery, bowling, boxing, football, golf, polo, rowing, rugby and swimming, with an emphasis on the global development of blind and disabled golf. 
"Overall, I think it's a blind-friendly golf course," says Douma, host and chair of B.C. Blind Golf, president of the Western Canada Blind Golf Association, vice-president of Blind Golf Canada and ISPS Handa 2019 Canadian Open Blind Golf Championship organizer. "There are a few challenging holes, but it's fair. Wide open fairways, the greens are nice and big. It will be very accommodating."
ISPS Handa 2019 Canadian Open Blind Golf Championship schedule on AMI-audio
| | |
| --- | --- |
| Thursday, July 11 | 10:35 a.m. ET |
| Friday, July 12 | 10:35 a.m. ET |
| Monday, July 15 | 10:35 a.m. ET |
|   |   |