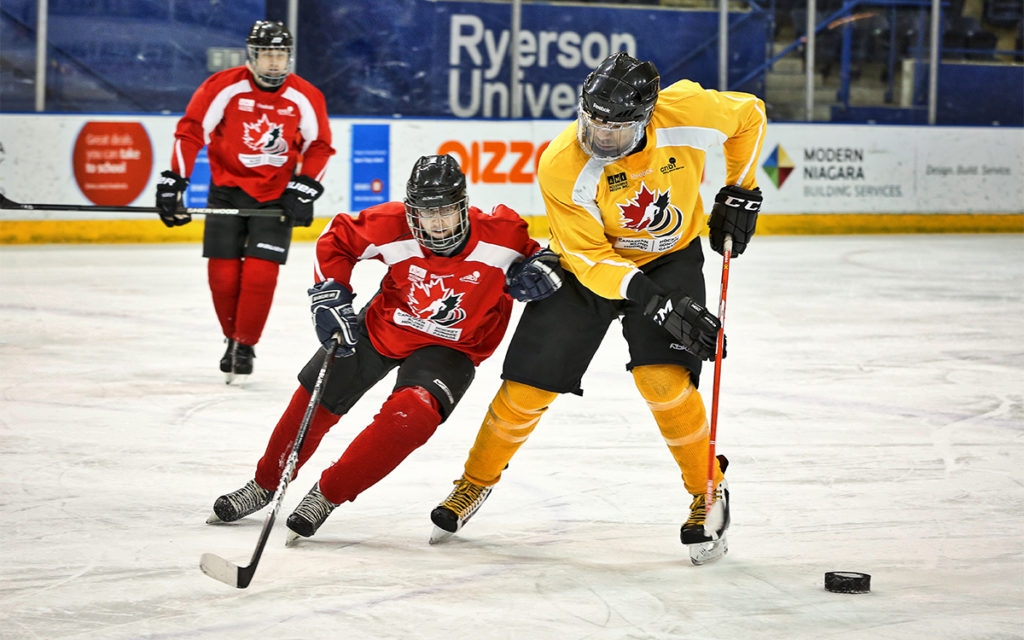 Game on! AMI is pleased to announce that blind hockey is back on AMI.
AMI-audio will broadcast the 2022 Canadian National Blind Hockey Tournament live from the Mattamy Athletic Centre in Toronto.
Members of the AMI-audio team, including Mike Ross, Claire Buchanan, Jeff Ryman, Brock Richardson, Cam Jenkins and ParaSport TV's Nicco Cardarelli will be offering play-by-play and analysis throughout the event.
Stream AMI's live coverage of the 2022 Canadian National Blind Hockey Tournament on television—check your television provider—or via the Live Audio stream on AMI.ca.
Blind Hockey 101
There are differences between ice hockey and blind hockey. An adapted puck makes noise and is bigger and slower than a traditional puck. Levels of vision for players range from legally blind—approximately 10 per cent vision or less—to totally blind, with the lowest vision athletes playing defence or goal. Three-foot high nets are used rather than the traditional four-foot nets; that keeps the puck low and near the ice so it can make noise and be tracked aurally. Teams must complete one pass prior to being able to score in the attacking half of the rink, providing both the partially sighted defence and goalie an extra opportunity to track the puck.
2022 Canadian National Blind Hockey Tournament schedule (all times Eastern)
Friday, March 25
1 p.m. – Opening ceremonies and Women's Blind Hockey Game
Sunday, March 27
11 a.m. – Open Division: Bronze Medal Game
1 p.m. – Open Division: Gold Medal Game
Head to Canadian Blind Hockey for more information and the full tournament schedule.