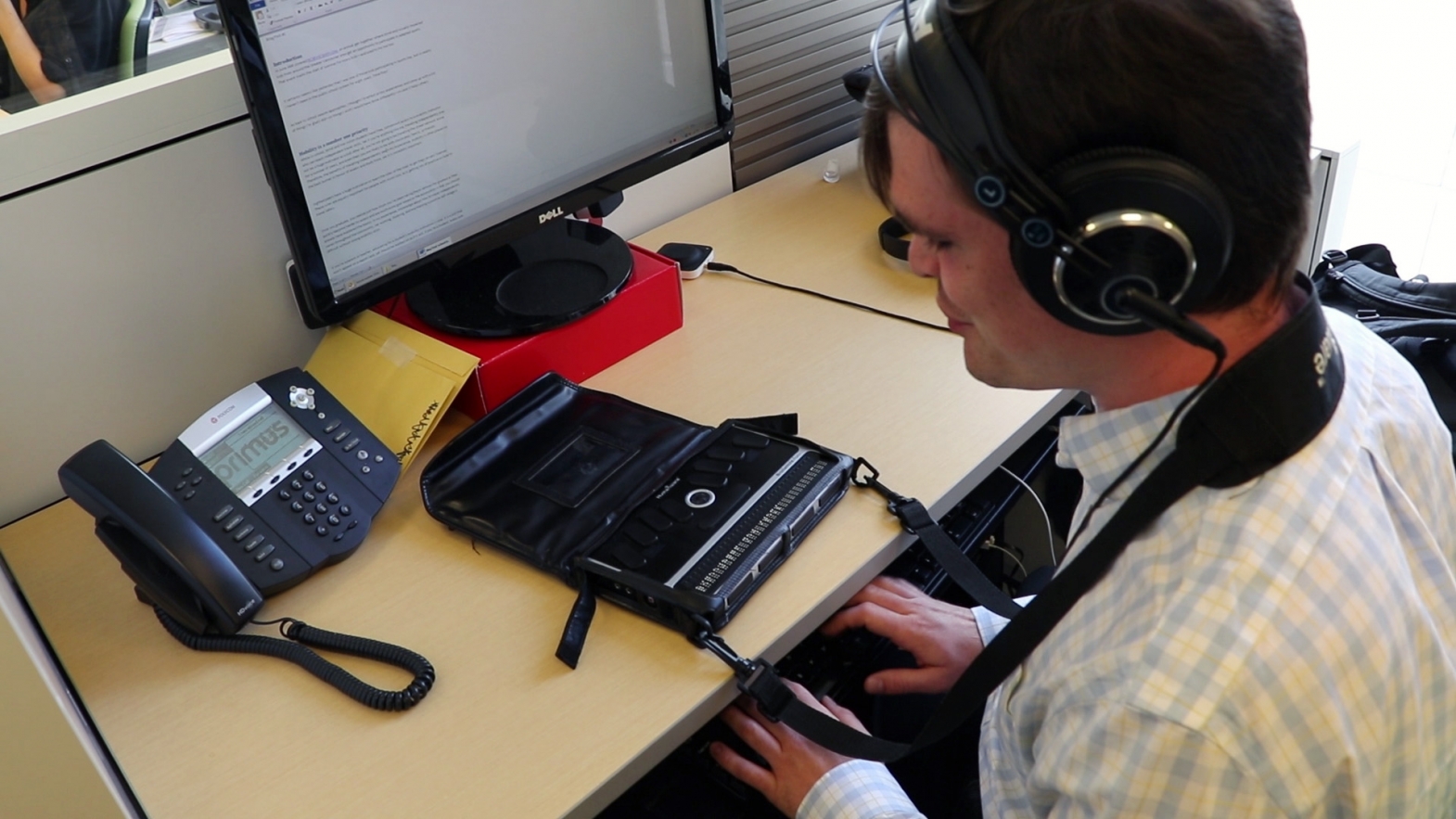 Whether you use your PC with speech, Braille, or have some vision, there's a feature for everyone in this year's update to the JAWS for Windows screen reader.
If you're blind, or know someone who is, you've probably heard of JAWS for Windows, a popular screen reader used to access any PC running Windows: including the internet, Microsoft Office, and other apps.
If you're a techie, you may know that each fall, Freedom Scientific, part of the VFO Group, releases a new paid version of JAWS offering new features and improvements. This fall is no different, and we're now up to version 18 of JAWS. Below, I'll share my thoughts on some of the new features in JAWS 18, and then discuss how and why to upgrade.
Audio ducking
There are two ways a blind user can interact with their PC using JAWS: by reading Braille on a separate refreshable Braille display, or by listening to a computer voice read aloud. In my experience, speech is the most common way of using JAWS.
One huge challenge for speech users occurs when the voice synthesizer has to compete with other audio on your system, like songs or videos. The following example scenario is only too common. You open a link for an article you're interested in reading, when out of the blue a video ad starts blaring automatically. You try to pause or mute the video, but you can't find a pause button because the video is drowning out the speech.
To resolve this issue, JAWS 18 includes a setting to automatically lower the volume of other sounds on your system while it's speaking. This feature has been available on other products such as Apple's VoiceOver for some time, so it's great to see the feature rolled out to JAWS users as well. In my example scenario about the auto-playing video, when you start trying to move around the page, JAWS will fade the video into the background. You'll be able to understand JAWS well enough to search for some way to pause the video—or just let it play quietly in the background while you read the page. It's a beautiful thing, and makes life so much easier.
This feature won't work in Windows 7, so folks will need to keep using any workarounds that they're currently using. For example, you can mute or lower the volume of your web browser from the Windows volume controls.
The audio ducking feature is opt-in, and can be turned on in two ways:
● From the startup wizard that pops up the first time you run JAWS 18. The checkbox to "lower the volume of other programs while JAWS is speaking" is on the first page of the wizard. When navigating through the wizard with the TAB KEY, you can hit the SPACEBAR to check this checkbox.
● From the JAWS Settings Centre, accessed with the key combination INSERT+6 or CAPS LOCK+6, depending on which key is your "JAWS key". The setting is under the first group in the tree view, "user". Once you open the settings centre, tab once to land in the tree view. Expand the first group with the RIGHT ARROW KEY, then use the DOWN ARROW KEY to find the checkbox for "lower the volume of other programs while JAWS is speaking". You'll be instructed to press CONTROL+SHIFT+D to tell JAWS you want this to be a default setting, applied to all apps. Once you've done that, hit SPACE to check the box then press ENTER to close the settings centre.
Improved support for Google Docs
Google Docs is a free word processor that you can access from your favourite web browser. Since you can work on documents with others in real time, it's a really popular service for collaborating with coworkers, doing group projects at school, or just coordinating family get-togethers.
"To offer some perspective, I grew up during the exciting time when the screen readers we now take for granted were still very new. Each giant update would be like getting an early birthday present."
In JAWS 18, many changes have been made to make this web app more accessible and reliable. Key improvements include official support for navigating tables in a document, entering contracted Braille directly into a document using a connected Braille display and generally making announcements and navigation more reliable. In my experience these improvements are particularly noticeable when using Internet Explorer. Firefox also behaves reasonably well when working with JAWS and Docs, but the experience in Chrome wasn't as reliable for me. That's a shame, because Chrome allows you to work on documents when you're not connected to the internet. With Firefox and Internet Explorer, you need an internet connection to use Google Docs.
If you've upgraded to JAWS 18 and want to try out Google Docs, I thought I'd provide a few tips to get you started. Keep in mind it's a complex web app, and a variety of factors can affect how well it works on your computer. That's the fancy way of saying if things don't work 100 percent and you need to deviate a little bit from the steps listed here, it's not altogether surprising. During the course of putting together this review. there were times when the document I was trying to edit appeared to be blank, or keyboard shortcuts weren't working as expected. Closing your browser or rebooting the computer can generally resolve these issues. Note that you do need to be signed into a free Google account to use most of Google Docs' features. If you use Gmail, then you're already covered.
Google Docs: Creating and Opening documents
There are several ways to create and open Google Docs files, so I'll quickly cover a few of them. If you receive an email from a friend or colleague with a link to a shared document, you can just open the link. If you want, you can simply add the page to your favourites for easy access.
If you'll be using Google Docs on a regular basis, a good page to start from is drive.google.com. This shows all your personal files stored in Google's cloud and any files others have shared with you that you've added to your personal collection. You can create new documents from here, and you can also open existing ones or move them into folders. And you can view every document that's been shared with you.
The most important part of this page is the list view, which JAWS should focus on automatically. You should hear a high-pitched tone to indicate that JAWS is interacting with the list. If you don't, arrow around the page until you start hearing the names of your documents, then use the SPACEBAR to enter the list view. You'll need to do this if focus seems to get lost from time to time.
At this point, you can use the UP and DOWN ARROW KEYS to move through the list of files and folders in your Drive. Hit ENTER on a folder to open it. You can use BACKSPACE to back out. To create a new folder, press the keyboard shortcut SHIFT+F. Enter a name for the new folder, then hit ENTER. To create a new document, use the keyboard shortcut SHIFT+T. You'll land in a blank document right away, and can begin editing. If things don't seem to be reading consistently, you might be in the grid view rather than the list view. You can use the keyboard shortcut "v" to change between the grid view and the list view, which is simpler.
To bring up a list of every file that's been shared with you, press the key g, followed by n. This brings up a menu where you can navigate to different views within Google Drive. Use the DOWN ARROW KEY until you find "shared with me", which is the option you want, then press ENTER to select it.
Google Docs: Editing Documents
When you use Google Docs for the first time and land in a document, you need to enable accessibility support. The hotkey to do this, CONTROL+ALT+Z, isn't very common--but that's okay, because you only need to do it once. Press this key combination the first time you're in a document in Google Docs. If you've already pressed the key, it'll toggle accessibility support back off and you'll hear "screen reader support disabled". That's not an issue as you can simply press the key combination again to turn screen reader support back on.
When you create a new document or open an existing one, JAWS should land in the body of the document and play a high-pitched tone to indicate that you can edit. You move through documents in the way you normally would using Microsoft Word or another app. For example, use the UP and DOWN ARROW KEYS to move by line, CONTROL+LEFT and CONTROL+RIGHT ARROWS to move by word, and the RIGHT and LEFT ARROW KEYS to move one character at a time. To select text, add SHIFT to any of the above shortcut keys.
If others are working on the same document, such as a university group project, you'll hear when people join or leave the document. You'll also be able to hear when collaborators are editing close by to the location of your cursor. You'll also hear other announcements as you move through your document. For example, if you land on a misspelled word, you'll be told that it's a misspelling. To correct the word, you can bring up a context menu with CONTROL+SHIFT+X and use the DOWN ARROW KEY to step through the available suggestions Google has for you. When you land on the one you want, press ENTER to make the change.
There are a variety of other keyboard shortcut keys that help you move through, and format, your text. Luckily, you don't have to remember all of them. To bring up a list of keyboard shortcuts at any time, press CONTROL+SLASH. That's the key to the right of the period on your keyboard. When you're finished reading the list, press ESCAPE to return to your document. Here are some keyboard shortcuts you may find helpful:
Move to the next or previous misspelled word: CONTROL+APOSTROPHE and CONTROL+SEMICOLON. These may seem like odd shortcuts, but they're right on the home row of your keyboard so they're easy to find.
Toggle bold or italic formatting for a word or phrase: select the word or phrase, then press CONTROL+B for bold or CONTROL+I for italics.
Emphasize a heading or sub-heading: select the heading, then use CONTROL+ALT+1 for a heading or CONTROL+ALT+2 for a sub-heading.
Enter the menu bar where you can review many other formatting, sharing, and editing options by category: ALT+SHIFT+F. Use RIGHT and LEFT ARROW KEYS to select a menu, then use the DOWN ARROW KEY to step through the menu. To select an option, press ENTER. Keyboard shortcuts are given for many menu items, so if you use a feature frequently, it may pay to remember the keyboard shortcut so you don't always have to enter the menus. For example, in the tools menu you'll find a word count option along with its associated keyboard shortcut, CONTROL+SHIFT+C. If you don't need the word count feature too often, you can just enter the menus whenever you need it. If you use it frequently, it may pay to memorize the shortcut.
One useful option in the file menu, "add to my drive", lets you add a shared document to your personal collection, or drive. That means you can add it to whatever folder you want, and organize it alongside your other files.
Google Docs: Tables
When you're arrowing through a document and you land on a table, you'll be told how many rows and columns the table has. Here are a few easy keystrokes for navigating tables, which work well for me at the time of writing:
TAB: Move through the table from left-to-right, top-to-bottom. The current cell will be highlighted, so typing anything will erase the contents of the cell. If you're at the end of the table and press TAB, you'll insert a new row. If you didn't mean to do this, simply press CONTROL+Z to undo your change.
UP and DOWN ARROWS: move by row within the current column.
RIGHT and LEFT ARROWS: move by character. When you reach the end of a cell, you'll advance to the next column. When you reach the end of the row, you'll advance to the next row.
Google Docs: Inclusive Collaboration
It's hard to argue with a free product that lets you create and share unlimited documents from any web browser. Still, it'll probably be a while before it matches the accessibility of the Microsoft Office apps we use on the desktop. But I'm not backpedaling: I think there's value in learning to use web apps like this. As you can see, it's doable. so at least when a group of peers or coworkers invites you to collaborate on the Google Docs file they can't live without, you'll have an easier time getting along.
To learn more, you can take a look at the help page for using Google Docs with a screen reader.
Other notable features in JAWS 18
You can read up on all the new JAWS features from Freedom Scientific's What's New in JAWS 18 page, but here are a few of the highlights that stand out to me:
For users whose vision is changing, you may benefit from the compatibility between JAWS 18 and the upcoming ZoomText 11 magnification program. They can be installed and launched in any order, and can be used together. That will be great in shared computer labs as well. Also on the low vision front, you can enable a feature where JAWS will follow along with the mouse pointer and read what's under the mouse as it's being moved. While a blind customer may not use this often, it's a useful tool if you want to monitor what the techie friend working with you is clicking on—or even do a little troubleshooting yourself.
On the speech front, updated natural-sounding voices are available for free download, including a greater variety of voices to try. Everyone's taste in speech is different, so more options are always better. On the Braille front, you may have used the auto-advance feature where your display can advance through a document line by line at a rate you choose, for easy reading. Now that feature has been enhanced to compensate for shorter lines with only a couple words. The rate you've chosen is treated more like a guideline, so if there are only a couple words on a line, you'll move to the next line faster.
Subtle "Under-the-Hood" Changes Make Web More Accessible
If you've previously purchased a software maintenance agreement from Freedom Scientific, your upgrade should be ready to go. Simply download the latest JAWS installer from Freedom Scientific, and follow the prompts to install it. What's great is that Freedom Scientific has re-introduced the ability to import all your preferences into the new release of JAWS—so if you've invested energy in customizing exactly how JAWS reads, sounds and behaves, you won't have to start over from scratch. You'll get an alert upon first running JAWS 18 and can specify that you want your old settings to be imported.
If you're not licensed for the upgrade, you may be wondering whether it's worth it. To offer some perspective, I grew up during the exciting time when the screen readers we now take for granted were still very new. Each giant update would be like getting an early birthday present. Features like support for navigating the web, filling out PDF forms, accessing spreadsheets and many more were rolled out over the years.
These days, the feature set for screen readers seems to be pretty complete. That means updates are more subtle and incremental, but there are always a few new features and enhancements to try out, not to mention under-the-hood changes continually made in JAWS to make sure the latest versions of Windows, apps and web standards are accessible. And if you're buying the upgrade personally, it's cheaper to keep your license current every year.
For up-to-date info on pricing and where to order, you can refer to Freedom Scientific's dealer locator. Whether you installed the update the moment it came out or are going to hold off for a while, I hope this review helps you take full advantage of the accessibility tools. As always, please contact us because we'd love to hear your comments, questions and experiences.
AMI This Week airs every Friday at 7:30 p.m. ET on AMI-tv. Follow @AMIThisWeek on Twitter for the latest updates and follow Grant @AMIGrantHardy.