Listen to Kelly and Company weekdays 2 to 4 p.m. Eastern to find out what's happening in your community! Tune in weekly to hear from our community reporters across the country bringing you information on events and happenings in the blind and partially sighted community across Canada. Click here for more reports in other regions: Atlantic, Central  and Pacific.
Anthony Hodgetts - Calgary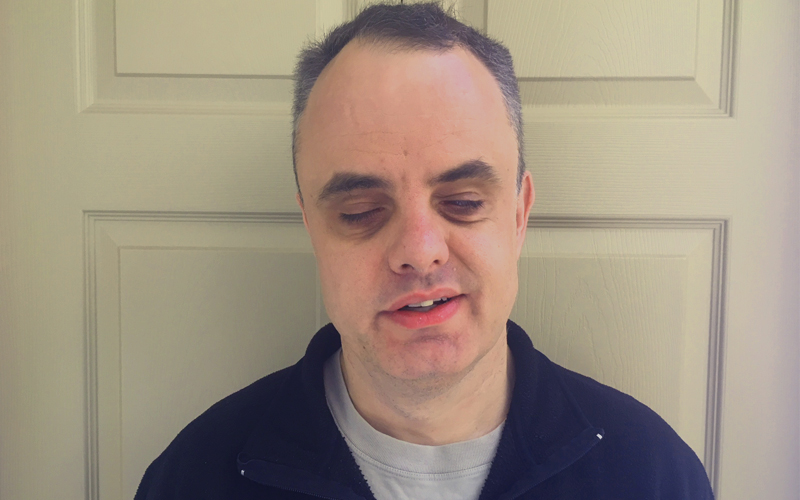 Anthony loves media and keeping up on the news. When he is not at home he's is involved in his church choir, a blind bowling league, an arts and crafts class and/or a yoga class depending on the day! Anthony helps out with a radio show dealing with blindness and vision impaired issues called Bumping into Walls on the local community radio station CJSW FM 90.9.
Recent Reports: January 14
Topic 1:    Cuts to AISH, the Assured Income for the Severely Handicapped (pension for those who can not work)
Overview:   With a new provincial government come cuts. The UCP are cutting AISH (Assured Income for the Severely Handicapped) by 'de-indexing' it from the cost of living.  Both seniors benefits  and Aish are having the cost of living allowance, which was given last year under the NDP opposition, cut. People on AISH have medical conditions or disabilities that mean they can't work.
Why are these cuts important that they be reversed?
What can you do to let the government know of your displeasure?
Why should you be careful when signing petitions?
Contact: free across Alberta, no area code required, call 310-0000, hit zero, and ask for the nearest opposition  MLA's office.
Link:   https://www.progressalberta.ca/reverse-the-cuts-to-aish
Or contact Alberta Government: https://www.alberta.ca/contact.cfm
Topic 2:   New Dealer for Freedom Scientific products in Canada
Overview:  Freedom Scientific is a leading brand of assistive technology products for the visually impaired. Being on the market for more than 15 years, Freedom Scientific products help people who are blind or have low vision to access information, just like their sighted peers. In our webshop, you will find three different product groups from the brand Freedom Scientific.
 When renewing your service maintenance agreements for Freedom Scientific products there is a new contact in Canada. This company has arranged for Freedom Scientific to wave the $75 late fee for orders that do not come in after January of the next year.
-What happened before the Canadian office was in place?
-How does the company Freedom  Scientific send information  to folks now , and how do you get your most recent updates of software?
Freedom Scientific products available via the Optelec website.
Location:  Optelec Canada, 812 Boulevard Marie-Victorin Longueuil, Quebec J4G 1Y9, Canada
Contact:  1-800-665-3005
Fax: +1-450-677-1462
Link:      https://ca.optelec.com/
Topic 3: Calgary Get Together with Technology support group
Overview:  This group helps support folks who are having a problem with adaptive technology from screen readers, magnifiers, and apps and how to use iphones or Android phones. Been active since 2013.
-Any technology demos that have been memorable in meetings you attended ? (aira and Windows 10 demonstration).
Location:   CNIB, Calgary office, 10 11 A St. NE
Date & Time:   The 3rd Wednesday of every month from 10 am to 12 pm
Contact:   Ted at 403- 248-6003
Wade Brown - Edmonton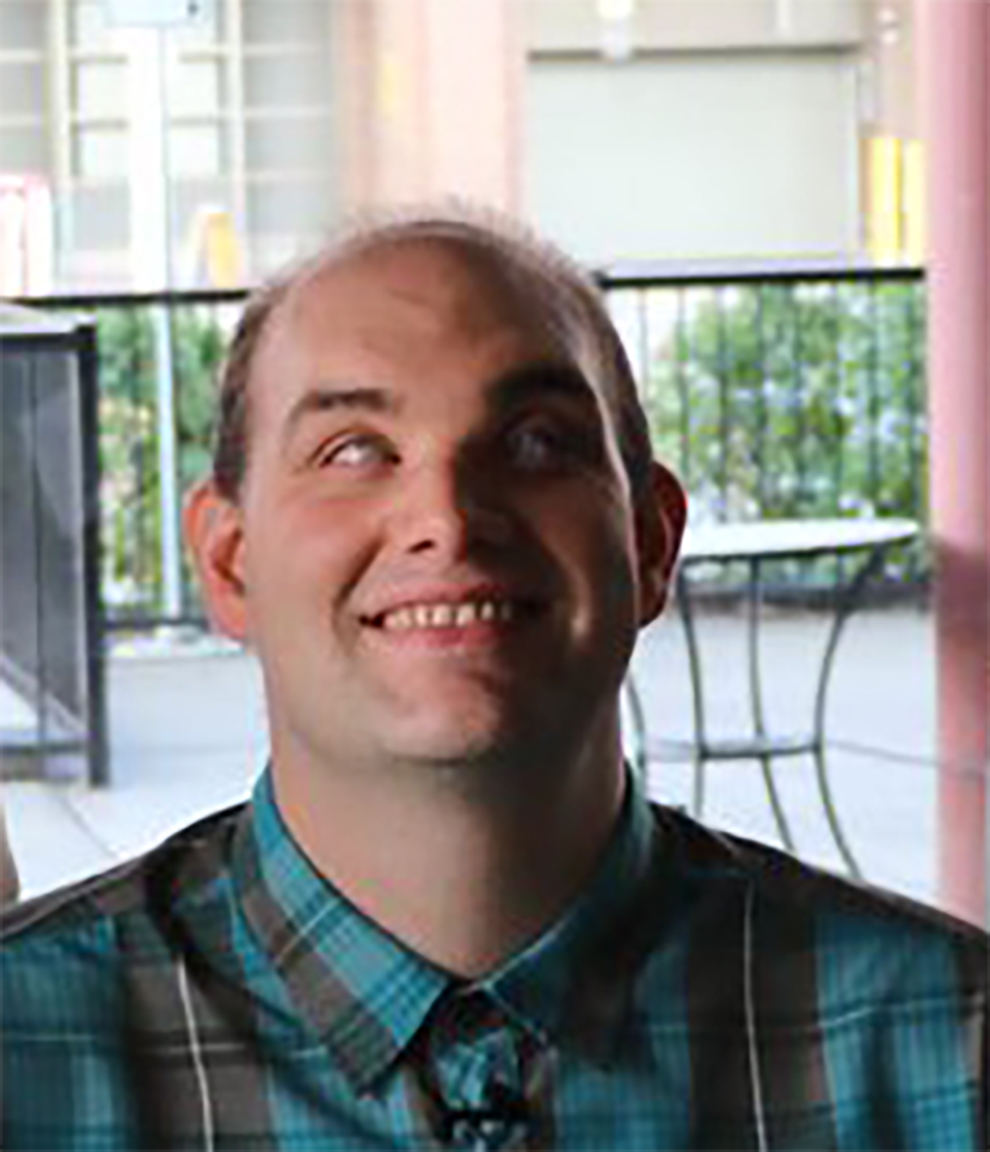 Wade Brown has been part of the AMI family since 2011. In that time, he has appeared on AMI-tv in interstitial segments, as a regular presenter and occasional host of AMI This Week, and even made a few appearances on AMI's Live From Studio 5. When Wade isn't lighting up the small screen, he's working hard to advance his career as a budding Edmonton area lawyer or singing with his favorite group of people, the Oran choir. Wade also enjoys reading a good book, solving the worlds problems over a cup of coffee or chai, and hitting the streets to see what's going on in Edmonton and around the world. 
Recent Reports: January 21
Topic 1: Fourth annual Sound Off Deaf Theater Festival.
Overview:  Show Titles are: Deafies' Detective Agency, The Two Natasha's, Deaf Cabaret, Deaflix and Chill, Theater Sports, Sound Off edition.
Dates: Shows are recurring from February 13-16,
Tickets:  $22 per show for tickets, shows are offered in a combination of English and ASL. Go to website or visit sound off festival page on Facebook.
The Box Office is located just inside the ATB Financial Arts Barns Lobby.
Locations: In several theaters of Edmonton arts District, and at the ATB Financial Arts Barns, 10330 84 Avenue, in the heart of Old Strathcona.
Website: https://chinookseries.ca/organizer/sound-off-a-deaf-theatre-festival/
Facebook: https://www.facebook.com/soundofffestival/
Topic 2: Marvel at TELUS World of Science
Overview: Marvel: Universe of Super Heroes features more than 300 artifacts, including some of Marvel's most iconic and sought-after pages, costumes, and props. Spectacular artifacts to thrill both avid collectors, and casual fans—while immersive set pieces, soundscapes, and interactive elements bring the comic book world to life. The exhibition debuts during Marvel's 80th anniversary year and 10th anniversary of Marvel Cinematic Universe, and chronicles the story of Marvel and its influence on visual culture, while also uncovering the narratives of individual characters such as Captain Marvel, Spider-Man, Black Panther, and Doctor Strange. Exhibition Highlights: Interactive elements including the opportunity to travel through the mysterious mirror dimension of Doctor Strange, digitally transform into Iron Man, and pose for selfies alongside life-size representations of Black Panther, Spider-Man, and other iconic Marvel characters.A fully immersive design with life-size scenes straight from the comic world. Rare, hand-drawn images of iconic heroes such as Spider-Man, Black Panther, and Captain America—by the artists who first designed them.
Date: Runs until February 17, 2020.
Tickets:  $36 for adults, $26 for children, $29 for students and seniors
Website: https://telusworldofscienceedmonton.ca/explore/experiences/marvel/
Location: Telus World of Science, 11211 142 St NW, Edmonton  
Phone: 1-780-451-3344
Topic 3:  Silver Skate Festival
Overview: Celebrating its 30th year, this festival is an extravaganza of art, culture, recreation and sport! Edmonton's oldest winter festival returns and it is free for the whole family. Wander through the snow Sculpture Garden, try your hand at Jam-Can Curling, cheer on the racers at the Kortebaan–a traditional Dutch long-blade skate race, cheer on competitors in the Northgate skate race, explore the magical Silver Skate Folk Trails, or enjoy live entertainment after the sun goes down during Night Works. Don't miss the line-up of artists and live music performers at the festival.
Year after year a favourite amongst visitors is Fire Sculpture. With the pitch black winter sky as a backdrop, sculptures and effigies burn orange, amber and gold dancing across the snow telling tales from all over the world. The hot glow from this beautiful display will warm your ice cold, rosy cheeks–a true goosebumps moment.
The mission of the Silver Skate Festival Society is to provide a free family-oriented winter celebration blending sport, recreation, arts and culture, showcasing various skating disciplines and promoting outdoor activities in Alberta.
Date: February 7 – February 17, 2020
Location: Hawrelak Park ,  9330 Groat Rd, Edmonton
Website:
https://www.silverskatefestival.org/go/
Email: info@silverskatefestival.org
Phone: 1-780-488-1960
Keywords: Community Report