Community Report - Central
Listen to Kelly and Company weekdays 2 to 4 p.m. Eastern to find out what's happening in your community! Tune in weekly to hear from our community reporters across the country bringing you information on events and happenings in the blind and partially sighted community across Canada. Click here for more reports in other regions: Atlantic, West  and Pacific.
Eastern Ontario - Kim Kilpatrick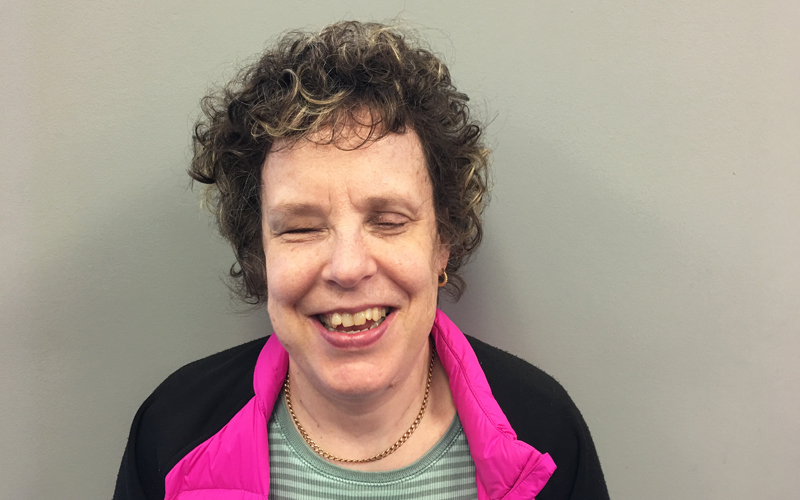 Kim has been totally blind since birth. She's the founder and coordinator of the Get Together with Technology program as well as a music therapist, professional storyteller, and radio show host. Kim travels through life with her fourth guide dog Tulia. 
Recent Reports: March 7
Topic 1: Next BLC teleconference topic The War of the Dots and Other Fascinating Events in the History of Braille
Many of us are familiar with the story of how Louis Braille invented the code that bears his name. But how did  we go from a system developed by a French teenager in the 1820s to the Unified English Braille code we're using nearly 200 years later? The  next teleconference is on the fascinating history of the code. Natalie Martiniello and Jen Goulden will take you on a journey through time, beginning with the development of braille and its gradual acceptance as a viable writing system. We'll discuss milestones in braille's history, such as the War of the Dots and the effects of braille translation software. Finally, we'll look at the reasons behind the development of UEB and the constant need for braille to keep pace with print.
Date: March 30, 2019 
Time: 1:00 - 2:30pm eastern (starting at 10am Pacific, 11am Mountain, 11am noon Central/Saskatchewan, 2pm Atlantic)
Cost: The teleconference is free for BLC members as well as those who are members of organizations that are corporate members of BLC. Cost for non-members is $20.
Contact: register at  info@blc-lbc.ca by Thursday, March 28th, 2019.
Topic 2: New GTT beginner's calls.
They are going through the basics of NVDA.  They are through zoom cloud meeting and thanks to Tom Dekker at ihabilitation Canada for sharing his zoom account with us. These are calls for beginner's just starting out with access technology.
Date & Time:  March 26 2019 from 2-3 PM eastern.
Contact: Kim Kilpatrick to register or to suggest topics
Topic 3: Accessing daisy books through the Ottawa public library.
Talking book customers can now browse OPL's DAISY audio book collection at the Elmvale Acres branch, Greenboro branch and the Main branch of the Ottawa Public Library, with more branches to come! You are eligible for this service if you have a print disability (permanent or temporary) due to blindness, visual impairment, physical disability and/or learning disability in accordance with the definition provided for "perceptual disability" in Section 32. (1) of the Canadian Copyright Act. You must also have a valid OPL card registered in your name. An audiobook in DAISY (Digital Accessible Information System) format in English and French.  A DAISY audiobook can contain up to 30 hours of material on one CD. DAISY audiobooks must be played on digital readers, also known as DAISY players.
Contact: 613-580-2424 x 28321
Accessibility.office@BiblioOttawaLibrary.ca
Quebec - Nick D'Ambrosio
Nick is a podcaster for Blind Abilities. Diagnosed with Retinitis Pigmentosa at five years old, he is an accessibility advocate in his community and is a rabid sports fan. Nick has worked at a local pharmacy in Montreal for 19 years and is an avid yoga and dragon boat enthusiast.
Recent Reports: March 14
Topic 1:   5 things you should know about email unsubscribe links before you click
 1. You have confirmed to the sender that your email address is both valid and in active use
 2. By responding to the email, you have positively confirmed that you have opened and read it
 3. If your response goes back via email
 4. If your response opens up a browser window then you're giving away even more about yourself.
 5. If you visit a website owned by a spammer you're giving them a chance to install malware on your computer, even if you don't click anything.
http://nakedsecurity.sophos.com/2014/09/04/5-things-you-should-know-about-email-unsubscribe-links-before-clicking/
Topic 2: Easter Seals Canada   Access 2 Card Program  
Launched in December of 2004, the Access 2 Card program seeks to offer more opportunities for people with disabilities to participate in recreational activities with an attendant, without added financial burden. It is also designed to raise awareness and help businesses provide quality customer service to customers with disabilities. When an Access 2 cardholder (the individual with the permanent disability) presents their valid Access 2 Card at any participating venue partner, their support person receives free admission; the cardholder pays regular admission.  In order to successfully apply for an Access 2 Card, you must have a permanent disability that necessitates the assistance of a support person. As part of the application process for new (first-time) applicants, you will be required to have an authorized healthcare professional verify that you have a permanent disability that requires you to have a support person.
Cost: $20 for a Card valid up to 3 years, or $30 for a Card valid up to 5 years
Locations: a few locations where the card is valid in Montreal, Centre Des Sciences Montréal, Centre D'Histoire Montréal, Château Ramezay a Historic Site, And Museum Of Montréal, Cinema Imax, La Ronde.
Contact: 877 376 6362
Topic 3: Accès Montréal Card
 this card can be used in over 9 Movie Theatres , 6 Museums , 6 Shows and Festivals,  12 Sports and Outdoor Activities , 21 Tours and Guided Visits and much more.
Cost: $8
Contact: To obtain a card  go to your local municipal library with your proof of residency and a recent photo. To get information about the card all you need to do is dial 311.
http://ville.montreal.qc.ca/portal/page?_pageid=9397,112537834&_dad=portal&_schema=PORTAL
Topic 4: Job fair in Montreal
The CNIB Foundation gives you the opportunity to attend the Job Fair, National Career Event.  This will enable you to talk to recruiters, stand out, and network. This job fair is the biggest in the Montreal area. More than 250 companies  participate and recruit. Talk with the participant about the Come to work program, the talent pool, the newsletter and the job fair event.
Date & Time:  April 10, 12:00 pm to 4:00 pm
Location: Palais des Congrès, 1001,  Jean-Paul-Riopelle Place, Montréal
Contact: Stéphanie Michaud at CNIB
514- 934-4622, poste 226
Timmins - Suzanne Boudreau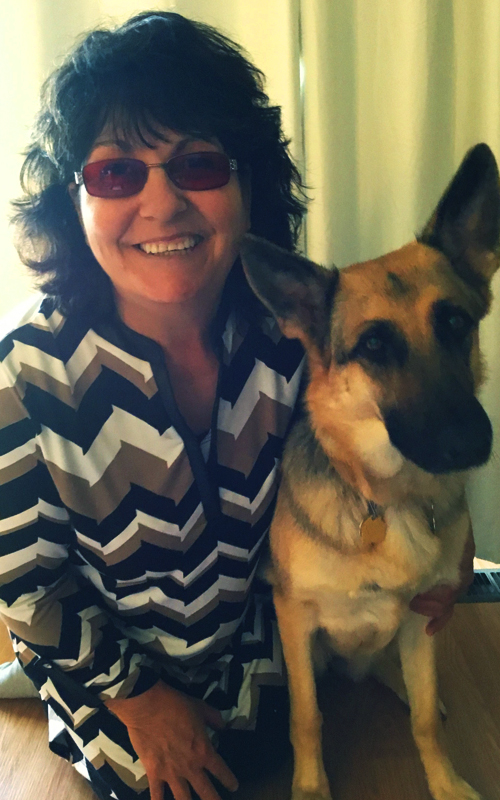 After being diagnosed with Retinas Pigmentosa, Suzanne was paired with her first guide dog Emilie, a German Shepard. Previously Suzanne worked in a nursing home. She is now a volunteer with CNIB and the Timmins Golden Manor day program. Suzanne likes to spend time at her cottage walking the forest trails with Emilie. She also likes to go fishing and spend time on the water on pedal boats. 
 
Recent Reports: 
February 26 - 
Topic 1: Timmins Powerlifters going to the World Special Olympic Games in Abu Dhabi
Special Olympics is the world's largest humanitarian sporting event and a global movement which focuses on the empowerment of People of Determination with intellectual disabilities through the power of sport. The  movement was founded over 50 years ago.
 Timmins will be well represented at the World Special Olympic Games as two of the five Canadian powerlifters competing at the Games are from Timmins. They are Andre Goulet and Paul Perrault who are veteran Special Olympians and have competed at the World Summer Games in the past. This will actually be Perreault's third time competing at the World Games, and Goulet's second time competing at the World Games. Usually the summer games are in July and August but because it's so hot in Abu Dhabi during the summer, this year they're having them in March.
Date: March 14-22, 2019
https://www.timminspress.com/news/local-news/timmins-special-olympians-power-their-way-to-world-games
Topic 2: Seniors Centre Without walls telephone conference upcoming
The Seniors' Centre Without Walls is as simple as just picking up your telephone! Through the use of multi-person phone calls, SCWW provides the opportunity for participants to join in on health and wellness seminars, educational lectures, brain-stimulating  activities, listen to live musical entertainment, join in on general conversations, and make new and meaningful friendships – all from the comforts of home!  It works just the same as attending a class or a lecture at the centre, but instead it is facilitated over the telephone.
Date: March 20
Time: 10 am
Contact: Dallas Forget coordinator at Temiskaming home Support
705 672 2254 x 2203
https://homesupportservices.ca/
Topic 3: Coldest Night of the Year Fundraiser walk in Timmins
funds go to  Anti-Hunger Coalition Timmins (ACT) ,  a volunteer-driven, charitable organization that has been working to increase food security in Timmins and area for over 10 years. The Coldest Night of the Year walk, that helps fund programs like this, begins with registration at 4 p.m. and then the walk starting at 5 p.m.
There is a two, five and 10 kilometre walk with the Lord's Kitchen being both the starting and ending point. Coming back to the Lord's Kitchen which is a nice tie-in, being served a warm meal — the whole idea is to raise awareness of poverty-related issues in the community.
Date: February 23
Location: Lord's Kitchen Society, 85 Spruce St. N, Timmins.
Contact: Timmins  Jennifer Vachon  or Amber McLaughlin
705  288  9701
1 877 743  3413
https://cnoy.org/location/timmins
https://www.timminspress.com/news/local-news/coldest-night-of-the-year-walk-this-saturday
Thunder Bay - Doug McQuaker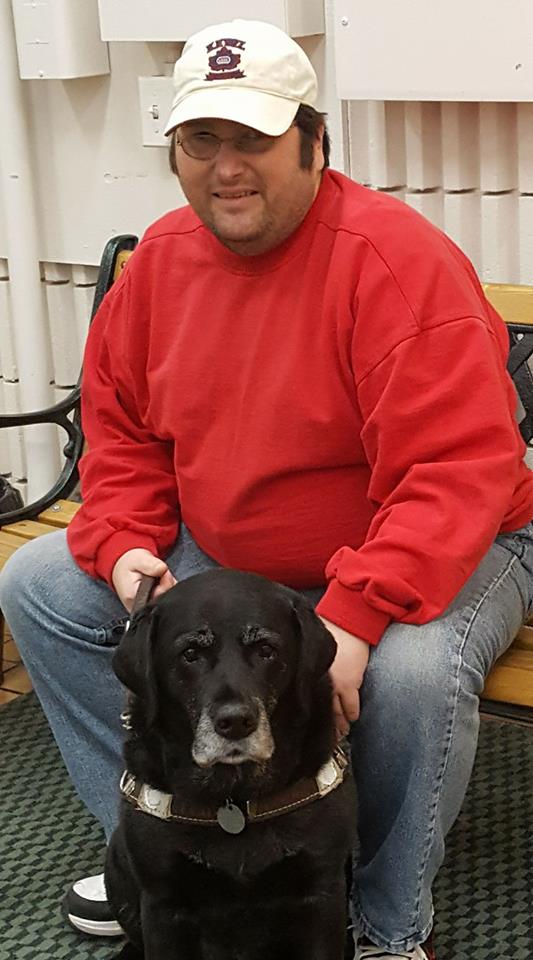 Doug lives in Atikokan, Ontario. He enjoys sports, music and spending his time at the lake with his most dedicated companion, Jazz, who doubles as his Leader Dog.
Recent Reports: 
December 3 -  Doug tells us about a Fresh Wreath Making Class hosted by Sparkling Dahlia, at Sioux Lookout Community Living.
More info:
Topic 1: The College Rec Association of Confederation College provides Annual College Rec Christmas Dinner and Social
 An evening of eating, socializing, and music by DJ Steve
Date: Friday Dec 7, 2018 , Cocktails 6pm, Dinner 7pm
Cost: Members $25.00 , Non-Members& guests: $40.00
Tickets: https://www.eventbrite.ca/e/college-rec-christmas-dinner-social-tickets-51589559762
Location:  Fort William Golf & Country Club, 1350 Mountain Road, Thunder Bay.  
Contact: the Fort William Country Club at 807- 475- 8925
Email:  collegerec@confederationcollege.ca
 Topic 2:  Fresh Wreath Making Class – Hosted by Sparkling Dahlia -Sioux Lookout
Date: Saturday Dec 8, 2018 , Time 11:30 am
Location:  Sioux Lookout Community Living, 41 King Street, Sioux Lookout, Ontario.
Cost: $70.00 per person (this includes all supplies)
Overview:
You will have a variety of fresh cedar, pine, and fir greenery, mossy twigs, birch bark accents, pine cones and ribbons to choose from. 
Contact:  Erin  403- 803- 6087 to register, Hosted by Sparkling Dahlia .
Email: sparklingdahlia@gmail.com
Payment secures your spot and can be made through etransfer.
Classes are non-refundable
Topic 3: Grinch Theme Tree Class
Date: Sunday Dec 9, 2018 , Time 10:00 am
Location:  Sioux Lookout Community Living, 41 King Street .
Cost: $60.00 per person
Overview:
You will build a Grinch styled arrangement using fresh Canadian Grown BC cedar bows, Christmas balls, ribbons, pine cones and decorative wire. 
Contact: Erin at 403- 803 -6087 to register , Hosted by Sparkling Dahlia
Email: sparklingdahlia@gmail.com
Your payment secures your spot and can be made through etransfer.  Classes are non-refundable
https://www.facebook.com/events/313241939476251/
London - Annette Dennis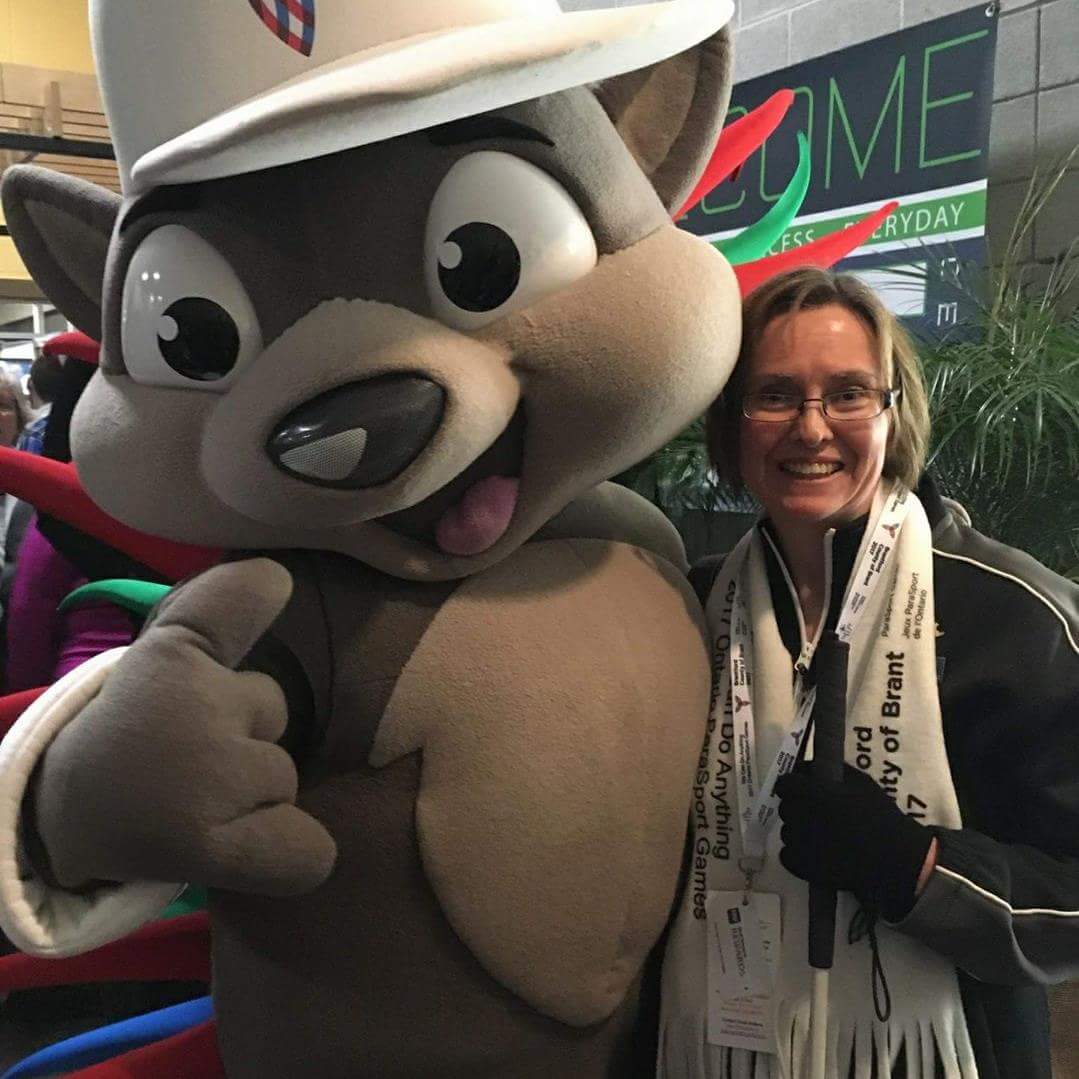 Annette was diagnosed with Retinitis Pigmentosa in her mid-twenties. She feels so fortunate that over the years she has made some amazing friends in the blind and low-vision community who inspire and encourage her constantly. Annette has been volunteering with the London-Middlesex Suicide Prevention Council since 2006, the past several years in the role of treasurer. Annette also enjoys yoga, reiki, playing guitar, curling and acting with Out of Sight Productions, a blind theatre troupe in London, Ontario. One of her most memorable acting experiences was appearing in the Integrated Described Video Creator Series for AMI. 
Recent Reports: March 12
Topic 1: Scotiabank Information Session at the London CNIB Hub
London Community Hub will host a meeting with an expert from the  Neighbouring Scotiabank Branch. Learn the basics of selecting the correct account options such as savings and chequing. Learn about fees and how accounts are setup to work. Explore what's available on online and mobile banking services such as setting up alerts to prevent fraud, and setting up bill payments to better manage your finances. The Program Lead, Assistive Technology will be on site to provide alternative formats for information and answer any additional questions clients may wish to ask
Date: Saturday, March 16, 2019
Time: 12:00 P.M. – 2:00P.M.
Location: 171 Queens Ave., London, ON  and The entrance is on Richmond St.
Contact: Arjun Rijhwani
Topic 2: Owen Sound Try the YMCA Day
Get fit and have fun in an accessible facility! Join the YMCA of Owen Sound Grey Bruce for an opportunity to experience new activities in a welcoming and inclusive way. Experience how leading an active and healthy lifestyle is possible in your community. With generous support from the Eva Leflar Foundation, the CNIB Foundation and the YMCA of Owen Sound Grey Bruce are inviting participants (along with their sighted guide/friend) to learn together, in real-time. Join a YMCA fitness professional for a chance to sample: spin class, kickboxing, mobility, circuit training!
Registration required.
Date: Saturday March 23, 12 p.m. - 3 p.m.
Register at: Ryan.VanPraet@cnib.ca
Topic 3: March Madness: Family Movie Day
At the London Community Hub they will be showing films all day on the Hub's 75" screen, complete with theatre favourites at the concession stand.
Date: Thursday March 14th 2019
Time: 10:00am-4:00pm
Location:  171 Queens Ave., Unit 101, London ON. -Entrance is on Richmond St.
RSVP: Nina Amagashitsi
519 685-8420 x 5150
 or Clover Akuoko-Dabankah
clover.akuoko-dabankah@cnib.ca
Topic 4: March Madness: Spring Party
At the London Hub, it's all about the community! With live music from DJ Quarcoo, loads of activities, catering from local chefs and restaurants, a hip hop performance, and a dance floor.
Date: March 15th 2019
Time:   6pm - 10 pm
Location: 171 Queens Ave., Unit 101, London ON. - Entrance on Richmond St.
RSVP: Nina Amagashitsi
519 685-8420 x 5150
or Clover Akuoko-Dabankah