Community Report - Central
Listen to Kelly and Company weekdays 2 to 4 p.m. Eastern to find out what's happening in your community! Tune in weekly to hear from our community reporters across the country bringing you information on events and happenings in the blind and partially sighted community across Canada. Click here for more reports in other regions: Atlantic, West  and Pacific.
Eastern Ontario - Kim Kilpatrick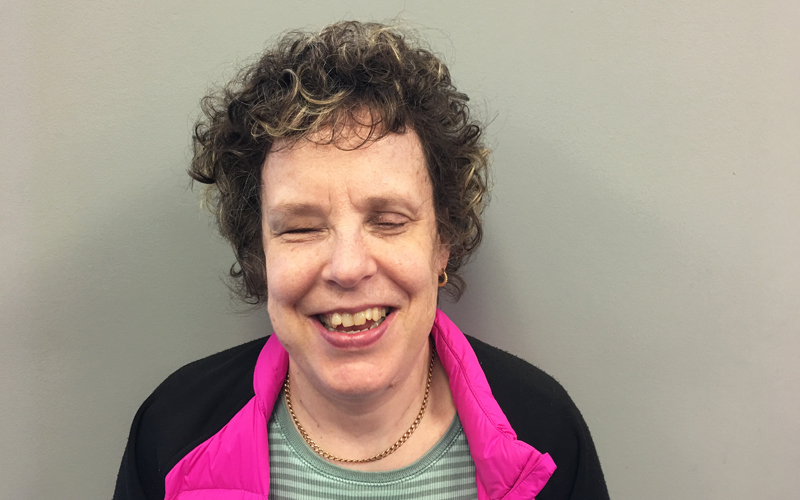 Kim has been totally blind since birth. She's the founder and coordinator of the Get Together with Technology program as well as a music therapist, professional storyteller, and radio show host. Kim travels through life with her fourth guide dog Tulia. 
Recent Reports: 
December 13 - Kim discusses the launch of the Ottawa LRT, and gives us tips on wrapping our Holiday gifts with accessibility in mind.
Topic 1: The Ottawa LRT Launch
Overview: In preparation for LRT launching here in Ottawa (we still don't know when that will be), we are being issued new cards.
The cards will only be available at the OC transpo booth at the Rideau center on the third floor.
You will bring your CNIB card or guide dog attorney general card and they will take a picture and issue you an accessibility card.
This card also works for attendants you may take with you on transit.
For now, you will have to tap your card at fare gates.
For now, you can use this card on buses as well or still use your CNIB or attorney general guide dog card on buses if you prefer but in order to open the fare gates, you will need to use the accessibility card.
If you would like the card marked so that you know which one it is, they have tactile markers to place on your card if you ask for one.
Topic 2: Next Get Together with Technology meet
Overview: This is the first ever GTT group and has been going since 2012.
It is a very welcoming group of people and our topic will be holiday gifts, what would you like to receive?  What is the best gift as a blind/low vision person you have ever received?
Date: December 17, 6-8 PM
Location: CCB National Office, 20 James street, Ottawa.
Contact: Kim Kilpatrick
CCB National office: 613 567-0311
Topic 3:  Tips on receiving wrapped gifts from a friend who has arthritis and dexterity disabilities.
Overview: Please do not wrap up their gifts with lots of tape, also lots of hard to open paper, and string etc.
Appreciated when people open the gift in advance if it has any very difficult packaging and put the packaging in the gift bag separately.
Please put the gifts in gift bags with tissue paper at the top.
For people with low vision, make large and easy to see labels.
For people who are blind, if they read braille, making a braille gift tag is very much appreciated.
If you give someone who is blind or has low vision gift cards, e-mail them afterwards the amount and the company so they know what they got.
Or print it out in large print for those with low vision.
Quebec - Nick D'Ambrosio
Nick is a podcaster for Blind Abilities. Diagnosed with Retinitis Pigmentosa at five years old, he is an accessibility advocate in his community and is a rabid sports fan. Nick has worked at a local pharmacy in Montreal for 19 years and is an avid yoga and dragon boat enthusiast.
Recent Reports: 
November 22 - Nick tells us about his experience at his 30th Annual School Reunion with his new cane! 
More info:
Topic 1:  Nick's new Designer Black Cane
Topic 2: Québec Federation of the Blind Christmas dinner
Overview: there will be door prizes and it is also a Bring your own booze. The QFB will be having a food drive again this year so we ask that you bring 1 or more non-perishable items - on the night of the event and not before, thank you. All the food will be going to the N.D.G Food bank.
Date: December 7 from 5:30pm to 1am
Cost: $20 for members, $25 for guests
Location: 7010 Rue Sherbrooke West, Montreal
Contact:  514- 488-5552  exit 4503 or  
Topic 3:  Low Vision Self-Help Association Christmas Concert
Overview: Performance by Octet Plus, a semi-professional choir of some 15 voices.  Free-will offering with proceeds to benefit the Low Vision Self-Help Association. Members of the Montreal West Island Lions Club will be present selling their Christmas fruit and cherry cakes and shortbread cookies.
Date: Wednesday, November 28, 7:45 p.m.
Location:  Church of St. John the Baptist, 233 Ste. Claire Ave., Pointe-Claire,Quebec
https://lowvisionselfhelpassociation.weebly.com
Topic 4: Candlelight Christmas with the Lyric Theatre Singers
 Date: December 6th to the 9th.
Location: Loyola Chapel, Concordia University,  7141, Sherbrooke St. West, Montreal.
Cost: $30, $28 for seniors and students, $14 for children 12 years and Younger
Contact: Box Office
514-743-3382
Elyrictheatreboxoffice@gmail.com
https://lyrictheatrecompany.com/
Timmins - Suzanne Boudreau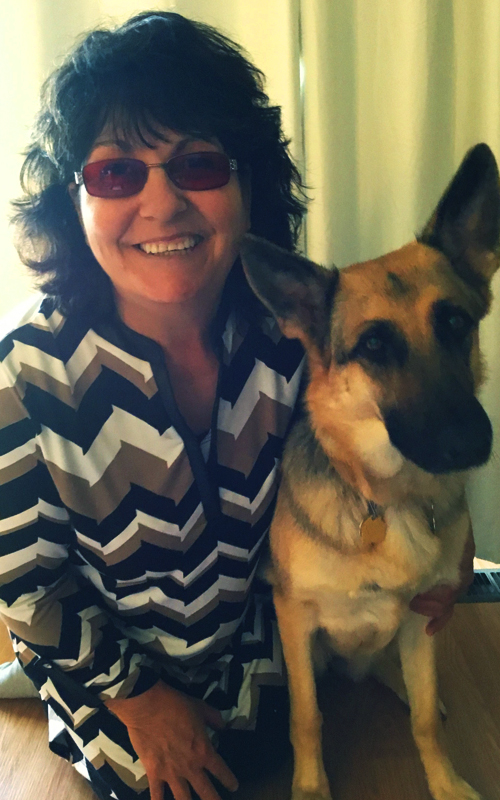 After being diagnosed with Retinas Pigmentosa, Suzanne was paired with her first guide dog Emilie, a German Shepard. Previously Suzanne worked in a nursing home. She is now a volunteer with CNIB and the Timmins Golden Manor day program. Suzanne likes to spend time at her cottage walking the forest trails with Emilie. She also likes to go fishing and spend time on the water on pedal boats. 
 
Recent Reports: December 4 - Tales and Tails of Joy is a continuing initiative at the Timmins Public Library, geared to beginner and reluctant readers. Suzanne fills us in.
More info:
Topic 1: Tales and Tails of Joy, St. Johns Ambulance Therapy dogs
Overview: Tales and Tails of Joy is a continuing initiative at the Timmins Public Library, geared to beginner and reluctant readers. On Monday and Wednesday evenings, from 6-7pm, the St. John Ambulance Child-Certified Therapy Dogs will be 'all ears' for a reading session with a child. The program is free, but registration is required for a 30-minute time slot.
Location: Timmins Public Library, 320 Second Avenue, Timmins.
Contact: coordinator Francine Denis
705-360-2623 x 8522
Topic 2: Ontario Power Generation at Native Friendship centre
Overview: Learn about Earth Rangers, the kids' conservation organization. From big cities to remote communities, Earth Rangers engages children all across Canada through our School Outreach and Membership programs.
Bring back the wild with Earth Rangers kids conservation organization
To create a generation of conservationists.
Ontario Power generation partners with groups to engage Ontario families and raise awareness of the many benefits of preserving biodiversity.
Location: Timmins Native Friendship Centre, 179 Kirby Avenue, Timmins
Topic 3: St. Mary's Gardens Seniors Speakers Series on the Importance of a last will and testament and power of attorney
Location: St. Mary's Gardens retirement home, 225 Fifth Ave, access  St. Mary's Gardens at Pine Street North across from the 101 Mall.
Contact: Coordinator Dawna Carrier
705 257 5000 x 8006
Thunder Bay - Doug McQuaker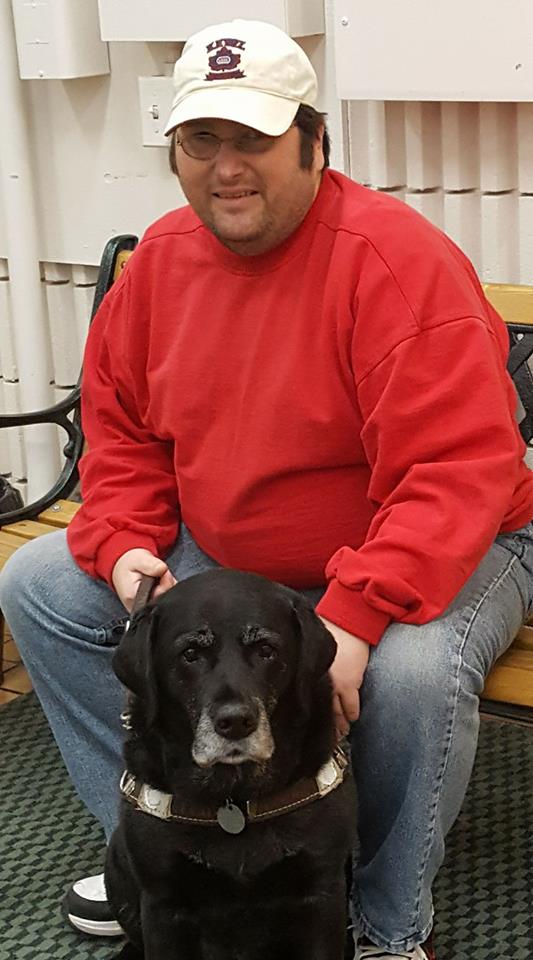 Doug lives in Atikokan, Ontario. He enjoys sports, music and spending his time at the lake with his most dedicated companion, Jazz, who doubles as his Leader Dog.
Recent Reports: 
December 3 -  Doug tells us about a Fresh Wreath Making Class hosted by Sparkling Dahlia, at Sioux Lookout Community Living.
More info:
Topic 1: The College Rec Association of Confederation College provides Annual College Rec Christmas Dinner and Social
 An evening of eating, socializing, and music by DJ Steve
Date: Friday Dec 7, 2018 , Cocktails 6pm, Dinner 7pm
Cost: Members $25.00 , Non-Members& guests: $40.00
Tickets: https://www.eventbrite.ca/e/college-rec-christmas-dinner-social-tickets-51589559762
Location:  Fort William Golf & Country Club, 1350 Mountain Road, Thunder Bay.  
Contact: the Fort William Country Club at 807- 475- 8925
Email:  collegerec@confederationcollege.ca
 Topic 2:  Fresh Wreath Making Class – Hosted by Sparkling Dahlia -Sioux Lookout
Date: Saturday Dec 8, 2018 , Time 11:30 am
Location:  Sioux Lookout Community Living, 41 King Street, Sioux Lookout, Ontario.
Cost: $70.00 per person (this includes all supplies)
Overview:
You will have a variety of fresh cedar, pine, and fir greenery, mossy twigs, birch bark accents, pine cones and ribbons to choose from. 
Contact:  Erin  403- 803- 6087 to register, Hosted by Sparkling Dahlia .
Email: sparklingdahlia@gmail.com
Payment secures your spot and can be made through etransfer.
Classes are non-refundable
Topic 3: Grinch Theme Tree Class
Date: Sunday Dec 9, 2018 , Time 10:00 am
Location:  Sioux Lookout Community Living, 41 King Street .
Cost: $60.00 per person
Overview:
You will build a Grinch styled arrangement using fresh Canadian Grown BC cedar bows, Christmas balls, ribbons, pine cones and decorative wire. 
Contact: Erin at 403- 803 -6087 to register , Hosted by Sparkling Dahlia
Email: sparklingdahlia@gmail.com
Your payment secures your spot and can be made through etransfer.  Classes are non-refundable
https://www.facebook.com/events/313241939476251/
London - Annette Dennis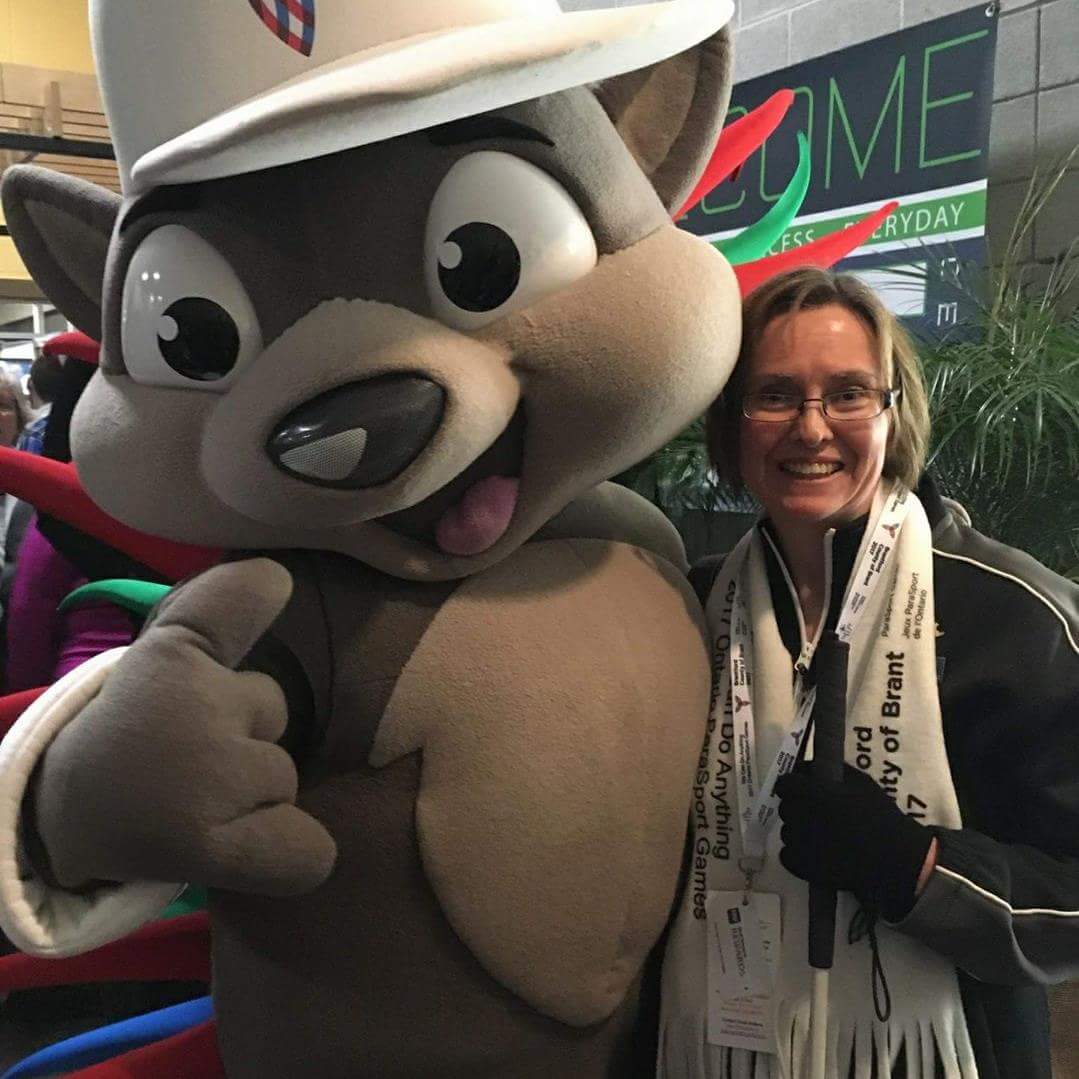 Annette was diagnosed with Retinitis Pigmentosa in her mid-twenties. She feels so fortunate that over the years she has made some amazing friends in the blind and low-vision community who inspire and encourage her constantly. Annette has been volunteering with the London-Middlesex Suicide Prevention Council since 2006, the past several years in the role of treasurer. Annette also enjoys yoga, reiki, playing guitar, curling and acting with Out of Sight Productions, a blind theatre troupe in London, Ontario. One of her most memorable acting experiences was appearing in the Integrated Described Video Creator Series for AMI. 
Recent Reports: 
November 21 - Annette gives us the scoop on London's Holiday Cookie Exchange, where you bake once but take home a dozen different treats!
More info:
Topic 1: London Cookie Exchange.
Overview: You bake one kind of cookie, you end up with a flavourful assortment to last through the holidays! Bring a dozen cookies and leave with a dozen different cookies. Additional snacks and beverages can be purchased for only a toonie.
Date: December 06, 2018. 1 p.m. to 2:30 p.m.
Location: CNIB London Hub, 171 Queens Ave,  entrance off Richmond St.
Contact: Ruth Millard
1-800-265-4127 x 5159
Topic 2:  10th Annual Christmas in Concert Koinonia Christian Fellowship
Dates: Opening night - Friday, December 7th at 8 p.m.
Cost: Tickets $10
Note: Free shows - Saturday, December 8th and Sunday, December 9th at 3:30 p.m. and 7 p.m.
Location: Koinonia Church, 850 Sawmill Rd, Bloomingdale, ON.
Contact: 519 744 7447
https://www.kcf.org/event/2018/12/6/christmas-in-concert-family-and-friends-show-tn695
Topic 3: Sarnia Lions Club Christmas Dinner.
Date: December 04, 2018. 5:30 p.m. to 8 p.m.
Location: Point Edward Arena Community Centre, 210 Monk Street, Point Edward, ON.
Contact: Sarnia Lambton White Cane Centre
519-337-3606
https://cnib.ca/en/event/lions-club-christmas-dinner-point-edward?region=pe
Topic 4:  CP Holiday Train
Overview: Canadian Pacific Holiday Train: The CP Holiday Train will soon set out once again to entertain hundreds of thousands of people, celebrating 20 years of collecting food and raising funds for food banks across North America. The U.S. Train departs Montreal on November 25 travelling south with stops in Quebec, New York and Southern Ontario before continuing it's journey through the U.S. and into southern Saskatchewan for its final stop in Weyburn, Saskatchewan on Dec. 16.
Performers: Sam Roberts Band and JoJo Mason.
Dates for Southern Ontario:
Hamilton November 28 - 7:45 p.m. (8 to 8:40).
Cambridge November 29 - 4 p.m. (4:15 to 4:45).
Woodstock November 29 - 6:40 p.m. (6:45 to 7:10).
London November 29 - 8:15 p.m. (8:30 to 9).
Chatham November 30 - 2:30 p.m. (2:45 to 3:15).
Windsor November 30 - 5:20 p.m. (6 to 6:30).