Community Report - Central
Listen to Kelly and Company weekdays 2 to 4 p.m. Eastern to find out what's happening in your community! Tune in weekly to hear from our community reporters across the country bringing you information on events and happenings in the blind and partially sighted community across Canada. Click here for more reports in other regions: Atlantic, West  and Pacific.
Eastern Ontario - Kim Kilpatrick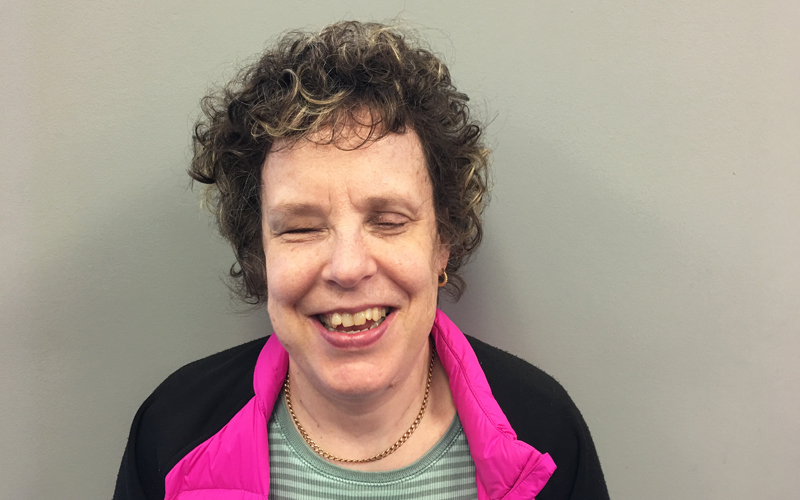 Kim has been totally blind since birth. She's the founder and coordinator of the Get Together with Technology program as well as a music therapist, professional storyteller, and radio show host. Kim travels through life with her fourth guide dog Tulia. 
Recent Reports: May 30
Topic 1: Canadian Accessible Election TeleTownHall
For people who live in Ottawa, some of us will be meeting on location at the CCB national office 20 James street from 6-8 Pm on June 6 2019.
Accessibility and Inclusion during the 2019 Canadian Federal Election
the Canadian Council of the Blind and Sterling Creations in collaboration with Elections Canada are pleased to invite you to join a country wide TeleTownHall to be hosted on Thursday June 06 2019 via Zoom Conference.  To RSVP your attendance please email the Canadian Accessible Elections TownHall Committee.
Elections Canada Presentation:
Presenting on behalf of Elections Canada will be Susan Torosian.  She will provide an outline of the accessibility features Canadians can expect to experience during the 2019 Federal election, including services available to electors who are blind, deaf-blind and partially sighted. She will also be open to your questions about how the services that will be offered for the election can meet your accessibility and information needs.
We believe that our TeleTownHall will assist greatly to help you prepare for the forthcoming Federal Elections to be held on October 14 2019.
 Date: June 06, 2019
Time: 3:00 pm Pacific, 4:00 pm Mountain, 5:00 pm Central, 6:00 pm Eastern, 7:00 pm Atlantic, 7:30 pm in Newfoundland
(This meeting will last no longer than two hours)
Contact to RSVP: CAET2019@Gmail.com
Topic 2: Grand opening of the Ottawa CNIB hub.
CNIB is opening a new Community Hub in Ottawa and we want you to come celebrate with us!
Join us for the grand opening of CNIB's new community space, a centre designed to change what it is to be blind today.
The CNIB Community Hub, located at Lansdowne Park, will host an extensive menu of new offerings including accessible technology support, advocacy resources, child and youth programming, peer support as well as opportunities within culture, recreation and sport.
Celebrate the transformation of our fantastic community space, meet new faces, and learn more about CNIB Foundation program offerings! Together, we will smash barriers and make a profound difference in the lives of people who are blind or partially sighted in Ottawa and beyond.
Come celebrate our new space at Lansdowne Park!
Light refreshments will be served.
Date: Thursday, June 6, 2019
Time: 4:30 p.m. – 6:30 p.m.
Location: 425 Marché Way, Unit 104, Ottawa, K1S 5J3
RSVP by June 3 to: Valerie.Dawson@cnib.ca
613-563-4021 ext. 5036.
Topic 3: Exhibit at the Canadian aviation museum - all about Canadians in space.
It had a braille user guide and all audio exhibits labeled in braille and with tactile buttons.
It will be touring around too.
Quebec - Nick D'Ambrosio
Nick is a podcaster for Blind Abilities. Diagnosed with Retinitis Pigmentosa at five years old, he is an accessibility advocate in his community and is a rabid sports fan. Nick has worked at a local pharmacy in Montreal for 19 years and is an avid yoga and dragon boat enthusiast.
Recent Reports: June 6
Topic 1: Seeing Assistant Home app
I rely on bar code scanning for my job. Once seeing AI wasn't working for a few days I had to find an alternative just for back up.
This app was a godsend.
Seeing Assistant Home by Transition Technologies S.A.
https://itunes.apple.com/ca/app/seeing-assistant-home/id625146680?mt=8
Topic 2: CNIB is offering a tutorial  for the app blind square
Come and discover the application of cellular blindsquare .
Bllindsquare is an accessible GPS and developed especially for blind people. The app describes the environment, announces the points of interest as well as the crossroads when you move. It is associated with third-party applications providing most of the information you need to move in an autonomous way. - if the weather permits they will explore the app by going outside.
Date: June 18
Time: 1 to 3pm
Location: CNIB, 2085 Parthenais, Montreal
Contact:  lyne.dube@inca.ca
Topic 3:  Time to go back to your local library's.
In Montreal our local library's have a lot to offer the blind community.
With technology at  our fingertips we have lost the interaction of going to our local libraries and actually meeting people and meeting groups. Our library network's collection continues to grow with audio books, large print, ebooks and DVDs. This is what is available in our 45 libraries in Montreal: 21,700 audiobooks, 30,000 large print books, 15,000 audio described movies, several adaptive games for the visually impaired and blind,  1 electronic magnifier in 15 libraries, computer equipped with a magnifier sofware in each of our 19 boroughs.
Contact: 514- 872-4430
 http://www.montrealfamilies.ca/Montreal-Families/Directories/Family-Fun/index.php/category/Libraries
Topic 4:  CNIB Will also be showing you how to use the transit app
This app allows you to follow bus schedules, arrival times, departure times and much more.
Date:  June 25
Time: 3pm to 5pm
Location: CNIB, 2085 Rue Parthenais, Montréal
Contact: 514- 934-4622
Topic 5: Happy Saint Jean -Baptiste Day
Date: June 24, 2019
 https://www.fetenationale-montreal.qc.ca/
https://www.yellowpages.ca/tips/5-events-to-enjoy-in-montreal-on-st-jean-baptiste-day/
Timmins - Suzanne Boudreau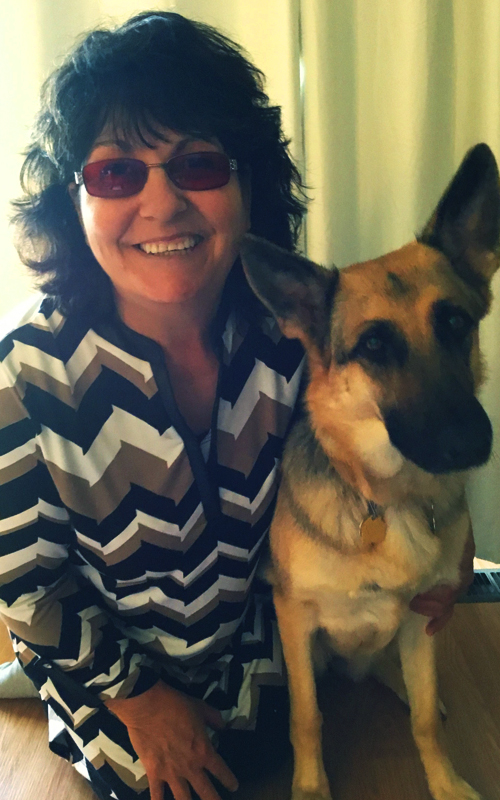 After being diagnosed with Retinas Pigmentosa, Suzanne was paired with her first guide dog Emilie, a German Shepard. Previously Suzanne worked in a nursing home. She is now a volunteer with CNIB and the Timmins Golden Manor day program. Suzanne likes to spend time at her cottage walking the forest trails with Emilie. She also likes to go fishing and spend time on the water on pedal boats. 
 
Recent Reports: June 18, 2019
Topic 1: Suzanne's Request for Reconsideration on her Human Rights trial  with Timmins Transit was denied
(A follow-up to Suzanne's last report about her Human Rights trial against Timmins Transit)
Suzanne: I'm very sad and  tearful that Human Rights would not consider that me and Emilie are also deserving of equality rights and to take responsibility of care and speak up to have choices and make my own decision. Others made decisions for me that I disagree with and I' m denied an accommodation and safe access on city transits and handi trans . Others have a choice to ask if needing safe access they will be protected. My equality rights are violated and I'm left to feel like less of a person.
Topic 2:  Recently Suzanne and her guide dog Emilie were hit by a car while at a street crossing in Timmins
On April 30 myself and my guide dog were struck down crossing at an  intersection and  it was our right of way . I made sure to take responsibility to ensure I was made visible wearing a bright orange construction vest. I am still injured, needing surgery , and my guide dog is being whatched for trauma. The person was charged 400 dollars and 4 points from her drivers license. This should have been careless driving. At the  hospital the police asked me how did you know the light was green. He says you look fine and your guide dog looks fine.  I'm telling  myself how do you know if we are fine after being struck down. Myself and family friends and witnesses wanted to know why the public  was not made aware of this accident . On an  email to Timmins Police I was told that they decide what merits news and they were unaware that I was blind with a guide dog .What kind of report was made . This is clear they don't want public  to be made aware that myself and Emilie have been without transportation since February 2016. SAFE TRANSPORTATION Denied . We have  legal assistance for both these issues.
Suzanne Boudreau  is our community reporter in Timmins, Ontario.
Remember, you can find more information about the stories we cover on our blog: www.ami.ca/kellyco
Thunder Bay - Doug McQuaker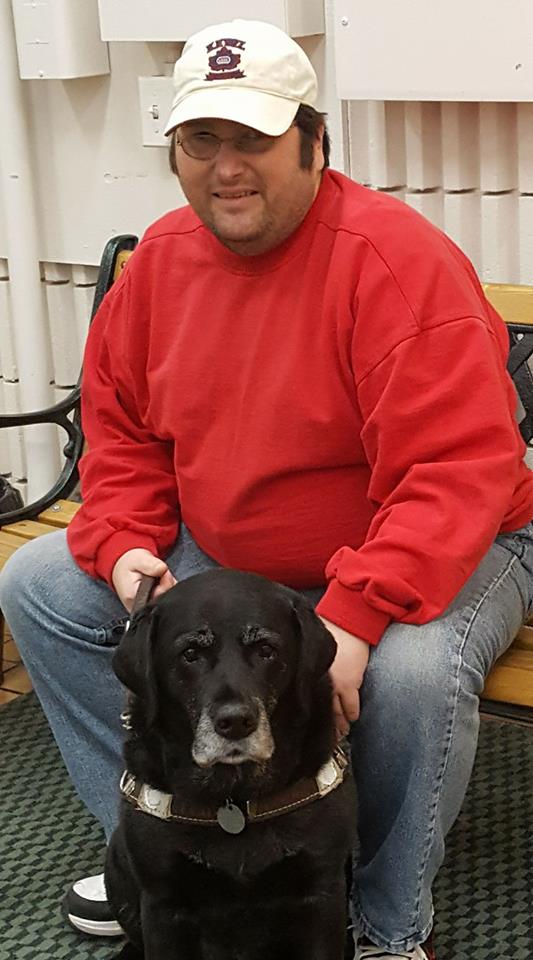 Doug lives in Atikokan, Ontario. He enjoys sports, music and spending his time at the lake with his most dedicated companion, Jazz, who doubles as his Leader Dog.
Recent Reports: June 3, 2019 -  Thunder Bay Community Reporter Doug McQuaker tells us about two unique races taking place in Northern Ontario.
More info:
Topic 1: 2019 Soap Box Races –Thunder Bay On 
Dates: Friday June 7, 2019 and June 8, 2019 
Trial Runs and Pit Meeting: June 7, (4:30 pm – 6:30 pm) 
Race Day: Saturday June 8
Rain Date: Sunday June 9 if required
Location: George Jeffrey Children's Foundation, 200 Brock St. E, Thunder Bay On P7E 0A2
Register: http:/bit.ly/georgejeffery-soapboxraces
Topic 2: Amazing Race Car Rally –Sioux Lookout On 
Car Rally is going to be held in places around Sioux!  Participants will be team up with two youth leaders to compete against the clock and each other.  Prizes for the winning team. 
Date: Friday June 14, 2019 
Time: 5:00 pm – 8:30 pm 
Location: Ignite Student Ministries, 28 First Ave, Sioux Lookout, On P8T 1E8 – Creator
Contact: (807)737-2843
www.thenewlife.ca/ministries/youth
London - Annette Dennis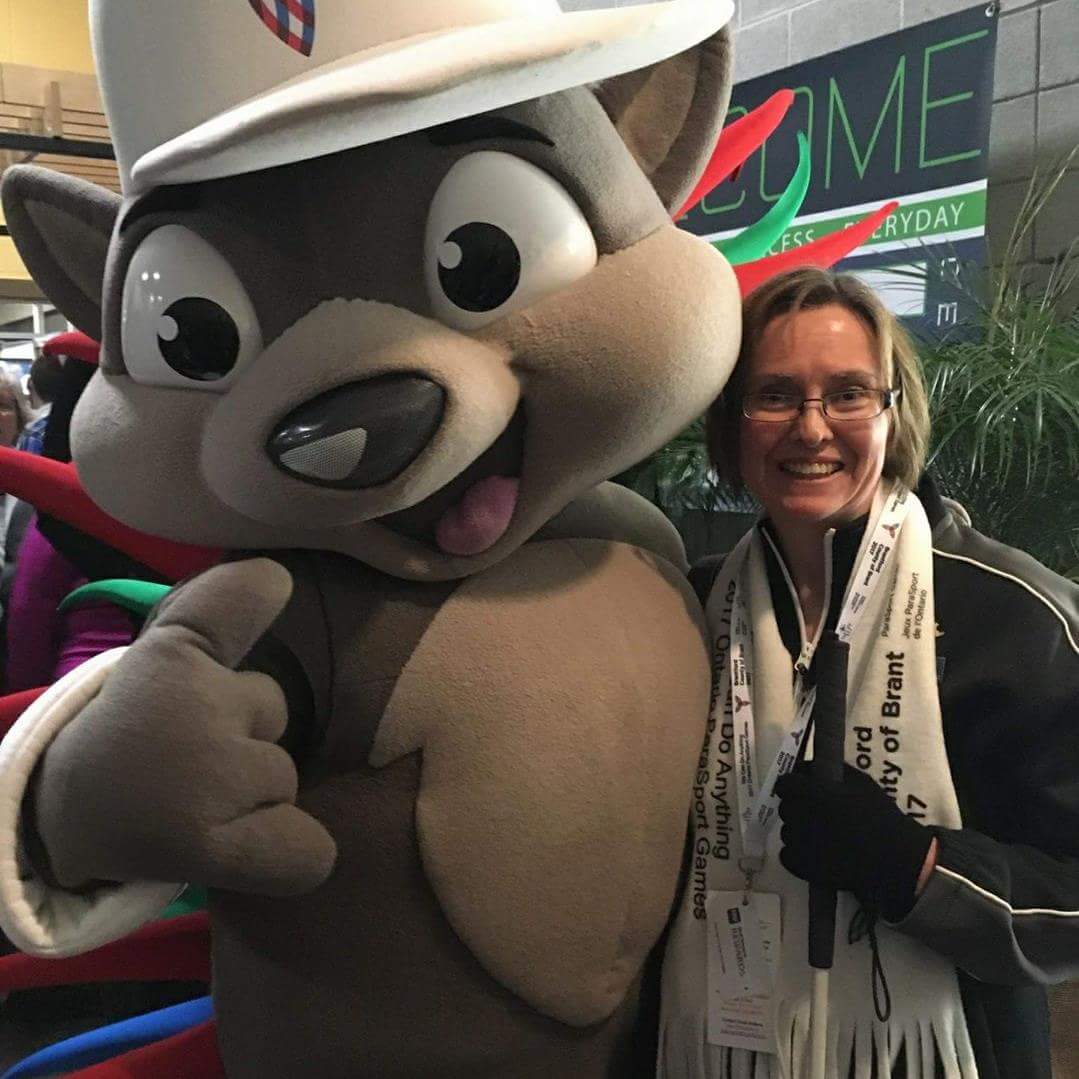 Annette was diagnosed with Retinitis Pigmentosa in her mid-twenties. She feels so fortunate that over the years she has made some amazing friends in the blind and low-vision community who inspire and encourage her constantly. Annette has been volunteering with the London-Middlesex Suicide Prevention Council since 2006, the past several years in the role of treasurer. Annette also enjoys yoga, reiki, playing guitar, curling and acting with Out of Sight Productions, a blind theatre troupe in London, Ontario. One of her most memorable acting experiences was appearing in the Integrated Described Video Creator Series for AMI. 
Recent Reports: June 4
Topic 1: Indoor Rock Climbing Clinics - London
Learn how to rock climb with the CNIB Foundation. A fun, safe way to learn the "ropes" when it comes to indoor rock climbing. Professional staff will take you through the basics of how to navigate the facility, use the equipment, and successfully summit the wall!
Wear comfortable, loose clothes and clean gym shoes.
$10 fee per climber, includes climb time and equipment. You can pay extra to rent climbing shoes if you wish, but not required.
Sighted guides can also climb at $10 rate.
A mandatory waiver will be provided when you register.
Dates: Thursdays June 13, 27 & July 11
Time: 7:00 pm - 8:00 pm (arrive by 6:45)
Location: Junction Climbing Centre - 1030 Elias St, Unit 2, London
To register, contact: Ryan Van Praet
226-219-7626
Topic 2: The News Stand – London
Listen to audio news clips of inspiring stories and events.  This is not a political forum; discussion will be focused on inspiring and uplifting topics. To learn more, please call or text Roger at 519-280-1643
Dates: 2nd & 4th Fridays of every month beginning June 14 & 28
Time: 2:30 pm – 4 pm
Location: London Community Hub - 171 Queens Ave, Suite 101
Topic 3: TD Sunfest - London
The 25th edition of TD Sunfest will see more than 40 singers and groups from around the world take the stage in what's dubbed Canada's premier celebration of world cultures.
Acts from as far as Colombia, Peru, Scotland, Russia and Norway will be performing at Victoria Park from July 4 to 7. In fact, more than 90 per cent of this year's lineup is new to London.
Among the new performers this year is Middle Eastern sensation 47Soul, French hip-hip and jazz trio Sax Machine, and the Chilean 12-piece orchestra Newen Afrobeat. Festival favourites Five Alarm Funk, Lazo, Samba Squad and Neema Children's Choir will also be returning to the stages as well.
More than 225,000 people are expected to attend the annual festival, which boasts about 225 unique food, craft and art exhibitors.
This is a free event but donations are always welcome.
Dates: July 4th to 7th
Location: Victoria Park in downtown London
*Please Note*
The CNIB Tech Fair in London (from last month's Community Report) is now taking place at the London Community Hub and NOT at Goodwill Industries.
Date: June 15 from 11:00 am - 4:00 pm
Location: CNIB London Community Hub, 171 Queens Ave, Suite 101
Contact: Arjun Rijhwani