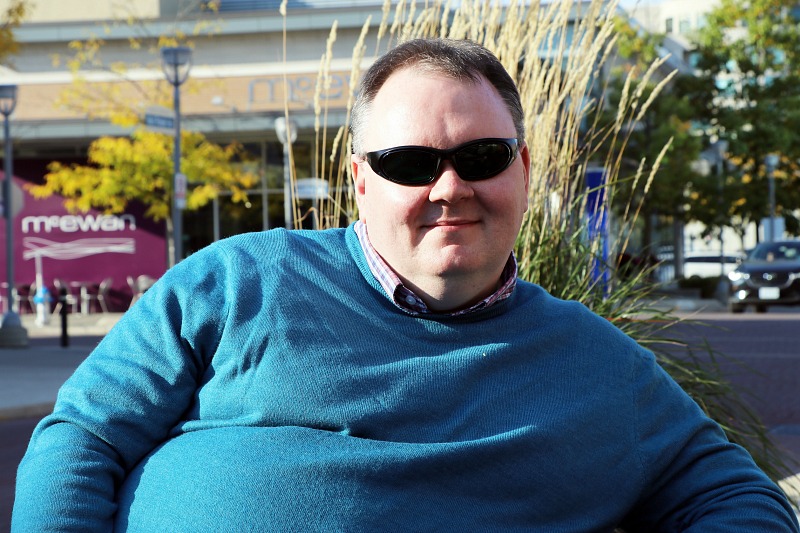 Steven Scott does "double" duty for Accessible Media Inc., and he absolutely loves it.
The technology whiz has over 20 years of broadcasting experience and brings it to AMI-audio's Double Tap Canada and—most recently—to Double Tap TV. Broadcast on Tuesdays at 8:30 p.m. Eastern, Double Tap TV brings the same cutting-edge discussions on everything tech with news, reviews and interviews—all with an eye on accessibility—to television. Steven co-hosts the program with Marc Aflalo; the pair welcome a stable of guests, like Shaun Preece, The Pulse's Joetia Gupta, Live from Studio 5 community reporter Jennie Bovard and Mitchell Whitfield to the table to give their opinions and reviews on accessible technology.
"I'm a radio guy," Steven says. "I never even thought about a television show. But then, the opportunity to show people the technology that we're talking about by showing an app or a piece of hardware and demonstrate how it works, I realized it would work." Steven jokes that since he can't see the camera there's no nervousness about co-hosting a television series. 
Adding television to his resumé meant teaming with Marc Aflalo, a technology journalist for close to a decade and tech contributor to AMI-audio's Live from Studio 5, for the first time. They'd never worked together before, but gelled quickly. 
"We're both very similar," Steven says. "Rather than doing a lot of planning, we just get on with filming the show and it works. We just click." 
Whether he's behind the microphone on Double Tap Canada or in front of the camera for Double Tap TV, the goal of both programs are the same.
"If you have a vague interest in technology, if you have an interest or a desire to know something about how technology can benefit you, you have to tune in," Steven says. "It's not for geeks. It's for real people who are coming to technology for the first time. It's for friends, family, or people who are associated with people who have sight loss. It's those people that I want to speak to."
Double Tap TV airs Tuesdays at 8:30 p.m. Eastern on AMI-tv. Stream past episodes of Double Tap TV on AMI.ca or using the AMI-tv App.
Double Tap Canada airs Thursdays at 8 p.m. Eastern on AMI-audio. Listen to past episodes using your favourite podcasting platform.