Community Report - Atlantic
Listen to Kelly and Company weekdays 2 to 4 p.m. Eastern to find out what's happening in your community! Tune in weekly to hear from our community reporters across the country bringing you information on events and happenings in the blind and partially sighted community across Canada. Click here for more reports in other regions: Central, West and Pacific.
Newfoundland and Labrador - Kim Thistle-Murphy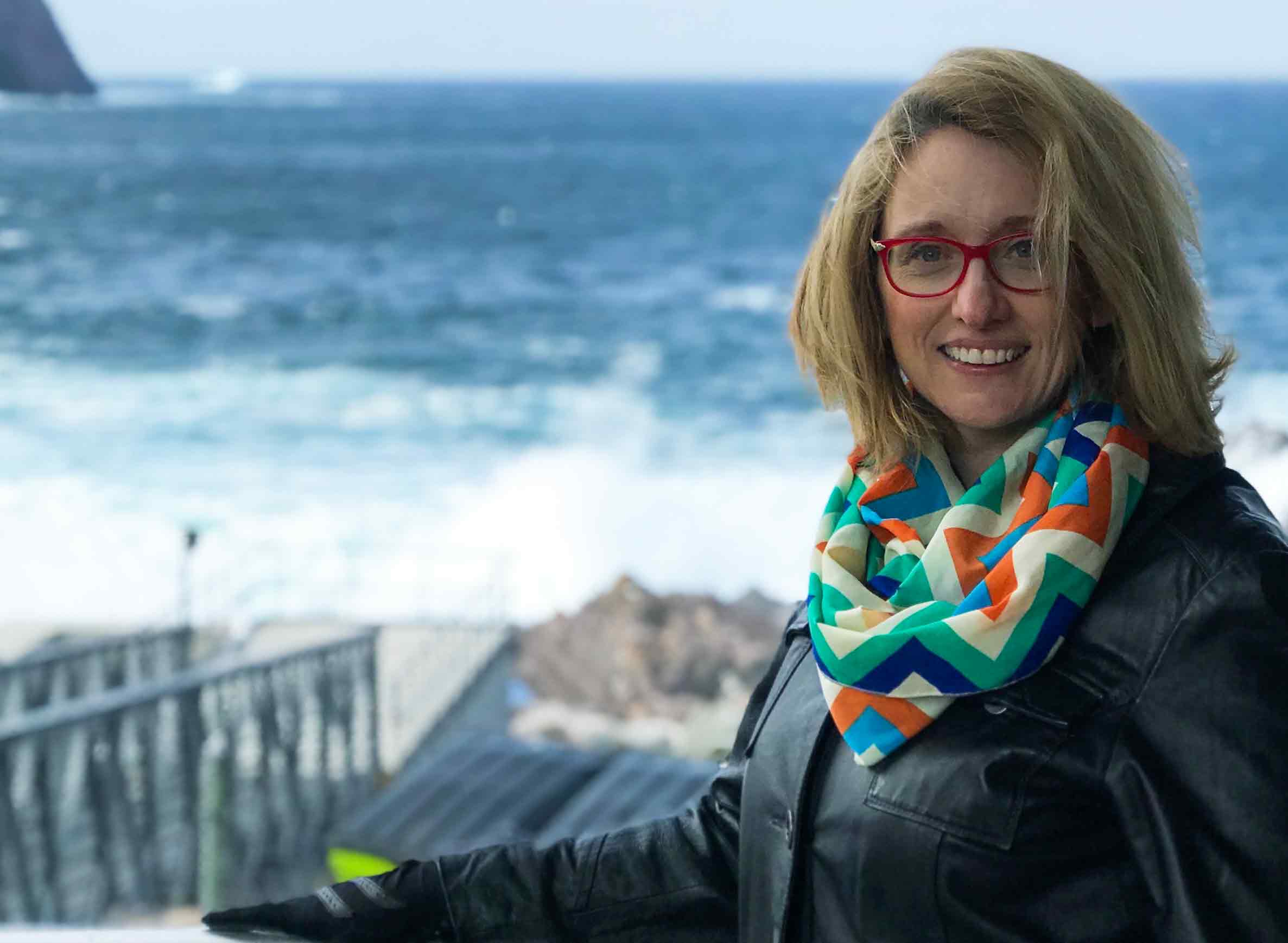 Kim is a photography enthusiast, book clubber, dog walker, chocolate lover, CNIB volunteer, and hockey mom. She lives in St. John's, Newfoundland with her husband, two teenage boys and two dogs. Kim has Usher's Syndrome (Retinitis Pigmentosa and hearing loss), and is legally blind.  
Recent Reports: September 17
Topic 1:   Iceberg Alley Performance Tent ( ongoing)
The Iceberg Alley Performance Tent is an eleven day Festival created to showcase the unique culture, traditions and heritage of Newfoundland and Labrador alongside nationally and internationally acclaimed entertainment. Music performances of all genres are being held under a 36,000 square foot "big top" tent in the culturally historic area within the City of St. John's known as Pleasantville, on the banks of Quidi Vidi Lake.  The Iceberg Alley Performance Tent is wheelchair accessible. There has been an elevated viewing area platform created in the main tent designated for patrons using wheelchairs or mobility aides with direct view of the stage.
For those people who do not need to access the designated area, but would prefer not to stand during the show, there are 750+ seats accessible directly in front of the stage that are available on a rush basis (first come, first serve).
Support persons accompanying patrons with disabilities can access the tent at no additional cost. (only one support person per attendee). One (1) ticket must be purchased between the two (2) people attending. Please identify your support person when you arrive at the festival gate and we will assist you.
Designated accessible parking is available at the rear of the tent (VIP Entrance) which is located off Churchill Avenue.
Dates: September 11- 21 -on until September 21, so still time to enjoy !
Location: Quidi Vidi Lake, 200 The Boulevard Legion Grounds (Quidi Vidi) St. John'.s
Cost: Tickets prices vary
Contact: sok@icebergalleyconcerts.com
https://www.facebook.com/icebergalleyNL/
https://icebergalleyconcerts.com/
Topic 2:  A Call to Arms-  Newfoundland Musical
A Call to Arms tells the story of Stephen Norris from Three Arms Island, Notre Dame Bay, who was born in 1892 and was killed in the Battle of the Somme on October 11, 1916 in Gueudecourt, France. The work left undone in the family business, due to his death, left a gap which widened, culminating in the collapse of commerce and the ultimate demise of the community of Three Arms Island.
Dates: September 20 & September 21 at 8pm
Location:  Arts & Culture Center, 95 Allandale Road.
TICKETS:  $55 Each HST & service charge included
Contact: To check on availability and to book these seats call the box office at 709-729-3900 (they are not available online).
https://artsandculturecentre.com/stjohns/Online/default.asp
Topic 3:  CNIB September Events
Tech Time Tuesday is an interactive information sharing technology group that aims to provide individuals of all ages living with sight loss with knowledge and experience on the latest gadgets and apps.
Date: CNIB Foundation Tech Time Tuesdays – Tuesday, September 10 from 2:00-3:30  (except for February and May, when it takes place from 7:00 – 8:30).
Location:  CNIB, 70 The Boulevard  
Contact: If you live outside St John's, you can join for a descriptive demonstration. You must pre-register to receive coordinates. Kelly Picco at 754-1180 Ext. 5813 or e-mail at kelly.picco@cnib.ca
The audio book club is for anyone living with sight loss and is a partnership with the Mount Pearl Library. Clients read/ listen to an agreed upon book and then come together to discuss. This group takes place on the second Thursday of each month at the Mt Pearl Library, from 7:00-8:00 pm.
Date: CNIB Foundation Audio Book Club - Thursday, September 12 from 7:00-8:00 at Mt Pearl Library
Location:  This group takes place on the second Thursday of each month at the Mt Pearl Library, from 7:00-8:00 pm.
Contact: Kelly Picco
709-754-1180 ext. 5813
Rug hooking is very much a part of the Newfoundland and Labrador culture and can be enjoyed by people of all ages.
This group encourages individuals with vision loss to learn a new way of rug hooking without the use of visual cues. A CNIB Foundation volunteer has developed a technique using a tactile pattern for people to be able to feel inside the outline where they have to start hooking the material. It is a very creative class and it gives people with sight loss an opportunity to work with arts and crafts.
Date: CNIB Foundation Rug Hooking - Sunday, September 15 from 1:00-2:45 at CNIB
Contact: Kelly Picco
709-754-1180 ext. 5813
Walking is a great way to stay healthy and reduce stress at the end of a long day! The CNIB Foundation Walking Club takes place the third Tuesday of each month.
Date: CNIB Foundation Walking Group - Tuesday, September 17 from 6:30 – 7:30 at Bowering Park
Location:   beautiful Bowering Park.
Contact: Kelly Picco
709-754-1180 ext. 5813
Coffee Time. Join CNIB's Vision Loss Rehabilitation and Foundation team for a chat about topics that are important to you.
Date: Coffee Time with CNIB -third  Thursday's, September 19 starting 10:30 at CNIB
Location: Drop by CNIB's staff lounge at 70 The Boulevard, St John's
Cooking Class. This group takes place one Sunday each month at Sobeys on Kelsey Drive. A volunteer has offered to teach people with vision loss how to chop, dice and prepare a meal safely and they also get to enjoy that meal once all the cooking and preparation is complete.
Date: Cooking Class – Monthly on Sunday's, September 22nd from 4:00-6:30 at Sobeys on Kelsey Drive
Location: Sobeys on Kelsey Drive, St John's.
Heavyweights.  Life can be an amazing experience when you share it with friends. Friends who can show you a way to breakdown barriers. If you've always wanted to go to the gym but were unsure how living with sight loss can impact your experience, you need to check out Heavy Weights. A personal trainer at Heavyweights can show you a new way of approaching your fitness goals.
Dates: every Saturday morning from 10:15-11:00
https://cnib.cmail20.com/t/ViewEmail/d/BF0F869D43A3D3912540EF23F30FEDED/1261E305F33378FED08BC3D516CA522B