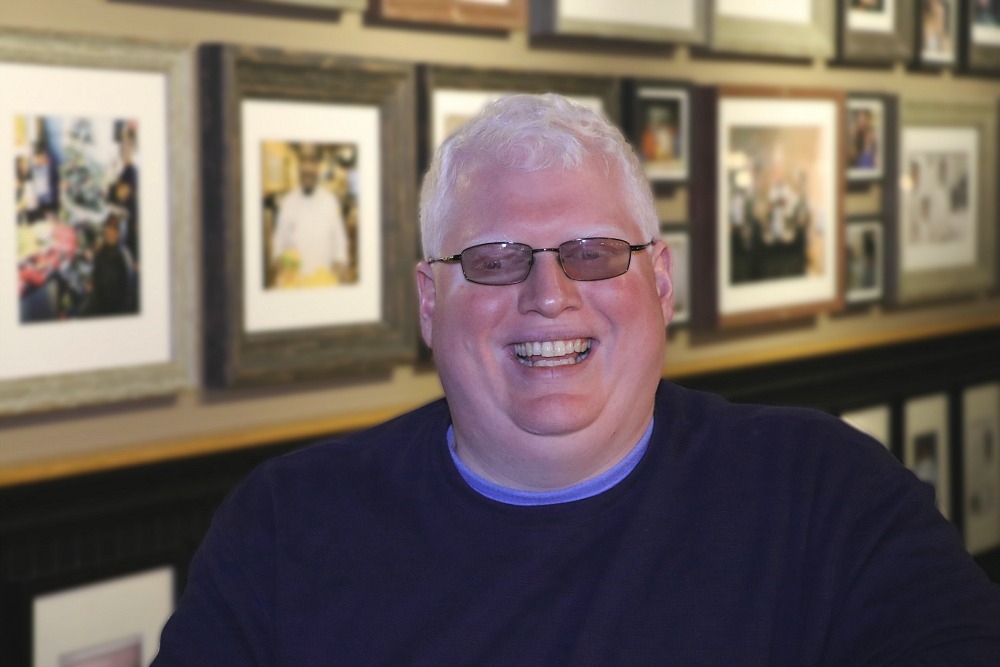 It's an exciting time for AMI-audio, with a fall lineup for 2020 that includes the return of long-running favourites while introducing new programs.
Start your weekdays off with The Gazette at 8 a.m. Eastern as Mike Ross, Daniel Panimondo and Jeff Ryman deliver the latest news and headlines fresh off of the Canadian and international newswires.
Hit your daytime stride Monday to Friday with NOW with Dave Brown. Broadcast from 9 a.m. to 11 a.m. Eastern on AMI-audio and AMI-tv, Dave Brown (pictured above) and his team deliver the latest news, entertainment, sports and current events through a disability lens. Educational, entertaining and sometimes controversial, Dave speaks what's on his mind, and encourages you to let him know what you're thinking.
Let the ever-popular Kelly and Company—which recently celebrated its 900th episode—be your afternoon guides daily from 2 p.m. to 4 p.m. Eastern. Join Kelly MacDonald, Ramya Amuthan and their company of blind and partially sighted contributors for lively discussions about arts, entertainment and the lifestyle issues affecting you.
Then at 4 p.m. Eastern from Monday to Thursday, check out Late Edition. Host Corinne Van Dusen, Nisreen Abdel-Majid, Jeff Ryman and Daniel Panimondo share the latest headlines, weather, sports, lifestyle and entertainment news that's been announced throughout the day.
On Fridays at 4 p.m. Eastern is The Neutral Zone. Brock Richardson and his team—including Cam Jenkins, Bret Wills, Claire Buchanan and Joshua Watson—discuss Canada's year-round Parasport activities, as well as offering its usual entertaining opinions on Canadian pro sports teams.
Tech fans rejoice! On Thursdays at 8 p.m. Eastern, tune in to Double Tap Canada for discussions, lead by Steven Scott and Shaun Preece, on news, reviews and technology stories of interest to people who are blind or partially sighted.
Lawrence Gunther is back with a brand-new series on AMI-audio. Outdoors with Lawrence Gunther, debuting Friday, September 4, at 8 p.m. Eastern, has the latest outdoor news, outdoor and environmental issues, reviews of outdoor tech, and tips on exploring the outdoors with a guide dog and other devices.
Spend your weekend with Joeita Gupta and The Pulse! New episodes air Saturdays and Sundays at 10 a.m. Eastern, delving deep into the issues around disability, health, advocacy, human rights and technology.
Voices of The Walrus, dynamic readings of thought provoking articles from The Walrus magazine, continues in its current day and time, Sundays at 7 p.m. Eastern. Reading program The Guardian This Week holds down its current timeslot Sundays at noon Eastern, as does The Globe and Mail Show, Wednesdays at 8 p.m. Eastern.
Stream all of our AMI-audio programming.
The full AMI-audio schedule is available online. To find the AMI-audio channel with your cable provider please use our online channel guide.
AMI-audio programs are also available as podcasts! Visit our Podcasting Guide for more information.